As we've covered extensively here at OMAAT, this past week LAX saw their biggest terminal shuffle ever, as dozens of airlines changed which terminals they operate out. Things seemed to go smoothly, at least if you consider the scale of this project — hundreds of flights changed terminals overnight.
Last week Nick wrote about the implications this terminal change has on Delta operations, given that they're the primary reason behind this swap. While Delta is the airline most impacted by these changes, we're seeing plenty of other airlines make major changes as well.
One topic I've received lots of questions about is what happens to Air Canada's Maple Leaf Lounge at Terminal 2. Not only was this lounge used for Air Canada passengers, but it was also contracted out to several other airlines, and also available to Priority Pass members. Since you can visit any terminal at LAX with a same day boarding pass, this was a popular option for Priority Pass members departing LAX.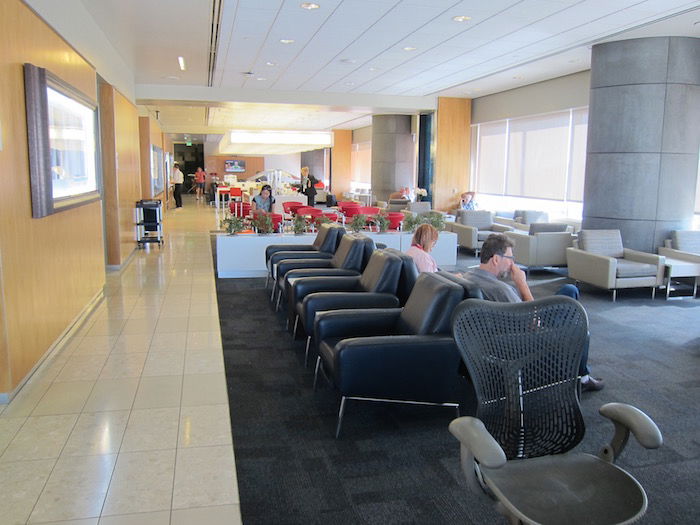 Air Canada has switched operations from Terminal 2 to Terminal 6 at LAX, and Delta has taken over their lounge space at Terminal 2, so now what? Well, there's good news and bad news.
The good news is that Air Canada has already opened their own lounge at LAX Terminal 6. The bad news is that it's much smaller than the old lounge — it currently only has seating for 83 people, and after the expansion is complete, it will have seating for 118 people. Given that it's much smaller than the old lounge, the Air Canada Lounge LAX will no longer be part of Priority Pass.
But there's potentially some other good news. All Star Alliance Gold members (including United MileagePlus Star Gold members) should be able to use this lounge when traveling on a Star Alliance carrier, even if flying domestically. Now Air Canada is right next to United at LAX (T6 and T7 are connected airside), meaning that Star Alliance Gold members traveling domestically can now easily use the Air Canada lounge (United elites wouldn't otherwise have access to United Clubs when traveling domestically). Now, there's a chance they'll put capacity restrictions or something in place, but on paper that's what the policy should be like.
Here's how the new lounge is described:
Air Canada's Maple Leaf Lounge at LAX offers an elegant series of intimate spaces that showcase contemporary Canadian design with club chairs from Calgary-based Birchwood, and wood tables from Brent Comber of British Columbia. Currently seating 83 customers, the LAX lounge will offer total seating capacity for 118 people this fall after expansion is completed. As a leading global carrier, Air Canada offers premium customers access to 22 Maple Leaf Lounges worldwide including three in the US. In addition to LAX, there are two in the New York City area – at LaGuardia Airport and at Newark Liberty International Airport.
The good news is that the Alaska Airlines Lounge is located in Terminal 6, and continues to be part of Priority Pass… well, sort of. Alaska Lounges have often been imposing capacity restraints due to how crowded they get, meaning that often they don't accept Priority Pass members. However, I had no issues using it last week through Priority Pass, for what it's worth.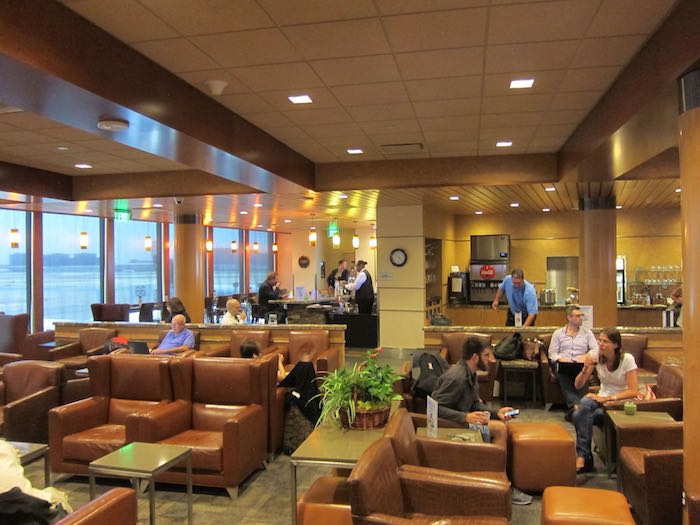 However, I suspect the lounge may once again get more crowded, given that Virgin America just switched to Terminal 6, and their first class passengers now also get lounge access.
If anyone has the chance to visit Air Canada's new Terminal 6 lounge, please report back!