This is exciting — Air Canada has just opened a gorgeous lounge at San Francisco Airport (SFO), which is something that United frequent flyers may also want to take note of.
Air Canada's beautiful new SFO lounge, with a terrace!
An Air Canada Maple Leaf Lounge is now open in Terminal 2 at SFO. This marks the carrier's first lounge at SFO, and also the first lounge of the carrier with an outdoor terrace. The lounge can seat 165 guests (135 indoors and 30 outdoors), and is spread across 8,168 square feet (761 square meters).
The lounge was designed with San Francisco-based architectural firm Gensler, and features the following amenities:
Self-serve (hot and cold) buffet, showcasing local flavors
A bar with a bartender serving a selection of wines (from Canada and California), local craft beer, a cocktail menu, and espresso
An outdoor terrace, featuring two vapor fireplaces
Showers with heated towel racks
A VIP room for up to 10 people
E-gates and biometric identification for hands-free lounge entry
Art that pays homage to California and Canada, including art from Canadian painter Shawn Evans, and a custom mural from California artist Amos Goldbaum
There aren't many pictures of the lounge yet, but what I've seen so far looks great!
This represents Air Canada's 28th lounge worldwide, and third lounge in the United States (after LAX and LGA). For what it's worth, this lounge is in the space of what was supposed to become the Alaska Lounge (but Alaska ended up using the space of the former American Admirals Club instead).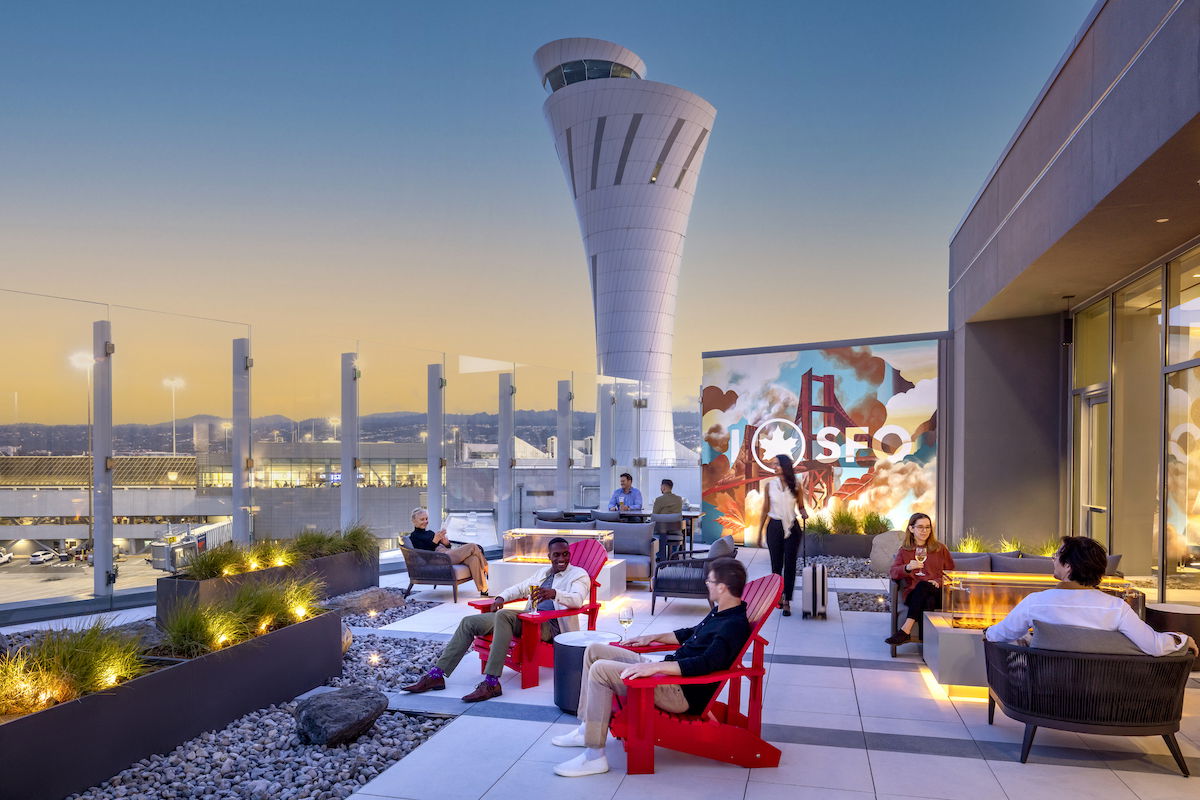 Who can access the Air Canada Maple Leaf Lounge SFO?
The new Air Canada Maple Leaf Lounge SFO follows standard Star Alliance lounge access policies:
Specific to Air Canada passengers, the lounge can be accessed by those in Air Canada business class, as well as Aeroplan Super Elite, Aeroplan 75K, and Aeroplan 50K members
Beyond that, all Star Alliance business class passengers, as well as Star Alliance Gold members, can access the lounge
So a United MileagePlus Premier Gold member or above gets access to the lounge on account of having Star Alliance Gold status. While they couldn't access a United Club on a domestic itinerary, they can access an Air Canada Maple Leaf Lounge.
Air Canada's Terminal 2 and United's Terminal 3 are connected airside at SFO, so this will no doubt be a popular lounge option with United flyers.
Bottom line
A new Air Canada Maple Leaf Lounge has just opened at SFO, which is an exciting development. The lounge even features a terrace, making it the first lounge at the airport with such a space. While this is great for Air Canada passengers, it's also an awesome new feature for United passengers, since the lounge can be accessed by premium United travelers even in situations where they don't have United Club access.
What do you make of the new Air Canada Lounge SFO?