As we probably all know by now, there's a huge battle between the "big three" US carriers and the "big three" Gulf carriers. For whatever reason I'm on the email list for press releases from the US airlines' lobbying group. Most of the releases are entirely nonsensical. Like that time they shamed any company which does business with the Gulf carriers, conveniently omitting that American Airlines has codesharing agreements with both Etihad and Qatar.
Delta will be discontinuing their flights between Atlanta and Dubai next year, which has generated quite an interesting debate between Delta and Emirates.
It's worth noting that while Delta is discontinuing their Atlanta to Dubai flight, Air Canada actually just launched flights between Toronto and Dubai this week, clearly seeing some demand for travel between North America and the UAE.
Canada has long restricted routes between the UAE and Canada, as Emirates and Etihad are each just allowed to operate 3x weekly flights to Toronto. Obviously they'd like access to more frequencies and cities in Canada, like Vancouver.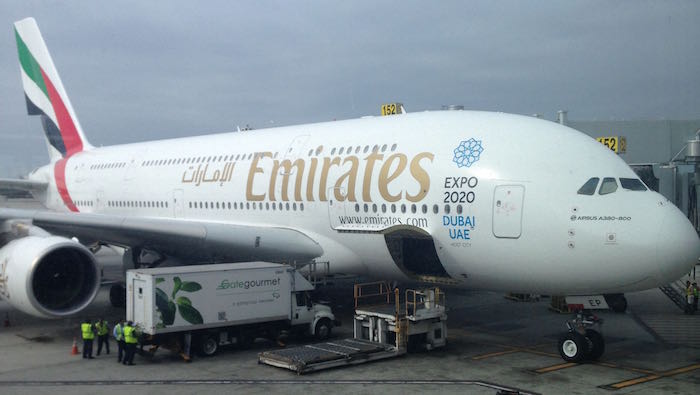 Gulf News has a story about how the UAE is lobbying for more access to Canada, while Air Canada plans to protest any liberalized air agreements between the two countries:
Air Canada will oppose any moves by Canada's new Liberal government to grant more flights to Emirates and Etihad Airways, a senior Air Canada executive told Gulf News on Thursday, a day after the airline started flights to Dubai.

"There is enough capacity … between the two markets," Duncan Bureau, Vice President of Global Sales at Air Canada said in an interview.

Canada's October 19 election that saw the Justin Trudeau-led Liberal party voted into government has raised hopes the two countries will be able renegotiate the allocation. UAE General Civil Aviation Authority (GCAA) Director General, Saif Mohammad Al Suwaidi, told Gulf News on October 22 that he plans to discuss "the requirements of our carriers" with the new government.

But Bureau said Air Canada will "absolutely" make sure Canada's new government knows it opposes any more flights for the UAE carriers. "The capacity that is currently being deployed is more than adequate to service the true demand," he said.
It's sort of interesting to claim "oh, there's more than enough capacity in the market" the same week you launch service to a country. Surely if they didn't think there was sufficient demand they wouldn't have launched the route, no?
I suppose it's obvious that Air Canada opposes more competition from the Gulf carriers. But at the same time, can they truly claim that travelers are best served when there's not a single flight from West of Toronto to the Middle East?
Allowing Emirates or Etihad to launch flights out of Vancouver, Calgary, etc., would open up all kinds of new one-stop routings which weren't previously possible.
Bottom line
I can appreciate in theory that an airline says "this market has enough capacity, we don't need any more." But that seems slightly too convenient when it's the same week that the airline decides to add significant capacity to the market as well.
With service from just Toronto to the UAE, it seems tough to claim that Canadians are as well served as they could be.