Earlier today I wrote about the surprising news that Air Canada submitted an offer to acquire Aeroplan. Aeroplan is Air Canada's spun off loyalty program, and their contract is ending in 2020. Last year Air Canada announced that they'd take back their own loyalty program, though the surprising news is that they now want to acquire the very loyalty program that they're cutting ties with
I had the chance to speak with an Air Canada executive a while ago about these changes, and had the chance to ask some questions. So I wanted to report back on my impressions of a potential deal here.
There are two perspectives on this deal
The way I see it, there are two ways you can view this deal.
One perspective is that this is sleazy and bad for consumers. The argument is that shares in Aeroplan's parent company have nosedived, so Air Canada was just trying to drive down the share prices all along, knowing full well that they'd eventually acquire Aeroplan and maintain it as their loyalty program. Along similar lines, this is terrible for consumers, because Air Canada is trying to eliminate a major loyalty program that could eventually compete with them, and that has a membership base of about five million people.
The other perspective is that Air Canada is being pretty logical here. It makes perfect sense that Air Canada would want to terminate their agreement with Aeroplan, given that they'll make more money and be able to run a more successful loyalty program if it's in-house rather than outsourced. Virtually all of Aeroplan's value came from their association with Air Canada, so Air Canada would be silly to overpay for an acquisition. Furthermore, this could be a win-win, as Aeroplan members would have their miles honored with Air Canada. Arguably Aeroplan would have never been a real competitor with Air Canada's loyalty program, given that a loyalty program without an airline has little chance of succeeding.
What I've learned about this offer
I'm told that Aeroplan and Air Canada engaged in good faith negotiations over a year ago, before the announcement came that Air Canada would take back their own loyalty program. They couldn't come to an agreement, which isn't surprising. Air Canada knew they wanted to take back their own loyalty program, and that's good for Air Canada loyalists (as I've been saying from day one).
Aeroplan and Air Canada couldn't come to an agreement. That's fair enough. Reality hit Aeroplan (and their parent company, Aimia) pretty hard after the termination of the contract was announced.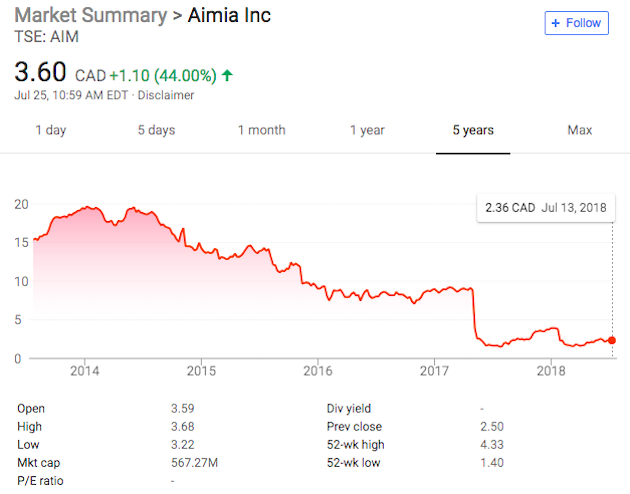 The way Air Canada views it, taking over Aeroplan would create assurance for customers and remove any doubts they may have about their miles. Miles would covert at 1:1 ratio, so there would be no funny business.
No matter what, Air Canada intends to launch their own loyalty program, and they've already purchased a lot of new systems that will be required for a new program. They're not looking to maintain Aeroplan, because they can do so much more with their program in-house. Instead they view a takeover of Aeroplan as providing more stability, giving them access to intellectual property, and making the transition more seamless.
I think the next logical question is regarding how Air Canada basically dominates the Canadian market, and they don't have a true global competitor. Why would they bother even having a decent loyalty program, if they're not even having to compete head-on with anyone on a global scale?
This comes down to a few points:
Air Canada increasingly has domestic competitors, especially as WestJet moves upmarket
While there's not that much domestic competition in Canada, it's a country that has a lot of service from international carriers, so they have tons of international airlines to compete with; even at their biggest hubs, they don't have 50% market share
There's a big incentive to have a good program given the value there is in bank rewards programs and co-brand agreements, so there's a lot of potential
My take on all of this
My take is based on two points:
Air Canada and their customers are better off with an in-house loyalty program
I question whether Aeroplan has an independent future
Let me explain that in a bit more detail.
Air Canada has historically faced so many challenges by having an outsourced loyalty program. They're limited in terms of the information they can share between companies, the experience isn't seamless, there are challenges associated with redeeming miles, etc. There's no doubt in my mind that all else being equal, an in-house program is better than an outsourced one.
Regarding the second point, Aeroplan has made a lot of promises about what their program will look like from 2020 onwards, though personally I don't think they'd be a true competitor to Air Canada's loyalty program. Creating a loyalty program without being associated with a specific airline is really tough, so while I think the program would continue to exist independently, I question whether they'd be a true competitor to Air Canada. I doubt it.
With that in mind, I actually think this news might be good for consumers. Canadians have a lot of Aeroplan miles, and having those continue to be valid with Air Canada would be good news.
I'd definitely feel differently about this if I thought that Aeroplan had a bright future as an independent operation, and that they'd keep Air Canada in check. But personally I don't think they stand much of a chance independently. So in terms of honoring miles and creating a seamless experience for customers, I don't view this as being bad for consumers.
Like I said, I'd have a different perspective if I didn't think that Air Canada definitely wanted to bring their program in-house, and/or if I thought Aeroplan had a bright future independently.
What's your take on this?