I wasn't going to write a story about this, but I feel like perhaps some balance is needed compared to how I've otherwise seen this incident portrayed in the media. My mom even asked me about this story yesterday, because she saw it in the news — "did you hear about the Boeing 737 MAX that had the emergency?"
Air Canada 737 MAX diverts due to engine issues
Aviation regulators around the world are starting to unground the Boeing 737 MAX, meaning that airlines are taking these planes out of storage and preparing to put them back into service.
Since February 24, 2020, one of Air Canada's 737 MAXs has been stored at Pinal Airpark in Marana, Arizona. The climate there makes it an ideal place to store planes long-term.
The plan was that the plane with the registration code C-FSNQ would fly from Marana to Montreal with the flight number AC2358 on December 22, 2020, so it could start preparations for returning to service.
Well, the plane departed as scheduled with a three person crew, but then a couple of issued occurred. As noted by The Aviation Herald:
The crew received a left engine hydraulic low pressure indication; the crew worked through checklists and consulted with dispatch and maintenance, and decided to continue the flight to Montreal with just one engine
Shortly thereafter the crew received an indication of a fuel imbalance from the left side, at which point the crew shut down the engine
The crew then declared a "PAN PAN" (which means the situation was urgent, but not an immediate danger), and diverted to Tucson, Arizona
The plane landed in Tucson 80 minutes after its initial departure, which was from an airport just 35 miles away
The plane is still on the ground in Tucson as of now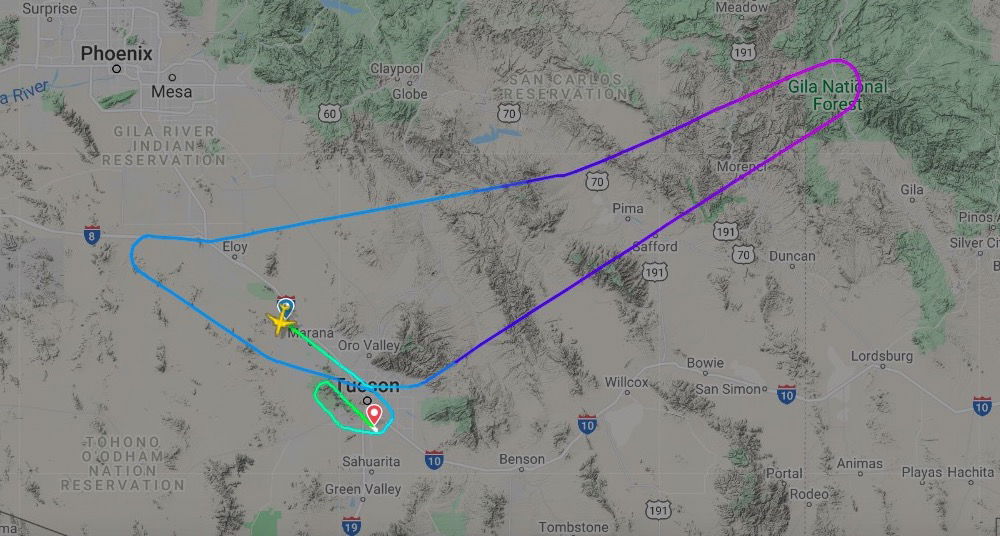 Flight path for the diverted Air Canada 737 MAX
Is this situation a big deal?
Looking at the Facebook comments of mainstream media articles about this, most people seem to suggest that the 737 MAX should be taken out of service and should never be flown again. After all, how could the plane have a serious issue so soon after returning to service?
That doesn't really get at the nuance of this situation:
The 737 MAX wasn't grounded due to engine issues, but rather due to issues with the maneuvering characteristics augmentation system (MCAS), which was intended to improve the pitch stability of the aircraft; in other words, this was an unrelated issue to why the 737 MAX was grounded in the first place
Commercial aircraft have engine issues that cause diversions every single day, and it's almost never a news story because it's so common, and no one is in danger
Now, the 737 MAX will face a lot more scrutiny than other aircraft in the coming months, and that's for good reason. Public confidence in the 737 MAX is low, and will only return when the plane operates as designed without issues for many months/flights. But it's also not surprising that every time something does happen, no matter the severity, the 737 MAX will be in the news.
While we don't know the cause of this incident, it's likely that this has more to do with the plane having been stored for so long, rather than anything about the 737 MAX as such.
While mechanics do a great job with getting planes back into service after extended storage, I still suspect we'll see a few incidents over the next few years (hopefully nothing too serious) that involve planes that just got out of long-term storage.
For example, earlier this year there was an incident where a Wizz Air UK Airbus A321 had a high-speed aborted takeoff, because a pitot tube was blocked due to insect activity. This followed the plane having been in storage for several months due to the pandemic. I suspect that won't be the last time that something like that happens.
Bottom line
An Air Canada 737 MAX being ferried to Montreal suffered some engine issues after takeoff in Arizona, causing a diversion. While it obviously looks bad for Boeing when a 737 MAX has any sort of an issue, personally I wouldn't read too much into this.
This is different than the issue that got the 737 MAX grounded in the first place, and it's more likely that this has to do with the plane not having flown for a long time, rather than anything related to the "MAX."
But I'm also not surprised that the 737 MAX will likely be in the news every time there's an incident, no matter how minor.
What do you make of this Air Canada 737 MAX incident?