Update: I didn't think it was possible, but as part of Air Canada's reservation system migration, contacting Aeroplan has become even more difficult. See this post for details about all the problems Aeroplan is having, including passengers not even being able to be added to the hold queue.
---
Aeroplan is Air Canada's spun off loyalty program. Back in the day it was probably my single favorite program to transfer points to (they partner with Amex Membership Rewards and SPG), though after many devaluations, it's more of a niche program that I only use for a few types of redemptions.
The problem is that Aeroplan is a completely separate company from Air Canada, which is just a horrible situation for an airline's points program to be in. With a spun off program like this, Aeroplan has little incentive to provide a decent experience for members, since they have a pretty captive audience.
For example, Aeroplan's hold times are consistently horrible. Horrible. Half the time that I call them I get a message saying that they can't take my call due to "higher than expected call volume." This isn't just the past few weeks, but consistently.
I called Aeroplan last night, and I was told the hold time would be 93 minutes. After 140 minutes of waiting on hold my call was disconnected.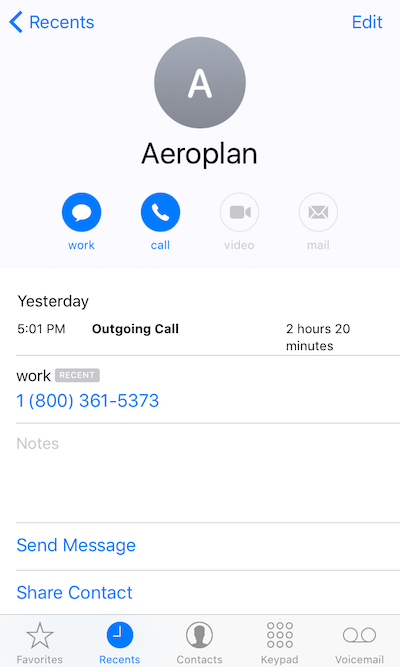 I called them up at 7AM ET sharp this morning, right when they opened… and I've now been on hold for over an hour now.
While the hold times are completely unacceptable (since this is more the norm than the exception), the part that really blows my mind is that they don't have a callback feature. I typically only get the option of leaving a callback number when hold times are actually short, while when they're long there's no such option.
The recording on the phone while waiting talks about how I can go to Aeroplan's website to learn 12 myths of Aeroplan. Is one of those myths that I'll actually ever get through to one of their phone representatives?
C'mon Aeroplan, this sucks.
Anyone else have as horrible of an experience with Aeroplan's hold times as I do?