Yesterday Aeroplan sent out an email to members that has caused a fair bit of confusion. The email had the subject line "Upcoming changes to our Terms and Conditions."
I think the reason it caused such confusion is because it seems like this should have been an announcement email, rather than just an email updating terms & conditions, since there was some info in there that caught people off guard. So I figured I'd summarize what actually matters about this announcement.
Air Canada Launching New Loyalty Program Soon
Aeroplan has historically been Air Canada's spun off loyalty program. That contract between Air Canada and Aeroplan was expected to end in 2020, as Air Canada was planning on fully taking control of their own frequent flyer program once again. However, Air Canada ended up acquiring Aeroplan.
Ultimately Air Canada was probably trying to eliminate a competitor, get valuable data, and use some of Aeroplan's technology to make the transition easier, as Air Canada will still be launching a new loyalty program in the summer of 2020. So it won't be "business as usual" for Aeroplan, or for Air Canada's Altitude program.
Aeroplan Status Is Being Discontinued
Aeroplan has made some major updates to terms as of March 1, 2020. One major update is that separate from Air Canada's Altitude status, Aeroplan has historically also offered a status program. The benefits aren't as robust, and you'll want to think of it more as a frequent buyer program than a frequent flyer program.
Historically Aeroplan status tiers have been as follows, with the following requirements over the course of a calendar year:
Aeroplan diamond requires 100,000 eligible miles accumulated
Aeroplan black requires 50,000 eligible miles accumulated
Aeroplan silver requires 25,000 eligible miles accumulated
If you earn status in 2019 it will still be valid through the end of 2020.
However, if you want to earn this status in 2020 (valid through the end of 2021), you'll have to do so between January 1 and February 29, 2020. The requirements will be the same, as you'll still have to earn 25,000-100,000 eligible miles to qualify.
A lot of people are shocked by this, but I think the reality is that they don't really intend for many people to qualify in 2020, but rather they probably have to legally provide some sort of advance notice of ending the program, so this is the most practical way for them to do so.
So no, Aeroplan hasn't totally lost their mind. They probably don't actually intend for people to earn the normal 12 month qualification amounts in the first two months of 2020, but I'm guessing that's what they needed to offer to wind this program down.
Redeem Miles For Taxes & Surcharges
Air Canada adds carrier imposed surcharges to redemptions on many partner airlines. According to this email, as of March 1, 2020, you'll be able to redeem miles towards taxes, fees, and carrier imposed surcharges on award tickets:
11.1. For new flight reward bookings, an Aeroplan Member may have the option to: (i) have the applicable Taxes, Fees, Charges and Surcharges associated with their flight reward booking charged to a credit card, or, (ii) if eligible, redeem Aeroplan Miles to cover the applicable Taxes, Fees, Charges and Surcharges associated with their flight reward booking.
I'm not really sure I get what's changing, though, because this is already possible? You can already redeem Aeroplan miles towards taxes, fees, and surcharges at the rate of about one Aeroplan mile per 0.7 cents, which is an awful value.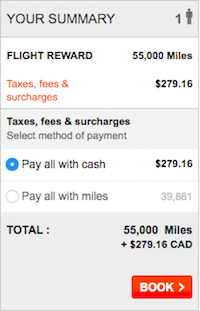 Even if they change some aspect of this, I wouldn't get excited. There's not a single airline in the world that I can think of where redeeming points towards taxes and carrier imposed surcharges represents a good deal.
My hope is still that Air Canada eliminates surcharges with their new program, though unfortunately I'm not holding my breath.
Details About The New Air Canada Program Are Limited
As mentioned above, Air Canada will be launching a new loyalty program in the summer of 2020, though details continue to be extremely limited. We really don't know what the new program will look like, so all we can do is wait.
They have great people running the program and I certainly hope that they try something unique and rewarding. My fear is that there's simply not much competition in the Canadian market, especially with Air Canada having acquired Aeroplan, so their incentive to offer a great program is pretty minimal, in my opinion.
Heck, even in the US, which is significantly more competitive, we can't get an airline to actually put any effort into their loyalty program.
Bottom Line
The latest updates to Aeroplan aren't that huge, though they can be confusing. The Aeroplan status program will be winding down, which was expected all along, given that everything will be folded into Air Canada's loyalty program.