In late May I wrote about how Aeromexico unveiled an ad called "Fronteras/Borders," which (not so?) subtly takes aim at Donald Trump. At first the ad feels more like a PSA, until it's finally revealed that Aeromexico is behind it.
Well, it seems the airline isn't done with Trump just yet, and is capitalizing on the current presidential campaign for their latest fare sale. For better or worse, Aeromexico seems to be channeling Spirit Airlines with this latest fare sale, called "Bad Hombres, Great Deals!"
Of course they're referring to Trump's "bad hombres" quote (or what really sounded like "bad hambres") from the third presidential debate:
Not surprisingly, Aeromexico doesn't stop there. They go on to say "we won't leave you in suspense… take off with these fares right now!"
For good measure, they finish off with some more of Trump's favorite terms:
What are you waiting for? These deals are YUGE. Let's jet! BIGLY.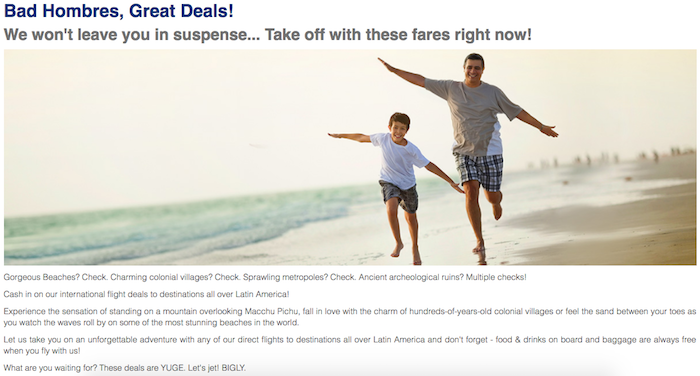 The fares themselves are indeed quite good if you are looking to visit Mexico. For example, you can fly roundtrip from Los Angeles to Mexico City for $329.
What do you make of this fare sale? Do you like seeing Aeromexico taking a page out of Spirit's handbook and capitalizing on current events, or does this cross the line for a major international airline?
(Tip of the hat to No Mas Coach)