Last week I wrote about how Aer Lingus is launching two new transatlantic routes next summer, to Montreal and Minneapolis.
Aer Lingus has the same parent company as British Airways, so you can redeem British Airways Avios for travel on Aer Lingus, and it generally represents an excellent value, given that carrier imposed surcharges on Aer Lingus are mild.
British Airways has a distance based award chart, with the following pricing (which is per segment and one-way):
Zone // Distance

Economy Off Peak // Peak

Premium Economy Off Peak // Peak

Business Off Peak // Peak

First Off Peak // Peak

Zone 1
1-650 miles*
*Not available in North America

4,000 // 4,500

5.750 // 6,750

7,750 // 9,000

15,500 // 18,000

Zone 2
651-1150 miles

6,500 // 7,500

9,500 // 11,250

12,750 // 15,000

25,500 // 30,000

Zone 3
1151-2000 miles

8,500 // 10,000

12,750 // 15,000

17,000 // 20,000

34,000 // 40,000

Zone 4
2001-3000 miles

10,000 // 12,500

20,000 // 25,000

31,250 // 37,500

42,500 // 50,000

Zone 5
3001-4000 miles

13,000 // 20,000

26,000 // 40,000

50,000 // 60,000

68,000 // 80,000

Zone 6
4001-5500 miles

16,250 // 25,000

32,500 // 50,000

62,500 // 75,000

85,000 // 100,000

Zone 7
5501-6500 miles

19,500 // 30,000

39,000 // 60,000

75,000 // 90,000

102,000 // 120,000

Zone 8
6501-7000 miles

22,750 // 35,000

45,500 // 75,000

87,500 // 105,000

119,000 // 140,000

Zone 9
7001+ miles

32,500 // 50,000

65,000 // 100,000

125,000 // 150,000

170,000 // 200,000
British Airways Executive Club Award Chart
It used to be that Dublin to Boston was a sweet spot, since the flight covers a distance of just under 3,000 miles. However, in December 2016, they decided to arbitrarily move the distance between the two cities, putting Boston to Dublin into the band that covers distance of 3,001-4,000 miles.
Obviously the distance between the airports didn't actually change, but rather they just decided they wanted to eliminate a sweet spot.
As of August 8, 2019, Aer Lingus is launching daily flights between Montreal and Dublin, which will operate with the following schedule:
EI99 Dublin to Montreal departing 6:50PM arriving 8:50PM
EI98 Montreal to Dublin departing 10:20PM arriving 9:40AM (+1 day)
That flight covers a distance of 2,973 miles.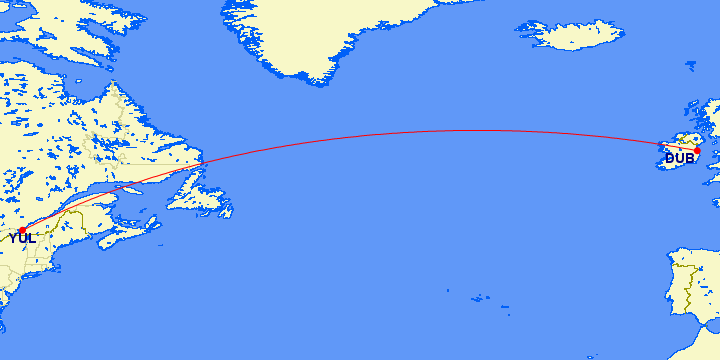 The good news is that for the time being, this flight is being categorized in the correct band. This means that an award redemption between Montreal and Dublin represents an exceptional value. You'd need the following number of Avios for a one-way redemption:
Economy: 10,000 Avios (off-peak), 12,500 Avios (peak)
Business: 31,250 Avios (off-peak), 37,500 Avios (peak)
This is a spectacular value, especially when you consider that there's a 40% transfer bonus from Amex Membership Rewards to British Airways Executive Club at the moment. This means that a peak economy redemption would cost just 9,000 Amex points, and a peak business class redemption would cost just 27,000 Amex points.
Earn Amex Membership Rewards points with these cards:

Aer Lingus seems to be making two business class award seats and four economy class award seats available per flight.

I've called British Airways to verify that the availability is actually as it seems (British Airways doesn't allow Aer Lingus redemptions online), and it indeed is. A one-way business class redemption from Montreal to Dublin shortly after the flight launches is pricing at 37,500 Avios plus $69 in taxes.
As of now the award calendar seems to be open through August 27, 2019, so there's only a limited window during which you can book as of now.
The route is the first to be scheduled with one of Aer Lingus' new A321neos, featuring fully flat business class seats, similar to their other aircraft.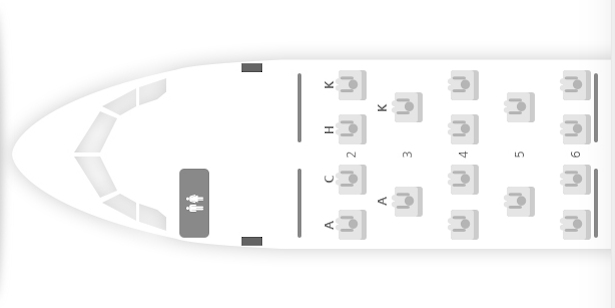 Bottom line
If you're looking to cross the Atlantic next summer this is an incredible opportunity to score a deal on a flight in economy or business, especially if you have Amex Membership Rewards points.
While this is indeed the "correct" award pricing, I wouldn't be surprised to see Aer Lingus eventually move the route to a higher band, just because they can. So you'll want to book sooner rather than later if you can, though I recognize that leaves a limited window during which you can travel.
I went ahead and just booked myself a ticket in business class from Montreal to Dublin, since I'll want to review the A321neo business class, and you can't beat the value of this.
Anyone else plan to take advantage of this award sweet spot?
(Tip of the hat to Joe at InsideFlyer)