A couple of days ago I wrote a post asking which Star Alliance frequent flyer program I should credit my miles to. I'm on a paid business class ticket on Air Canada and South African Airways to Cape Town, which has me flying 24,000+ miles.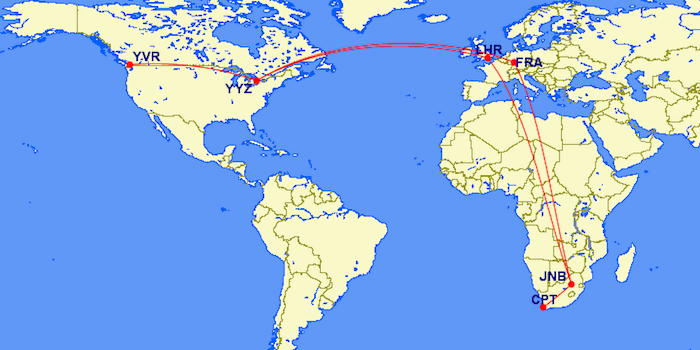 While I fly a fair bit on Star Alliance, it's almost exclusively on award tickets, so I don't actively maintain status with Star Alliance. I do presently have Star Alliance Gold status through Copa ConnectMiles, given that they were offering status matches last year. But it doesn't seem worth requalifying for.
So for this trip the first programs I thought of were Air Canada Aeroplan, Avianca LifeMiles, and Singapore KrisFlyer, given that those are the three Star Alliance programs I tend to use most for my redemptions.
However, most people recommended I credit to Aegean Miles+Bonus.
Why is Aegean Miles+Bonus so awesome?
I was pretty familiar with Aegean's program before, and specifically remember back in the day when they offered status matches which initially didn't seem to have an expiration date, which was awesome. However, they eventually discontinued that, which wasn't surprising.
Since I don't do much revenue flying with Star Alliance, I've never really explored actually crediting miles to them.
Well, as it turns out, Aegean is fantastic for crediting first & business class Star Alliance flights.
For my trip, Aegean offers 200% mileage (both elite qualifying and redeemable) for Air Canada business class: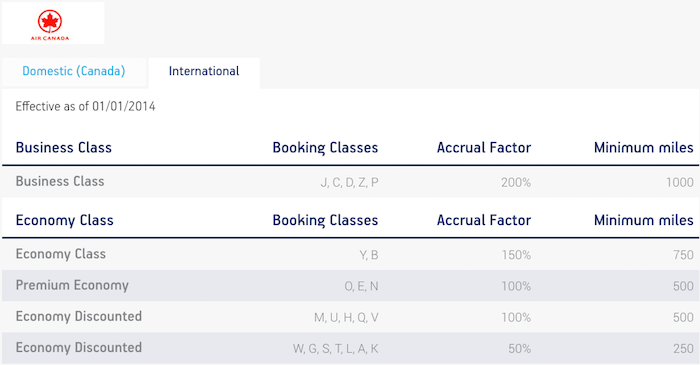 The same is true for South African Airways business class: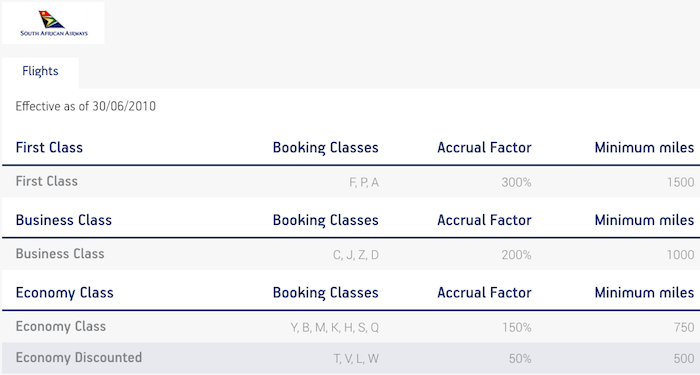 Compare that to the other Star Alliance programs I was considering, which offer 100-150% mileage accrual.
Further, earning (and maintaining) Star Alliance Gold through Aegean is quite easy as well.
You can earn Aegean Miles+Bonus status as follows:
Earning Silver: 12,000 tier miles with two flights on Aegean OR 24,000 tier miles on partners
Earning Gold: 24,000 tier miles with four flights on Aegean OR 48,000 tier miles on partners
Requalifying for Silver: 8,000 tier miles with two flights on Aegean OR 16,000 tier miles on partners
Requalifying for Gold: 12,000 tier miles with four flights on Aegean OR 24,000 tier miles on partners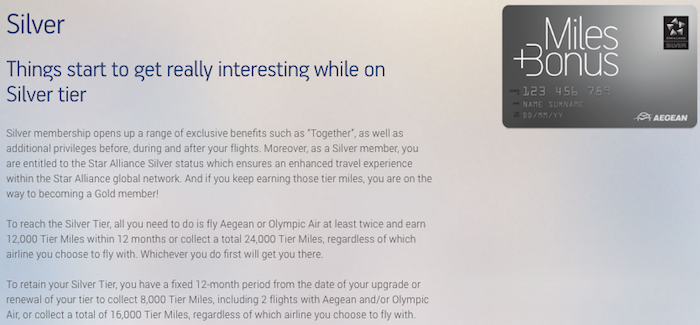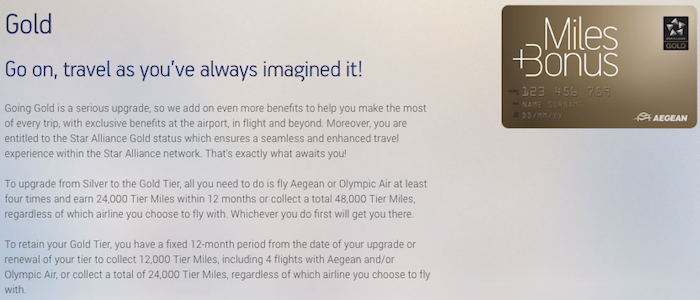 Crunching the numbers on my trip
I don't think this trip could work out much better for me in terms of going for Aegean status. I'm flying just over 24,000 miles, which earns me a bit over 48,000 elite qualifying miles… just enough to earn Star Alliance Gold status.
Update: As it turns out you need 72,000 miles to earn Gold status (48,000 is the requirement if you're already Silver). Maybe I'll be taking a few flights on Aegean this year so I can have that requirement cut significantly).
To requalify next year I'll just need to earn 24,000 elite qualifying miles, which is just 12,000 miles in paid business class on some partners (assuming mileage earning rates stay the same).
On top of that, I'll earn 48,000 redeemable miles, and Aegean has a very lucrative Star Alliance redemption chart (quoted prices are roundtrip, with one-ways available for half the cost of a roundtrip):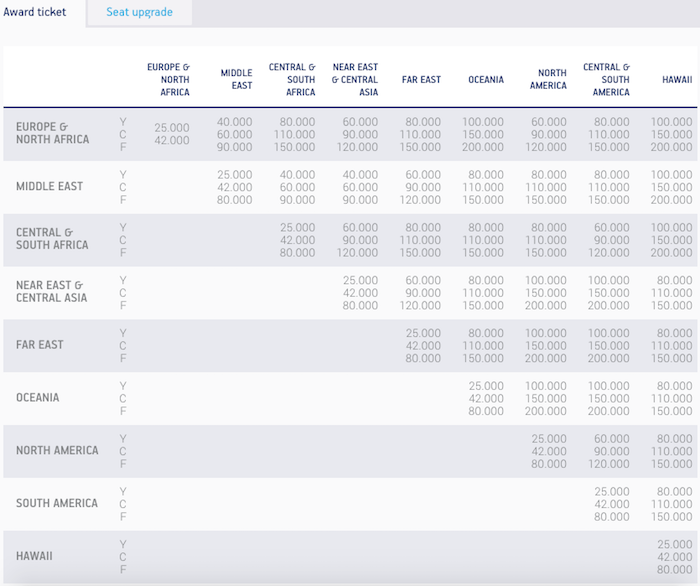 The catch is that there are fuel surcharges, but this still represents a great deal in most cases. For example, my 48,000 miles are more than enough for a one-way business class award between the US and Europe (which costs 45,000 miles), or I'm just a bit short of the requirement for a first class award to Europe (which costs 60,000 miles).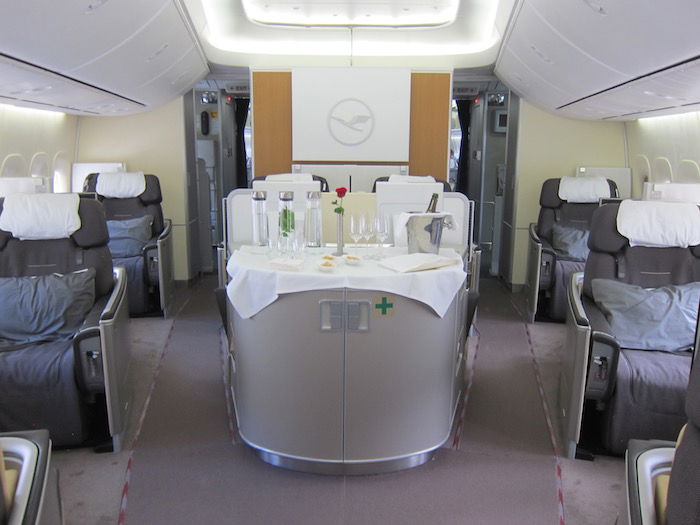 My next Lufthansa first class redemption may be using Aegean miles!
For those flying paid premium tickets, this is a pretty unbeatable program.
You know you're crediting to a good program when…
Based on the quick reader feedback I added my Aegean frequent flyer number to my reservation in the Air Canada Maple Leaf Lounge. When I requested to add it, I figured the agent would say something along the lines of "Aegean… what's that?"
Instead he said "ah, great choice, it's amazing how good their program is. We have more and more people crediting miles to them, they make it so easy to earn status. Now the real question is if you've ever actually flown with them, or just credit miles?"
I'm loving Aegean Miles+Bonus so far, and will report back on my experiences… what's not to love from earning Star Alliance Gold and a one-way business class ticket to Europe from a single trip?
Anyone else crediting their Star Alliance flights to Aegean's program?