As Mike first wrote about in January, Starwood was offering some SPG Moments packages for Adele concerts in London.
For 25,000 Starpoints you could redeem for two tickets in the SPG suite at The O2. I redeemed points for two pairs of tickets for the March 15 show, as Ford and I were going to take our moms, who are probably bigger Adele fans than we are.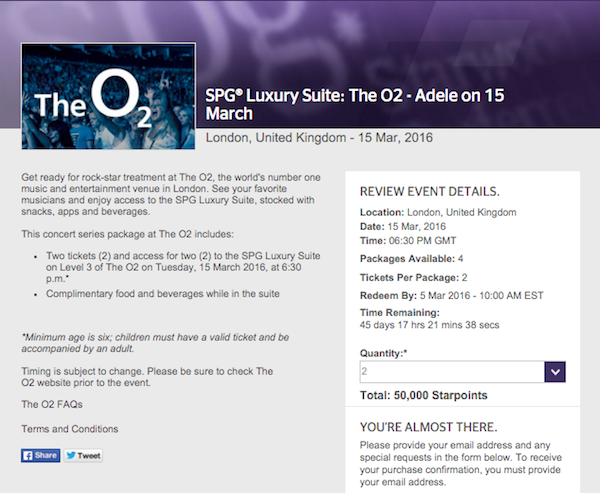 Last year Starwood invited me to the SPG Suite for a One Direction concert at The O2, and I was even able to give away the remaining tickets to readers. We had a blast.
So while I covered the basics of the SPG suite in the last review, I figured I'd once again write about my experience in the SPG suite for the Adele concert.
The doors to The O2 opened at 6:30PM, so prior to that we went to the NY-LON Bar & Lounge at The O2, which is the cool bar being operated by Delta and Virgin Atlantic.
Once the doors opened at 6:30PM we got in the queue to enter the arena. Fortunately there's a special line for those in suites, so we were through in no time. We had printed our tickets online, and they were scanned as we entered.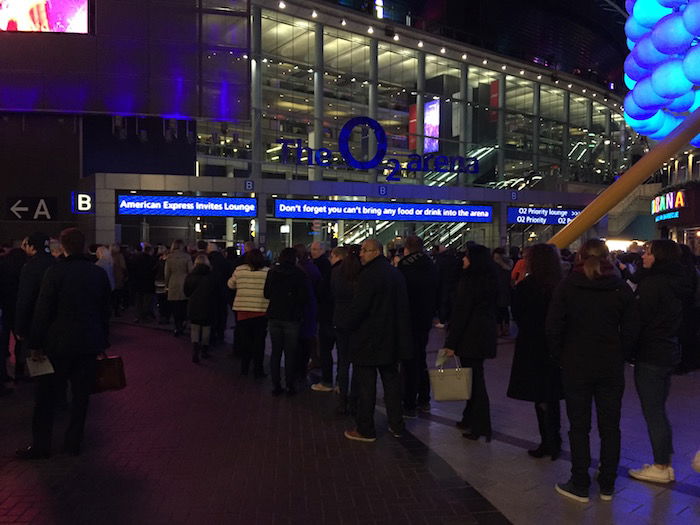 Starwood has suite #327, located on the third level about halfway around the arena.
As we entered the suite our two hosts, Flavia and Elisa, introduced themselves. They couldn't have been more pleasant, attentive, or charming.
The suite itself was beautiful, with a capacity for 15 (I'm recycling some of the pictures of the empty suite from my previous review, since there were already people in it when I arrived this time around).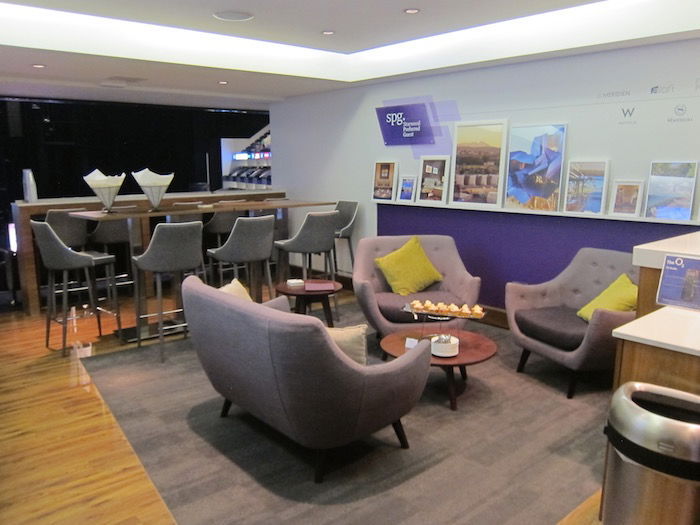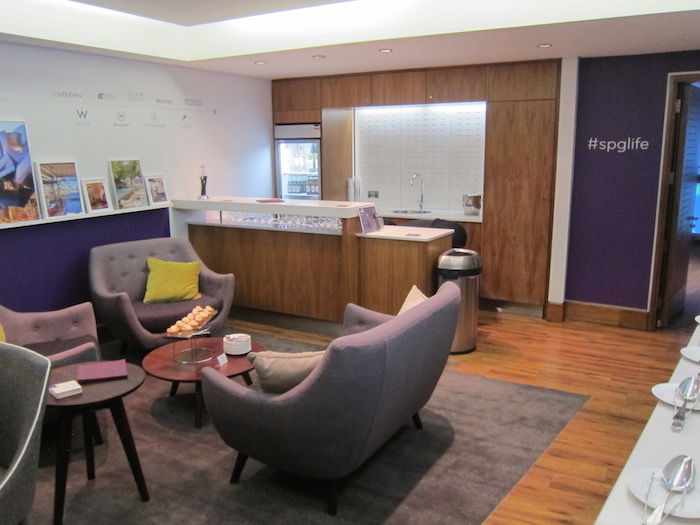 The suite is basically like a living room, with couches, high-top seating, etc.
At the One Direction concert there was a show opener, though in the case of Adele it was just her. She came on stage at 8PM, so once we got to the suite we had dinner and drinks, and interacted with the other guests (including some readers — hi guys!).
The food was already on display. To start there was snack mix, olives, cheese, artichokes, etc.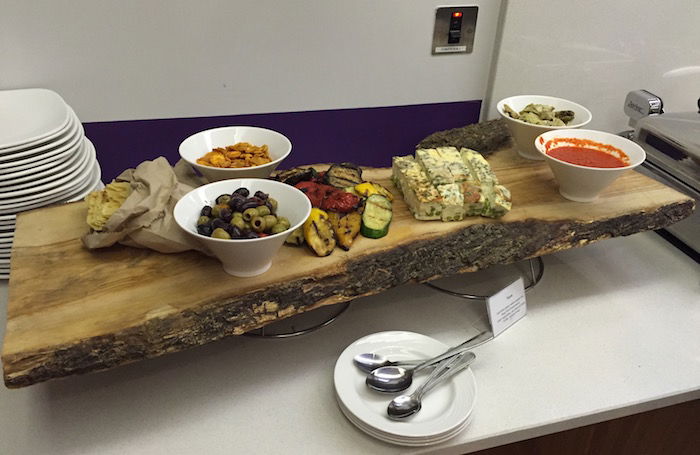 There was also a tasty beet salad.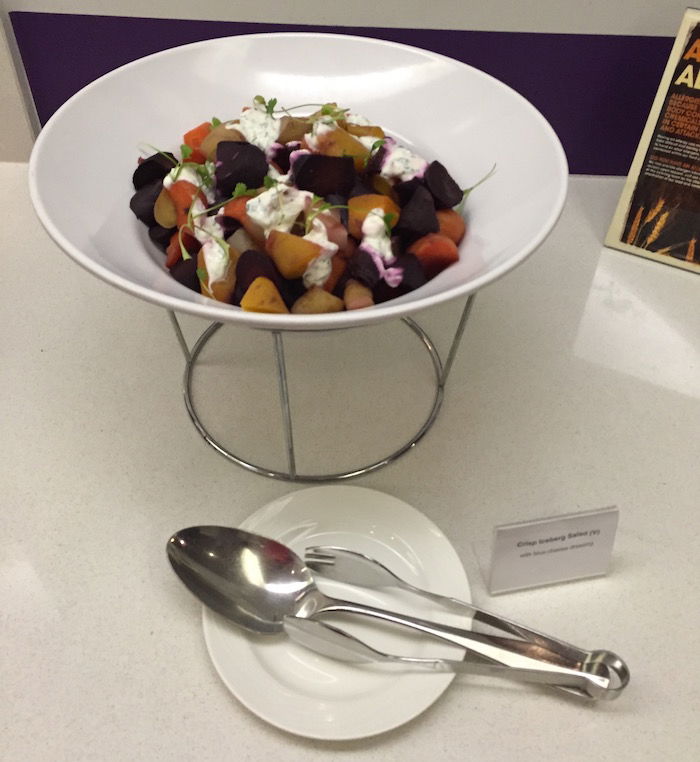 In terms of hot options, there was a chicken dish, a gnocchi dish, and a fish and risotto dish. All three were fantastic.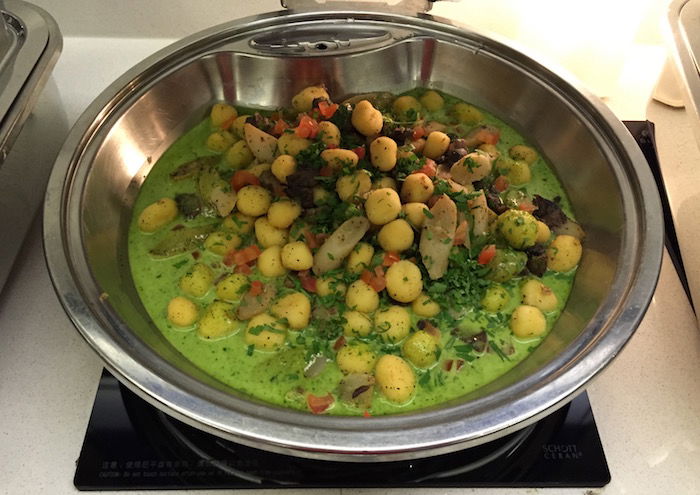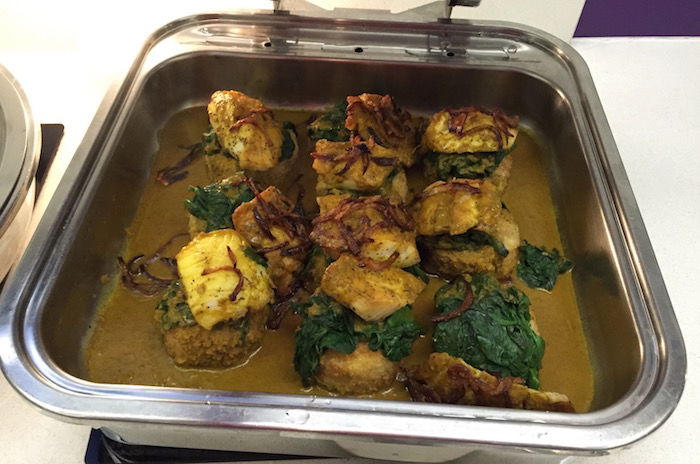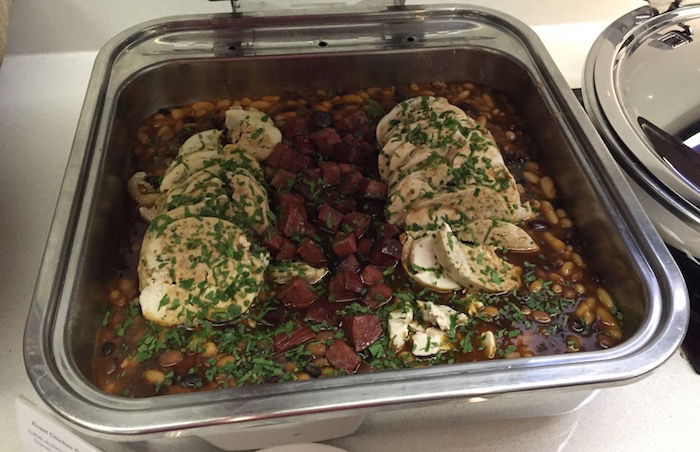 For dessert there were oreo cheesecake slices.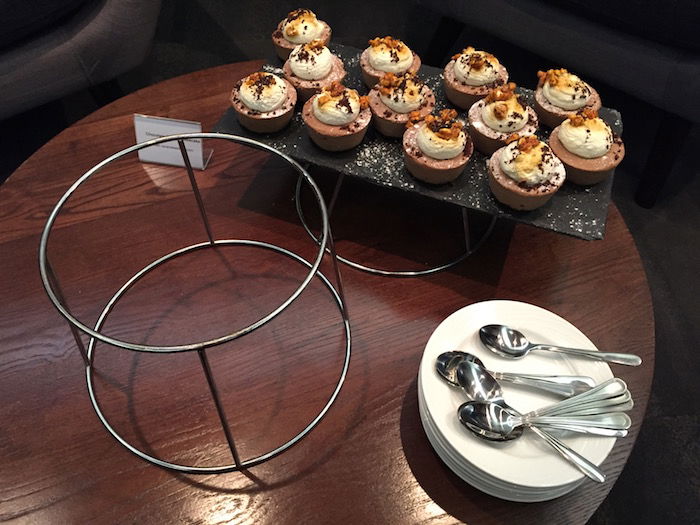 Flavia and Elisa kept our drinks topped off throughout the night (almost to a fault) thanks to the open bar. I stuck to sauvignon blanc for the entire night.
In addition to the interior seating area, there were also 15 seats overlooking the arena, spread across three rows with five seats per row.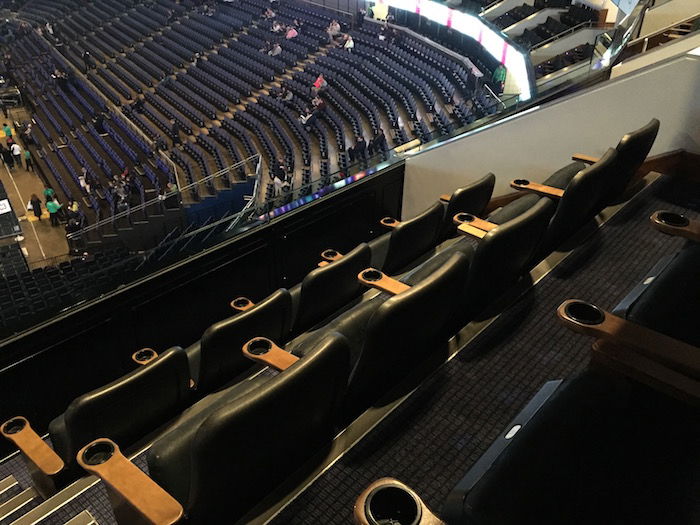 The SPG suite is very well positioned thanks to its head-on view of the stage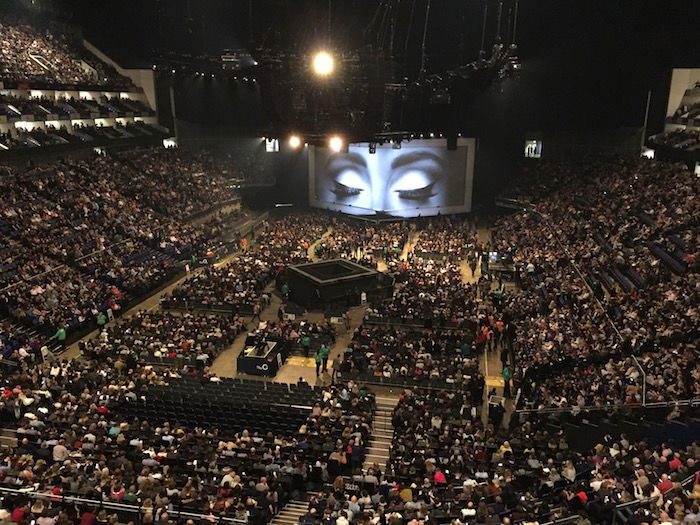 I have to be honest, I was slightly over Adele before Tuesday night. It's not that she isn't amazing, but after hearing "Hello" on the radio a thousand times (no pun intended), it gets old. So while I think she's amazing, I felt like I was being over-exposed.
I can't even begin to say how much she won me over with this concert. In fairness I haven't attended too many concerts, and the last one I attended was a One Direction concert, so I may not be the best judge of music quality.
But she was beyond incredible, I really can't put it into words. She sounds amazing on the radio, but sounded even better in person.
The special effects of the show were also incredible, as she kept switching between stages.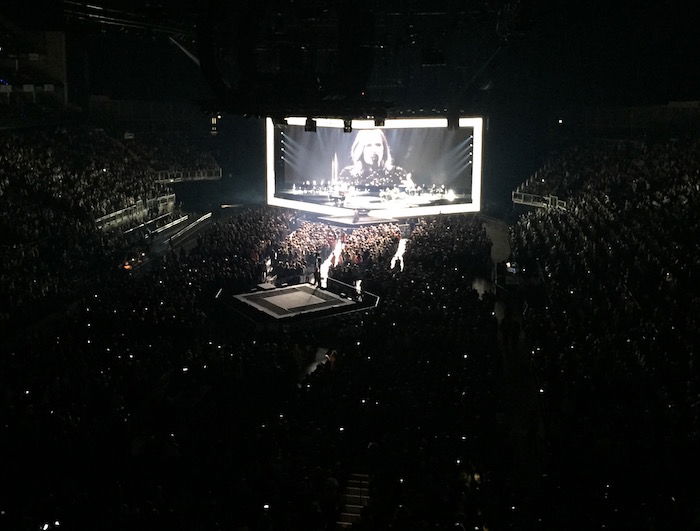 For example, when she performed "Set Fire To The Rain" she was effects which made it look like there was rain falling from all sides.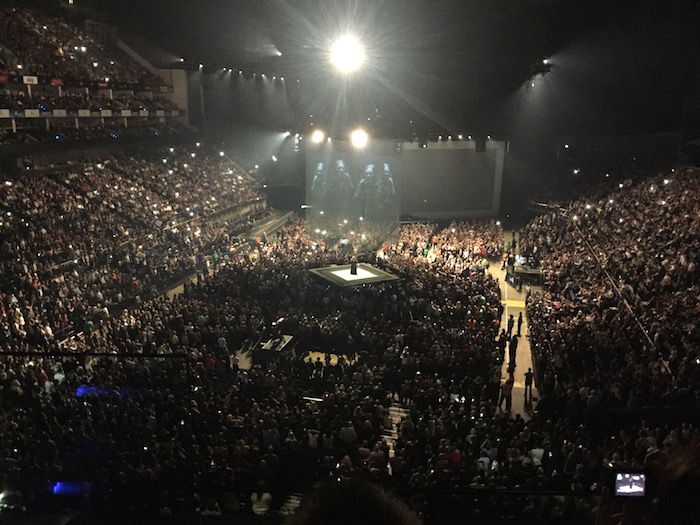 During other parts of the performance her face took up the entire screen.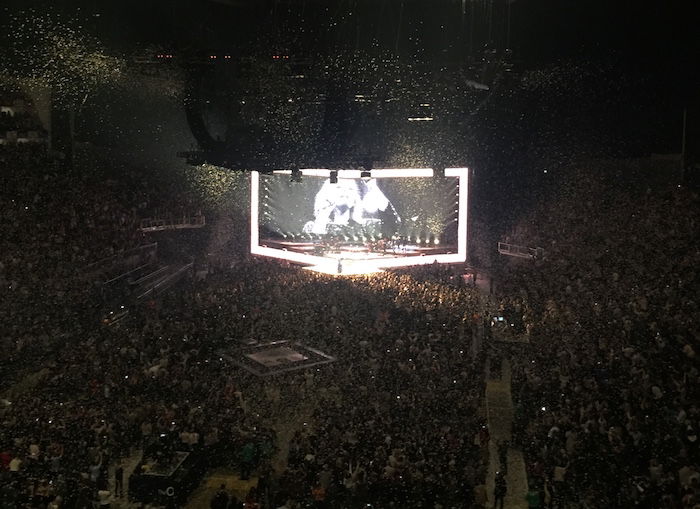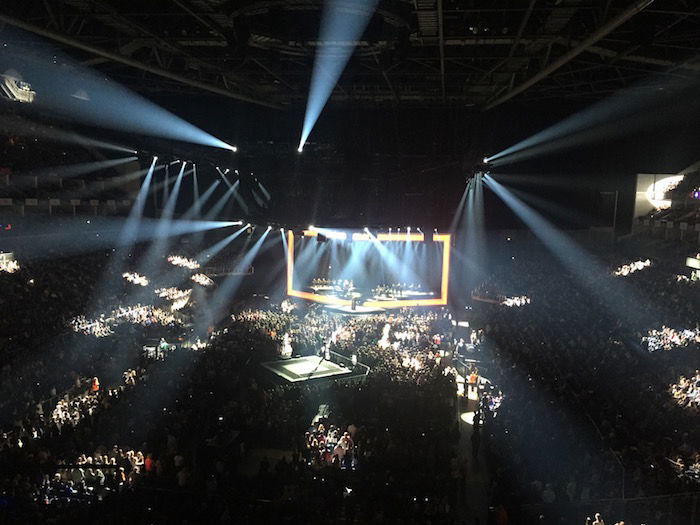 I also loved her audience interaction, and how genuine she seemed. "F*ck, I'm nervous," she said towards the beginning. She called several fans on stage as well, which ended up being hilarious. In one instance she talked to a guy who said he came here from Brazil.
"You fly here just for the concert? That's sweet. When did you fly here, yesterday?"
"No, last year."
Not sure that quite qualifies as flying to London to see Adele, but it was amusing nonetheless. 😉
While she opened with "Hello" (shocker!), I was waiting for her to sing "Rolling In The Deep" all along.
I thought she was done after about 90 minutes, but then she appeared on stage one more time to sing "Rolling In The Deep." I was on cloud nine.
All-in-all she was on stage for a bit over 90 minutes, which is impressive given the amount of emotion and soul she puts into her performances.
I left as a bigger Adele fan than I ever was before. Her voice was even better than I could have imagined, and she seemed so genuine and kind. And she even put on a show in terms of her commentary between songs.
Bottom line
Redeeming points for experiences like this is such an incredible value. Adele's world tour sold out in no time. Beyond that, concerts are a lot more fun when you have access to a spacious suite with great food and unlimited drinks.
Suite tickets aren't something you can easily buy, and if you can, they're going to be outrageously expensive.
In 99% of instances I think the best use of airline and hotel points is for travel, but SPG Moments packages are an exception.
What an incredible night!
If you managed to snag tickets to one of Adele's upcoming performances, you're in for a treat!
Would you ever redeem points for an SPG Moments package?