I've written extensively and passionately about the US Pre-Clearance Facility in Abu Dhabi.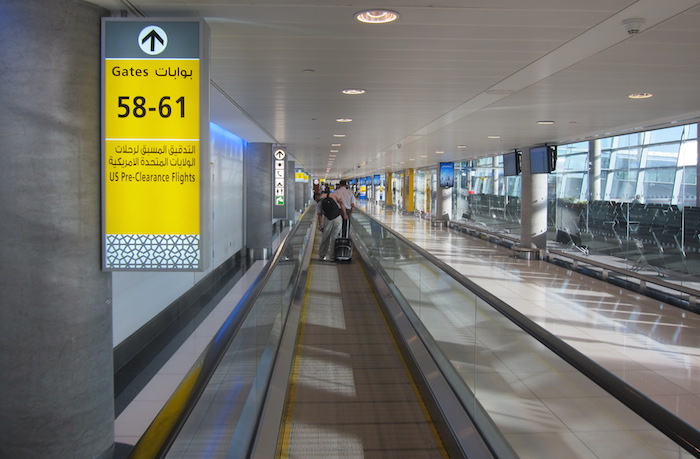 For those of you that haven't seen my rants on the situation, see here:
Basically for select US-bound flights, Etihad offers a facility whereby you clear US customs and immigration prior to boarding your flight. This is a model that works quite well in some other countries, like Canada and Ireland, but works horribly in Abu Dhabi. It has literally been consistently delaying US bound flight by hours. Hours.
For me the most offensive thing was that even after it was implemented, Etihad's CEO was quoted as bragging about how damn great the operation was performing:
"This is a game changer as far as Etihad is concerned. The facility has made a huge difference and really couldn't have gone better. It's great not just if you are flying direct to the US from Abu Dhabi but also connecting from elsewhere in the region."
I've yet to hear from someone that used the facility that was pleased with it. As far as I'm concerned it's a reason to avoid flying Etihad from the UAE to the US.
It looks like Etihad may actually be learning their lesson. Abu Dhabi Airport is in the process of building their new Midfield Terminal Building, which is set to open in 2017. Etihad will operate primarily out of the new terminal, including their US bound flights.
And they don't have plans to add a US Pre-Clearance Facility there. Via Runway Girl:
But the United States Border Preclearance currently offered on five of Etihad's seven USA flights will not be included in the new terminal, the airport's VP for capital projects, Sulaiman al Siksek, revealed today to Runway Girl Network in Abu Dhabi. The system currently allows precleared flights to arrive as if they were domestic services, with all the necessary paperwork done before departure.

"The preclearance facility is currently just by Terminal 3," al Siksek said, referring to the latest terminal, completed in 2009 and the home of most of Etihad's flights. "We're looking at the plans, possibly, for a future preclearance, probably in the satellite."
We have to wait at least another three years, but this is fantastic news. Fantastic!