Yesterday we officially found out that the American AAdvantage and US Airways Dividend Miles programs will be integrated in April. We've known since last year that the two programs will integrate in the second quarter, though this is the first time we were officially given an exact month.
Anyway, AAdvantage and Dividend Miles are presently sending out emails to members noting that they're "on track to bring the Dividend Miles program into the AAdvantage program within the next 30 days."
That means Dividend Miles will be merged into AAdvantage in the first two weeks of April.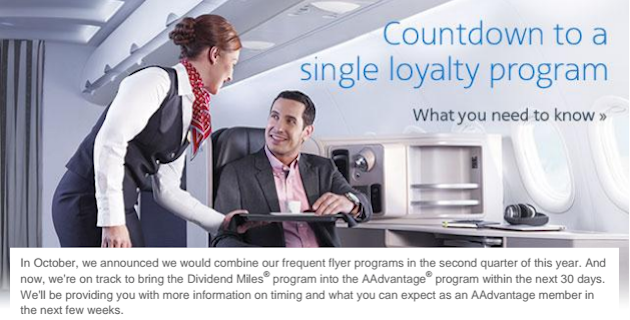 In these emails they share further information, some of which you're probably already familiar with if you've been following along with the merger.
Miles between programs will be combined 1:1
As you'd expect, miles between the two programs will be combined at a 1:1 ratio, both in terms of elite qualifying and redeemable miles:
We'll create a new AAdvantage account for you once we combine programs, and we'll transfer your Dividend Miles mileage balance, Preferred-qualifying activity and million mile balance into that account on a one-to-one ratio. We'll determine your elite status level by looking at your combined elite-qualifying activity for 2014, and separately, your combined 2015 year-to-date elite-qualifying activity.
Dividend Miles awards will be discontinued early
This isn't really surprising, but is something to be aware of. Dividend Miles award bookings and mileage upgrade requests will be disabled before they combine programs to make sure that the process goes as smoothly as possible:
Dividend Miles award bookings and mileage upgrade requests will be disabled a few days before we combine programs to allow us to integrate your accounts. If you plan to redeem Dividend Miles for an upcoming trip, we encourage you to book now. Once our programs are combined, Dividend Miles will be converted into AAdvantage miles, and you'll be able to redeem AAdvantage miles with American.
Upgrades will continue to work differently
Since the airlines are still on separate reservations systems, upgrades between the two carriers will still work differently under the airlines are on a single reservations system:
Once we combine programs, your elite benefits will initially work differently for American and US Airways flights, as we'll still operate as two separate airlines. We'll adopt the American upgrade process for all flights when we have a single reservation system later this year.

To upgrade, you should book flights that are marketed and operated by the same airline – either American or US Airways. If you're booked on a codeshare flight, you'll only be able to upgrade when you check in based on availability.

Soon after we combine programs, qualifying Dividend Miles Preferred members will receive 500-mile upgrades to use on American flights.

If you're a Chairman's Preferred member, you'll receive 8 systemwide upgrades to use on both airlines. You'll need to redeem your Chairman's Preferred electronic certificates before our programs combine. We'll allow you to use them for future travel as long as it's confirmed before we combine programs.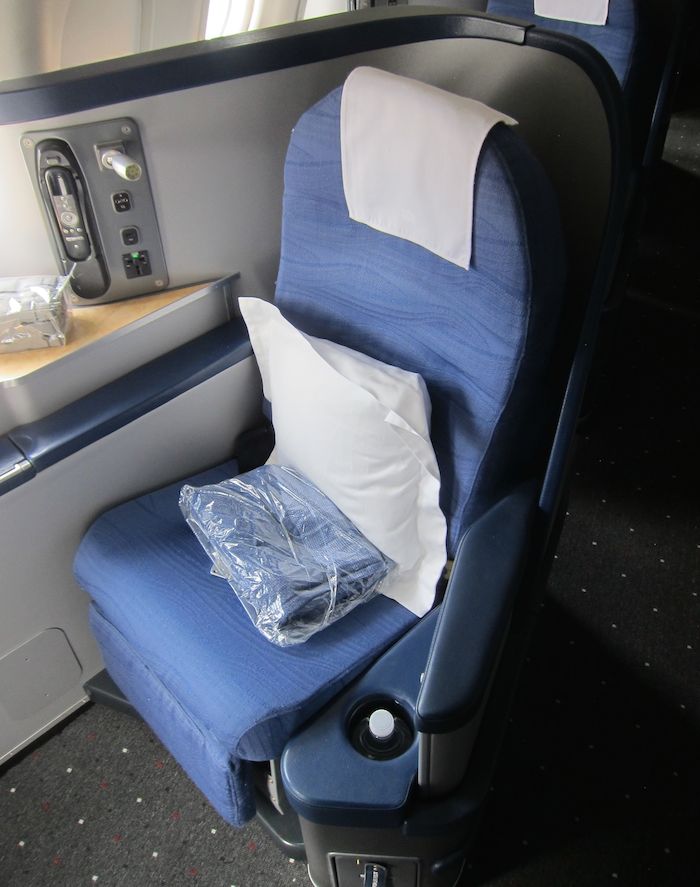 Redeem your US Airways systemwide upgrades before the program integration
Link AAdvantage & Dividend Miles accounts by March 20
A while back, American added the ability to link your AAdvantage and Dividend Miles accounts, to make things more seamless once the merge occurs. They'll be shutting down this functionality as of March 20, 2015:
Let us know before March 20, so we can combine your miles and activity into your AAdvantage account. If you're unable to match by then, we'll assign your Dividend Miles account a new AAdvantage number and give you a chance to merge accounts later.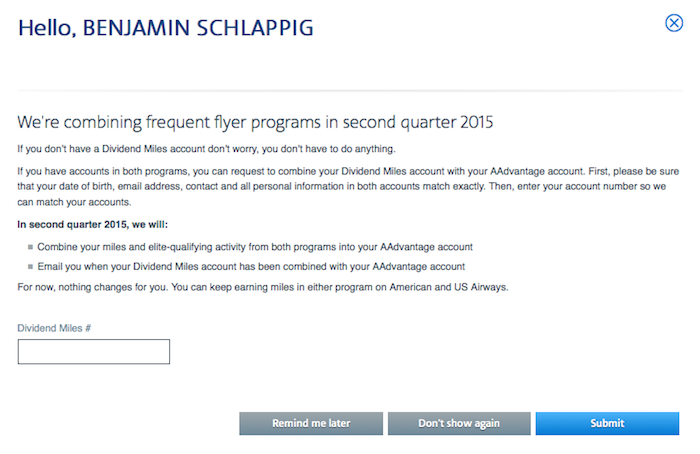 Things to take action on now
In the meantime:
Link your AAdvantage and Dividend Miles accounts, so that your account transition goes smoothly when the programs merge (some people have had issues whereby they can't link accounts when the names don't match exactly); you have until March 20 to do that
Decide whether you want to redeem your Dividend Miles before the programs merge, or want to wait until they're converted into AAdvantage miles (in most cases you'll get better value redeeming them now); if you want to redeem them, you'll have to do so a few days before the programs integrate, as Dividend Miles award redemptions will be discontinued at that point
If you're a US Airways Chairman's Preferred member, redeem your two systemwide upgrades now — you can even use them for future travel, as long as you can confirm the upgrades before the programs combine; you'll be getting eight systemwide upgrades in a matter of weeks
Bottom line
This integration is bittersweet, depending on how you like to redeem your miles and what benefits you value most. I'd expect that next week (or so) we'll hear from American with an official integration date. If I had to guess, I'd say it'll be the first weekend in April. I guess we'll find out soon!