All's well that ends well, as was the case here, though it doesn't make the story any less interesting/bizarre.
Last Thursday's British Airways Airbus A380 flight from Hong Kong to London, BA32, faced a very strange situation. When the plane finished its climb out it received a tire pressure indication. The crew decided to continue the flight, but requested a tug in case they weren't able to taxi themselves to the gate.
Since they were already enroute and the wheel was inside the belly of the plane, there's not really a benefit to diverting. Even if there were an issue in London, at least they'd much more easily be able to fix the plane and accommodate passengers.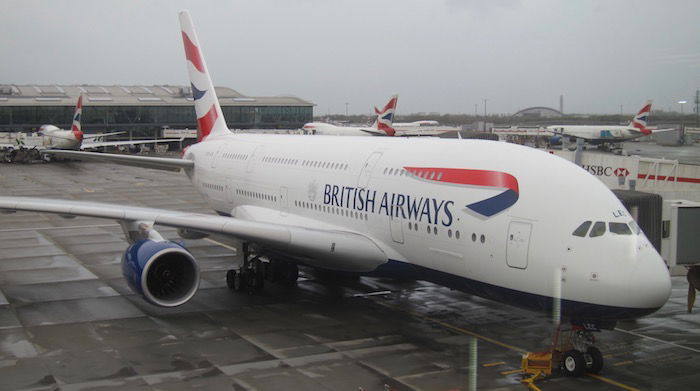 What caused the tire pressure warning? Per The Aviation Herald:
The aircraft landed safely on Heathrow's runway 09L and taxied to the gate.

The aft right outboard body tyre caused a lot of head scratching trying to explain how the stunning square shape of the damaged tyre came together (editorial note: the original of the photo does not exhibit any indication of photoshopping).

Aft right outboard body tyre seen after arrival at the gate:
Yow! Does anyone with a better understanding of science than me want to take a crack at that one?
By the way, for anyone who doesn't check The Aviation Herald frequently, I highly recommend it. It provides a summary of aviation incidents which occur on a daily basis, ranging from minor problems to crashes (with the latter being extremely rare, fortunately).