As I first wrote about earlier in the week, British Airways Executive Club didn't seem to have access to any American Airlines award availability. This issue applied both online and by phone, and it's not the first time something like this happened. The IT systems that the airlines use are complex and outdated, so these issues happen more often than you'd think, and generally I assume that there's not any foul play.
The good news is that American has just let me know that this issue has now been fixed. American awards are once again bookable on British Airways' website using Avios.
As a reminder, redeeming British Airways Avios for short-haul travel on American can represent a fantastic value, as they charge the following number of Avios for one-way awards in economy:
Segments of 1-1,150 miles cost 7,500 Avios
Segments of 1,151-2,000 miles cost 10,000 Avios
Segments of 2,000-3,000 miles cost 12,500 Avios
Furthermore, at the moment there's a 40% transfer bonus from Amex Membership Rewards to Avios, which means you can convert 1,000 Membership Rewards points into 1,400 Avios. This can make those redemptions an even better value.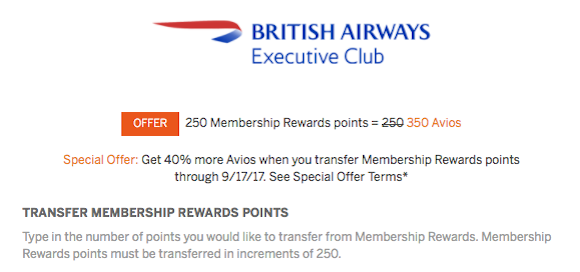 Of course this assumes you can actually find saver level award availability on American, as it can often be tough to come by. American has gone from best to worst among the US legacies when it comes to saver level award space, in my experience.
Happy Avios redeeming!