It's incredible to see the pace at which Chinese airlines are adding flights to Los Angeles. This is probably largely due to China's policy of only allowing one Chinese airline to operate each longhaul route. The effect of this is that airlines want to beat one another to markets where they see potential, even if they don't think the demand is there just yet. In some cases it's clear that airlines are launching routes simply to prevent their competitors from doing so in the future.
For reference, so far Chinese airlines operate nonstop flights between LAX and the following cities in mainland China:
Beijing on Air China
Changsha on Hainan
Chengdu on Hainan
Chongqing on Hainan
Guangzhou on China Southern
Hangzhou on Sichuan
Jinan on Sichuan
Nanjing on China Eastern
Shanghai on China Eastern
Xiamen on Xiamen (starting in June)
Xiamen Air wants to start flying from Los Angeles to Qingdao
Xiamen Air's first US route was to Seattle as of September 2016 (I had the chance to fly Xiamen Air roundtrip to Shenzhen, in both business class and first class). Then they're adding flights between Los Angeles and Xiamen as of June 2017. Now they want another LAX route — Xiamen Air has requested permission from the DOT to operate flights between between Los Angeles and Qingdao as of December 2017.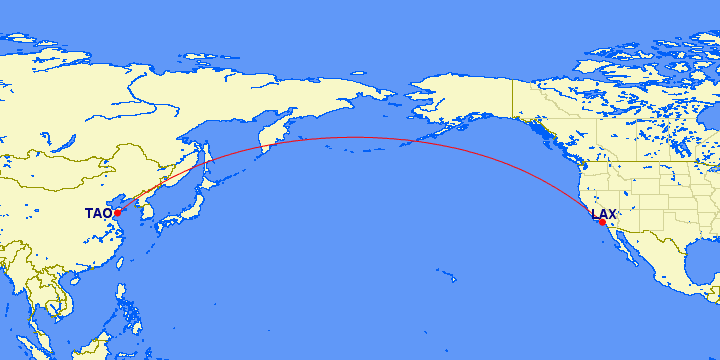 Per their filing with the DOT:
Xiamen Air hereby requests an exemption from 49 USC 41301 and from any other provisions of Title 49 and the Economic Regulations of the Department to the extent necessary permitting it to engage in the scheduled foreign air transportation of persons, property and mail between Qingdao, China and Los Angeles, California. Xiamen Air requests that any exemption granted to it remain in effect for at least one year. Xiamen Air plans to commence Qingdao-Los Angeles service in December 2017.

In September 2016, Xiamen Air successfully instituted scheduled Shenzhen-Seattle service—its first to the United States—and began nonstop service between Fuzhou and New York in February 2017. Service to Los Angeles from Xiamen will begin in June 2017, followed by Qingdao-Los Angeles in December 2017.
I suspect it will be a few weeks before their request is approved, and then a bit longer before tickets go on sale. However, most China requests with the DOT have been successful lately, so I do expect this route to come to fruition.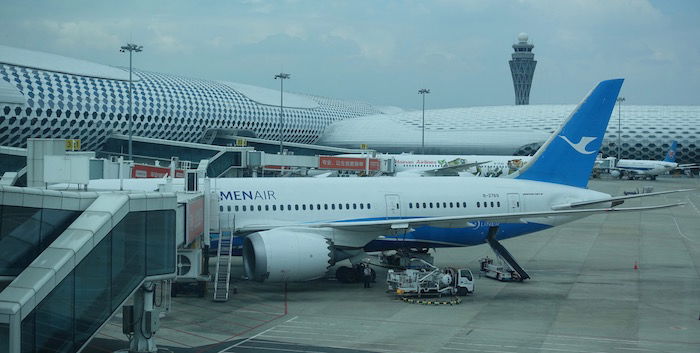 Why I'm excited about Xiamen Air's expansion
Xiamen Air is a subsidiary of China Southern, and is also a member of SkyTeam, so flying with them is a great way to earn and redeem SkyTeam miles. On top of that, Xiamen Air generally has excellent business class fares, so this should be a good opportunity to get a deal in business class on a flight to China.
Xiamen Air's longhaul fleet consists of 787 aircraft, so presumably one of those will be used for the route.
Xiamen's 787-8 aircraft feature fully flat seats in first and business class. First class consists of just four seats, in a 1-2-1 configuration.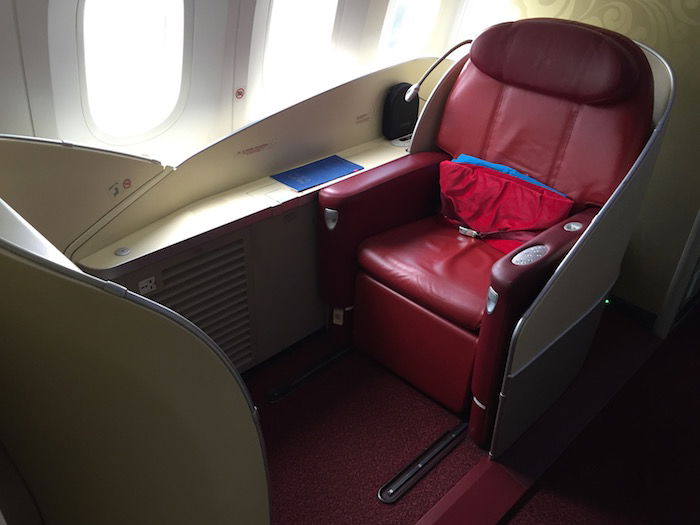 Meanwhile business class is in a 2-2-2 configuration, also with fully flat seats.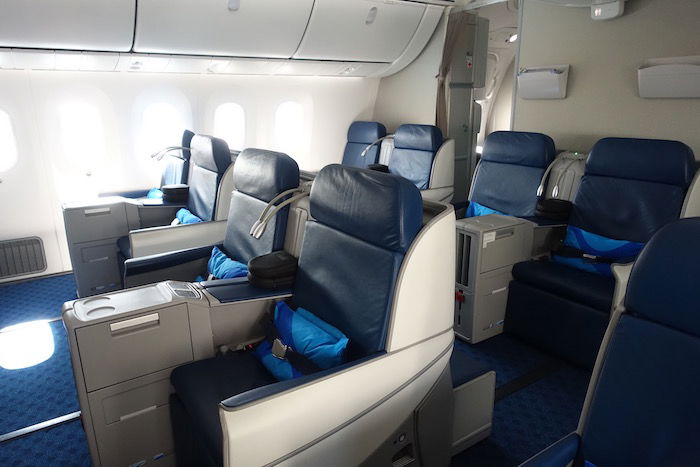 However, Xiamen's new 787-9 aircraft feature reverse herringbone seats in business class, which is a fantastic improvement. I suspect this is the plane they'll operate on the LAX routes. Xiamen Air also has a top notch soft product, at least as far as Chinese airlines go.
Bottom line
It's exciting to see the pace at which Chinese airlines are expanding to the US, especially beyond the traditional flights we've previously seen to Beijing and Shanghai. This is opening up a ton of new low cost options across the Pacific, in both economy and business class. Best of all, Xiamen Air is one of the best Chinese carriers out there.
Having taken Hainan's flight to Changsha, it sure was a unique experience landing at an airport where virtually no one spoke English. I've been to plenty of cities where not many people spoke English, but usually airports are an exception…