Xiamen Air launched their first flight to the U.S. in September, between Shenzhen and Seattle. The airline has lofty expansion plans for North America, and in August announced that they'd be launching flights between New York and Fuzhou as of February 2017. Then in October the airline filed with the Department of Transportation to request the right to fly between Los Angeles and Xiamen, starting in June 2017.

Xiamen Air 787
Well, that flight has just recently become bookable. Xiamen Air will begin 3x weekly Boeing 787 flights between Los Angeles and Xiamen as of June 27, 2017. The flight will operate with the following schedule on Sundays, Tuesdays, and Thursdays eastbound, and on Mondays, Wednesdays, and Fridays westbound, per @airlineroute:
MF829 Xiamen to Los Angeles departing 8:00PM arriving 6:00PM
MF830 Los Angeles to Xiamen departing 12:15AM arriving 5:30AM (+1 day)
Xiamen Air has some attractive introductory business class fares in the market, starting at under $1,000 each way.
You can book roundtrip business class between Los Angeles and Xiamen for just under $2,000, which is great for such a long flight (though not quite as good as the sub-$1,600 introductory fares we saw to Seattle earlier in the year).
Xiamen Air is a SkyTeam member, meaning you can earn and redeem SkyTeam miles for travel on their flights. As of now I don't see any business class award seats on this flight, though I suspect that will change soon, given that the flight was just loaded into the schedule.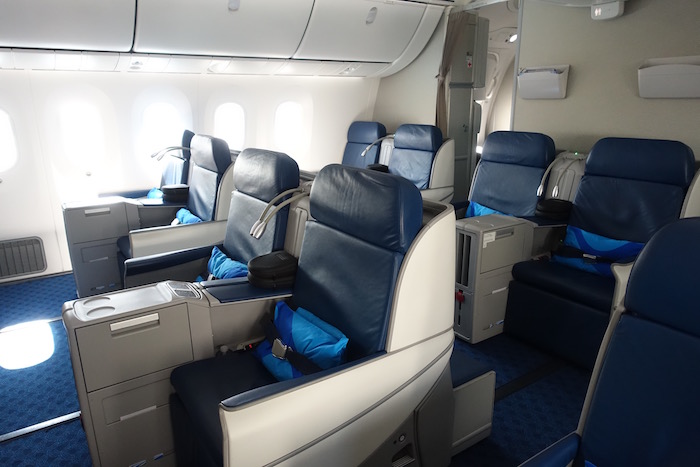 Xiamen Air business class
A couple of months ago I flew Xiamen Air between Seattle and Shenzhen, and had a fantastic experience — I flew the outbound in business class and return in first class, thanks to Xiamen Air's reasonably priced upgrade program. The airline greatly exceeded my expectations, in particular in regards to the service and food. I'd say Xiamen Air is one of the best Chinese carriers, along with Hainan.
Bottom line
Xiamen Air is a fantastic airline with attractive premium fares and they're part of SkyTeam, making them great for earning and redeeming miles. I'm thrilled to see them expand their route network to the U.S., as their service blows away the offerings of most other Chinese carriers. I'd definitely consider flying them if headed to China.
Anyone considering taking Xiamen Air's new Los Angeles flight?