In February I wrote about significant changes coming to the Wyndham Rewards program, and those changes are live as of today.
What Wyndham Rewards is changing
The most significant change that Wyndham made is that they've fundamentally changed how their award pricing works.
Since 2015, Wyndham Rewards has charged a flat 15,000 points per free night, no matter which hotel you were redeeming at. This was of course great for those seeking aspirational redemptions, but less great for others.
Wyndham Rewards' new award pricing is live
As of today Wyndham Rewards' new award pricing has kicked in. With these changes, there are three pricing tiers for hotels:
7,500 points per night, or 1,500 points plus cash
15,000 points per night, or 3,000 points plus cash
30,000 points per night, or 6,000 points plus cash
Up until now the company hadn't actually revealed which properties would belong in which of the tiers, so now we finally know.
Members have two ways they can view award pricing — either you can use the booking widget (for example, search a specific tier in a specific city), or you can view the full listing of hotels at wyndhamrewards.com/locations, and price each hotel independently.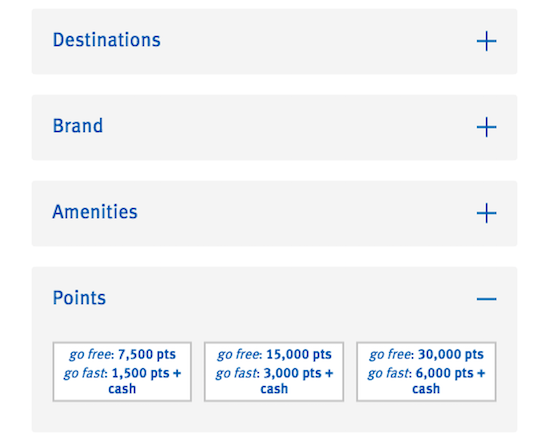 As noted previously:
Fewer than 200 hotels have moved to the 30,000 point tier
Nearly 3,000 hotels have moved to the 7,500 point tier
The remaining hotels continue to stay at the 15,000 point tier; Wyndham Rewards has a total of 8,735 properties
So the average cost per night across Wyndham's portfolio is decreasing, though the catch is that I imagine redemptions were highly concentrated at the fewer than 200 properties that now cost 30,000 points per night, rather than the nearly 3,000 properties that now cost 7,500 points per night.
The other significant change is that La Quinta Returns has now joined Wyndham Rewards, meaning that you can redeem Wyndham Rewards points at all La Quinta properties. This follows Wyndham's takeover of La Quinta, which was first announced in early 2018.
Bottom line
I was a big fan of Wyndham's fixed 15,000 point pricing, as they're the only hotel group that ever had such an aspirational-friendly redemption policy. The catch is that Wyndham just doesn't have that many aspirational properties, and I imagine in many cases this was alienating those who didn't want to redeem at the few dozen higher end properties they have.
The new pricing seems logical enough to me.
What do you make of Wyndham Rewards' new award pricing?