WOW Air has been on a downward spiral lately, and the carrier's 2019 summer schedule reveals just how far the cuts are going.
What happened to WOW Air
In the second half of last year we saw several European airlines go out of business overnight. While WOW Air is still in business, I don't remember the last time I've seen an airline cut routes and get rid of planes as quickly as they have.
The airline has been losing money since it started operations in 2012 (it started flying to the US in 2015), though I guess other European airlines going out of business put them under increased pressure in terms of making payments to their lenders, and as a result the airline has basically started to fall apart in front of our eyes.
It's clear that at this point the Icelandic aviation market is saturated, and it seemed like an acquisition was the only way the airline would survive:
The cuts WOW Air has made already
The airline is most definitely cutting like crazy.
WOW Air has already gone from 20 airplanes to 11 airplanes, including returning all of their Airbus A330 aircraft, as well as select Airbus narrowbody aircraft to their leasing companies to improve their financial position and cut their losses.
On top of that, WOW Air has basically taken an axe to their North American route network:
First WOW Air canceled flights to Cincinnati, Cleveland, and St. Louis, just months after launching them
Then WOW Air canceled flights to Dallas Fort Worth and New York JFK
Then WOW Air discontinued flights to Pittsburgh
Then WOW Air reduced the number of flights they'd operate to Orlando, going from offering the flight for several months to several weeks
Then WOW Air cut their flights to Los Angeles
Then WOW Air canceled flights to Chicago
The thing is, many of these route cancelations and suspensions were supposed to be seasonal, and many of us assumed that some more routes would be returning in summer. After all, WOW Air is a highly seasonal airline, and you'd think they'd be able to do pretty well in summer.
Well, WOW Air has now released their summer 2019 schedule, and it's grim. In the summer of 2019, WOW Air will only fly to four US destinations. This includes:
Daily flights to Baltimore
Daily flights to Boston
Daily flights to Newark
4x weekly flights to Detroit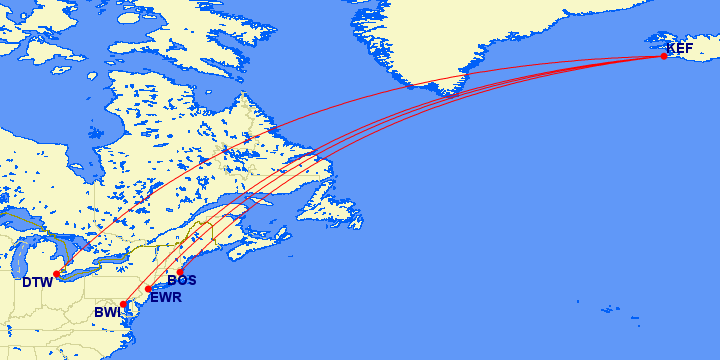 So the airline will only operate four US routes this summer, while they operated over a dozen US routes last summer. Wow.
I guess their choice of four routes isn't surprising, perhaps with the exception of Detroit. I'm a bit surprised that if they're only going to fly to four US cities, Detroit is among them.
I totally get why they're cutting routes and going back to the basics, but I guess I'm a bit surprised by how lopsided their route network will be. They'll fly to almost 20 destinations in Europe, while they'll only fly to four destinations in the US, and two in Canada.
I guess they're expecting they'll carry a lot of people exclusively between European cities and Iceland, because capacity-wise there's not balance between their North American flights and their European flights.
What WOW Air's CEO says
USA Today has a few quotes from WOW Air's CEO. With regards to their investment from Indigo Partners, he says "that's still very much ongoing, I can't really say much … other than that we are still working according to plan." That doesn't necessarily sound like a sure bet to me.
In regards to their route cuts, he has said that the cuts are "a direct function of reducing the fleet to 11 aircraft and, hence, rationalizing the network to fit that size."
"I think we grew extremely rapidly, but … we made some strategic mistakes in adding the (Airbus) A330 into our fleet."
The goal now is to simplify their operations significantly:
"We are getting back to our roots, getting back to the basics. Getting back to building a stronger foundation that will then allow us to grow again as a purebred low-cost airline."
Bottom line
WOW Air is going to be an interesting airline to watch over the coming weeks and months. On the plus side, I'm happy that they're still in business, and as much as these cuts are sad, they're also necessary.
We'll have to see if the Indigo Partners investment still happens. It doesn't seem like a sure thing yet, so time will tell.
Are you surprised to see WOW Air reduce their US network to just four routes this summer?