Ben has written a lot recently about how WOW Air is slowly but steadily falling apart as their financial position deteriorates and they rapidly cancel routes.
Hopefully the proposed new investment from Indigo Partners works out.
A couple of days ago I across a story in the Miami Herald that featured a WOW Air photo, but when I read the headline I initially thought 'they have the wrong airline for the photo.'
But no, sure enough, despite all of their financial and operational issues, they are currently due to operate charter flights from Miami to Cuba!
So how did this all come about?
Miami based Gulfstream Air Charter (GAC) planned to operate (at least) daily charter flights from Miami to Cuba, using Boeing 737 aircraft, and sold tickets on their website for these flights.
But three months ago, the Cuban government advised Gulfstream Air Charter that they could not provide 'optimal technology to handle luggage on the Boeing 737,' despite American operating multiple 737 flights on the route each day.
So, GAC looked to see if they could lease a different aircraft type to operate the flights. They turned to WOW Air to operate the flights for them.
GAC even advertised WOW Air aircraft on their Instagram story: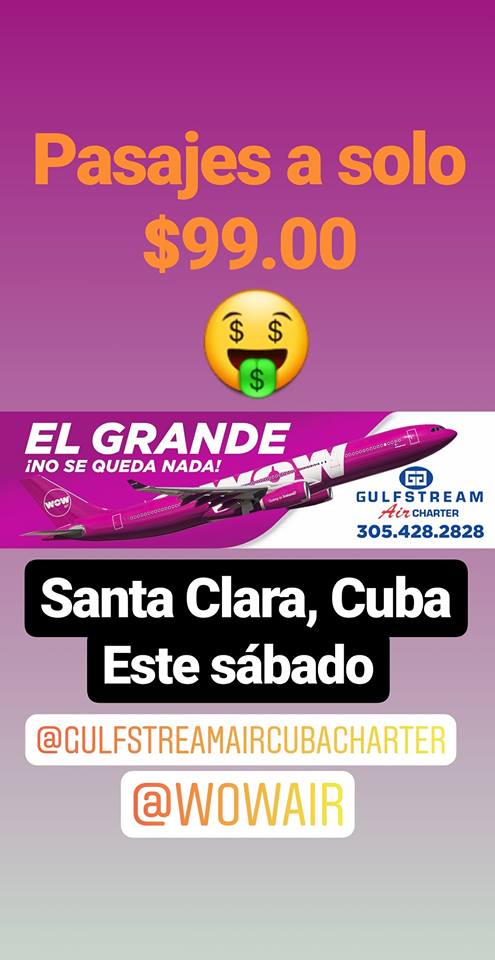 WOW Air operates a mix of A320, A321 and A330 aircraft. They operated flights from Iceland to Miami themselves using A330 aircraft earlier this year, though they cut the route less than a year after launching.
Given WOW Air has also been cancelling routes and flights as they returned two of their three A330 aircraft to their leasing companies, I assumed it must have been either an A321 of A320 they planned to use for these flights.
WOW Air has leased an A320 aircraft to Aruba Airlines (P4-AAD), which does operate flights to Miami (from Aruba) already, so I thought perhaps that may be the aircraft operating the flights for GAC. But ch-aviation.com suggests it is a separate plane that will operate 120 charter flights from Miami to Santa Clara, Cuba.
Up until now I had been wondering which plane would operate the route, though it looks like we now know. TF-GPA, an Airbus A321, operated its first flight today between Miami and Santa Clara.
I'd be interested to see what the proposed aircraft utilisation would be like for this plane – where they are only operating one flight per day, the plane would only be in the air for less than two hours every day.
While the first flight seemed to operate today, several previous flights had been canceled, reportedly stranding over a thousand people. The US government provided the necessary approvals in time, but the Cuban government did not, so the charter flights have been cancelled.
They released this unusual explanation video on their Facebook page:
https://www.facebook.com/gaircharters/videos/510354729471103/
By the way, their Facebook page sure is interesting.
They rely very much on half naked models in very suggestive poses to promote their charter flights, using photos that are definitely NSFW.
Passengers who had bought flights home to Cuba for the holiday season have obviously been left out of pocket during a busy and expensive travel period. If they do in fact continue operating these flights, hopefully they have the capacity to accommodate more people.
GAC is still selling flights for the next week, indicating they will be operated by WOW Air, though they are listed as flying to Havana, not Santa Clara.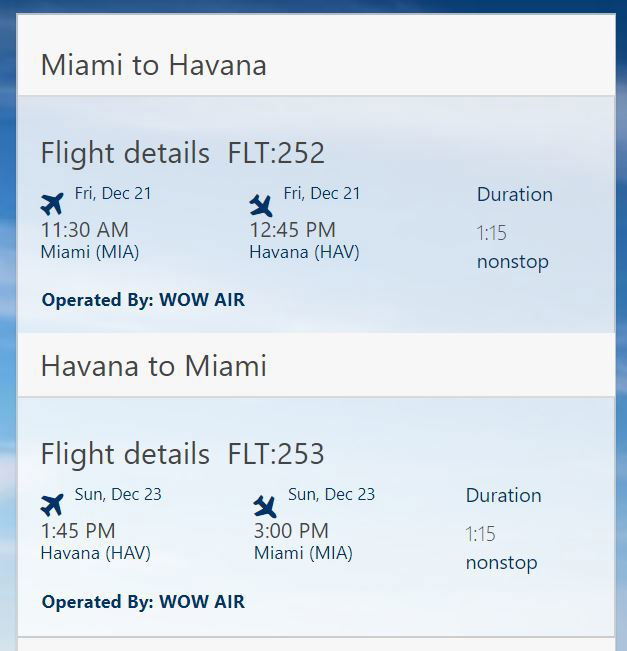 Noting it is a charter flight, I can't see these flights on normal search engines like ITA Matrix, to either Havana or Santa Clara.
Bottom line
This is low season for Icelandic tourism, but it is the holiday season as well.
If WOW Air had spare aircraft because of reduced demand over the northern winter, then this is a clever way to utilise aircraft that may otherwise be sitting idle.
But then again WOW Air hasn't shown the most shrewd business decisions so far this year.
When I wrote this post yesterday I wondered if these flights would ever operate, but it looks like they operated at least one round trip flight today. We will see if the flights continue operating over the coming days.