WOW Air is an Icelandic ultra low cost carrier that has built their business model around transporting passengers between the US and Europe via their hub in Reykjavik. The airline has two unique advantages:
Iceland has great geography, as it's right on the way between the US and mainland Europe, so it allows them to sell one-stop tickets between all kinds of city pairs that don't otherwise have nonstop flights
Iceland is a beautiful country that a lot of people want to visit, so they can offer a free stopover in Iceland as a unique advantage of booking with them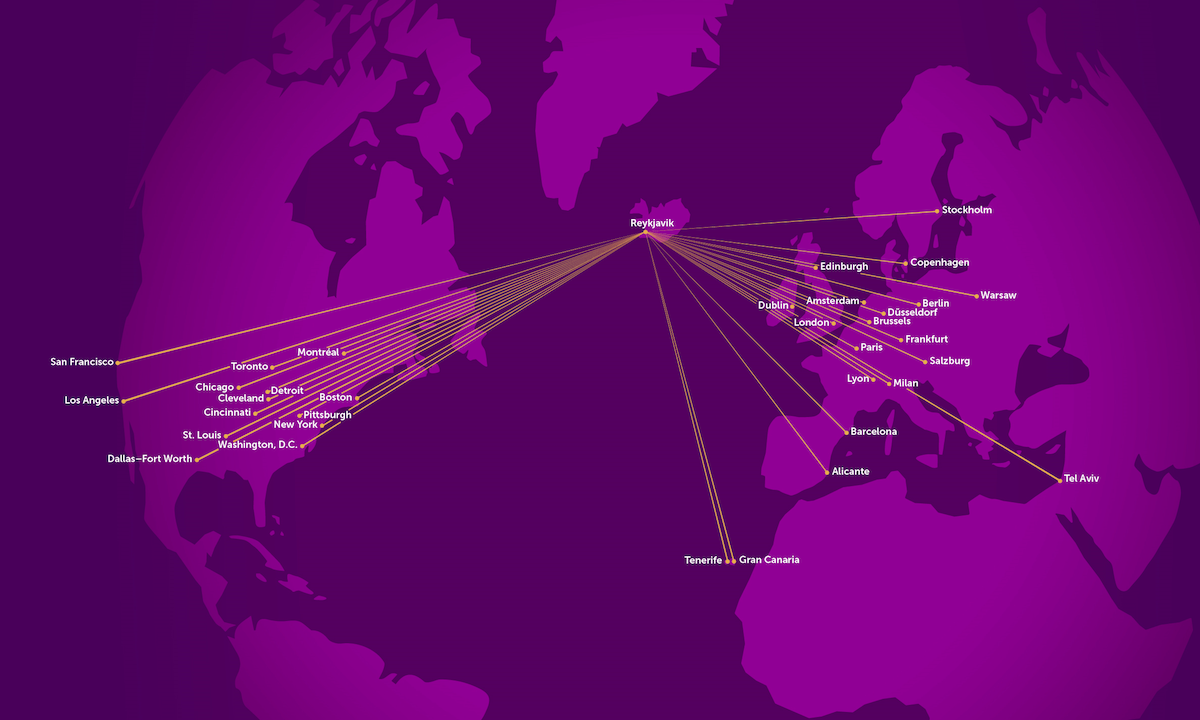 The airline has been growing at an incredibly fast pace. They only started flying to North America about three years ago, and already fly to over a dozen destinations here, which is impressive. Some have questioned whether their growth rate is sustainable, given the limitations of their hub in Reykjavik, which is nearly at capacity. It seems like at some point there may be consolidation in their future, as it could make sense for them to partner with an airline like Norwegian, for example, given their generally similar business models.
As it turns out, WOW Air has some big growth plans that I find a bit surprising. Air Transport World has an interview with WOW Air's CEO, in which he indicates their next area of growth. Specifically, WOW Air plans to announce routes to Asia as of next month. He says that this is the area where he sees the most growth, and just as WOW Air has added 14 routes to North America in the past few years, he could also see WOW Air adding 14-15 destinations in Asia, making Iceland the "Dubai of the North."
This is interesting, though I'm skeptical on a few fronts:
Airfare from both the US and Europe to Asia is cheap nowadays, due to the Gulf carriers, and also due to the amount of growth we've seen from Chinese airlines; this is mostly competition they haven't had to deal with while transporting people between the US and Europe
WOW Air is able to use narrowbody, fairly low capacity planes, for most of their North America and Europe flights, while they'd mostly have to use higher capacity A330s to Asia, which are tougher to fill
Keflavik Airport doesn't have much room for growth, so they're facing serious constraints there
WOW Air doesn't have the same geographical advantage transporting people to Asia as they do with their current business model, where they're transporting people between the US and Europe.
For example, flying from Los Angeles to Reykjavik to London is only about 40 miles further than the direct air distance, so that's almost nothing.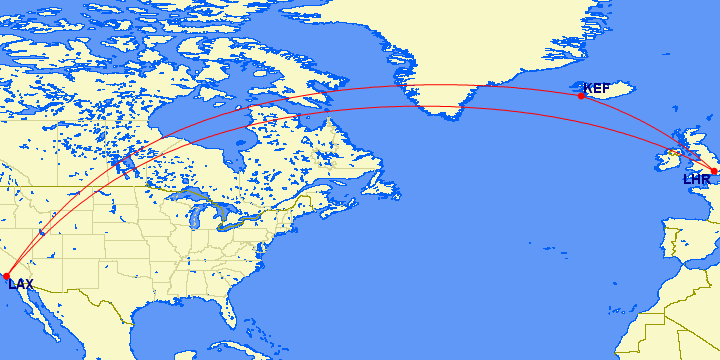 That same advantage doesn't exist to much of Asia. Boston to Beijing is about the best case scenario here, and that adds about 600 miles to the journey. The same routing out of London would add about 1,100 miles to the journey.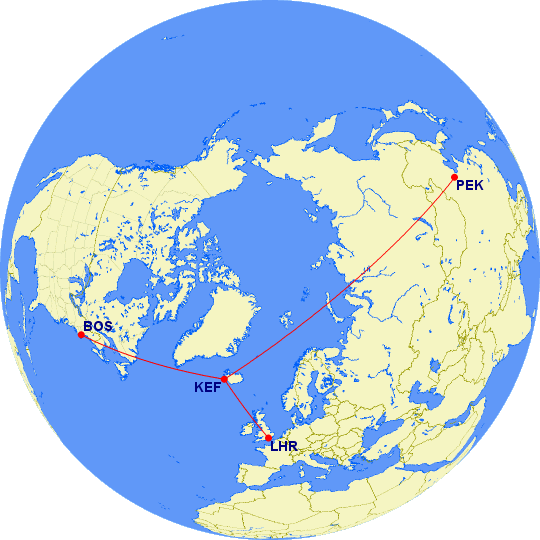 If we're talking about Western Asia then there's potential for more time savings, but then that adds even more to the travel time for those coming from various points in Europe. For example, if they flew from Boston to Reykjavik to Ürümqi, that's a pretty direct routing that only adds about 150 miles to the direct distance. The bigger issue, though, is that I assume there's not enough demand to fill planes there with any frequency.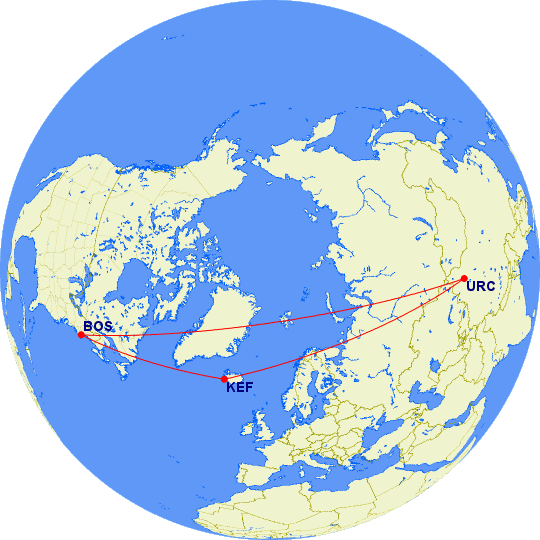 Another interesting point raised in the interview is that WOW Air would like to find a second seasonal hub. In winter WOW Air has excess capacity, and they'd like to find a way that to use that extra capacity to fly somewhere other than Iceland. WOW Air's biggest competitor is Icelandair, and as some of you may remember, recently Icelandair placed a bid for Azores Airlines, and I figured there could be a similar general motivation there. Of course the Azores is also seasonal, but certainly less so than Iceland.
Bottom line
It seems like there's lots of potential for WOW Air to create a second seasonal hub, given the excess capacity they have in winter. However, I can't fully wrap my head around their Asia plans, and am curious to see what they do. Iceland doesn't have the same geographic advantage for Asia, they'd mostly have to use higher capacity planes, and airfare is already so cheap to/from Asia, in most markets.
So to suggest this market could be developed as much as the US to Europe market is a real head-scratcher, in my opinion.
What do you make of WOW Air planning on adding up to 15 destinations in Asia?