World of Hyatt has today announced some positive changes to Points + Cash awards, after more or less destroying that redemption option in November 2018.
What is Hyatt Points + Cash?
As the name suggests, with Points + Cash you can redeem part World of Hyatt points and part cash towards the cost of a stay. This is a great concept if you don't quite have enough points to outright redeem for an award, but still want to redeem some points.
Prior to November 2018, Points + Cash was almost exclusively how I redeemed my World of Hyatt points, while I haven't made a single Points + Cash reservation since November 2018.
How Points + Cash worked prior to November 2018
Here's the World of Hyatt Points + Cash chart for stays prior to November 2018: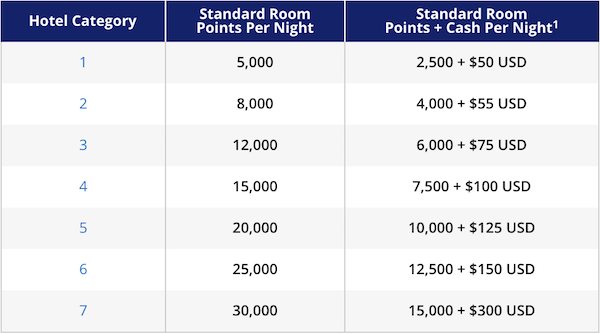 As you could see, you could redeem a fixed number of points and a fixed number of dollars towards a stay, regardless of how much a stay cost in cash. Points + Cash was capacity controlled, but when available, often represented an excellent deal.
For example, Category 6 was a real sweet spot. I value World of Hyatt points at ~1.5 cents each, so to me:
An outright free night award costs the equivalent of $375 (25,000 points x 1.5)
A Points + Cash award costs the equivalent of $337.50 (12,500 points x 1.5 + $150)
How Points + Cash has worked since November 2018
What changed in November 2018 is that Hyatt no longer charged a fixed cash component for Points + Cash, but rather Points + Cash allowed you to pay 50% of the required points, plus 50% of the standard published rate.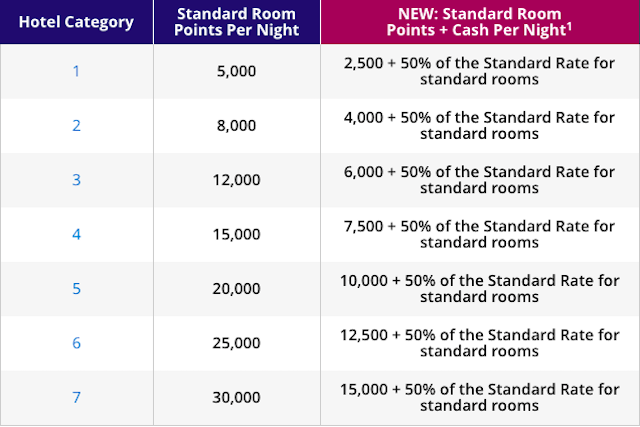 This simply never made sense:
In reality the "standard rate" was typically more than 50% of the rate we'd otherwise book, since there are cheaper member rates, you're missing out on Prive benefits by booking this way, etc.
If I was in a situation where I decided redeeming points was a good deal then I'd benefit from redeeming for the entire stay at that rate, rather than paying cash
From the perspective of World of Hyatt members who were actually smart about using their points, this redemption became totally useless.
An example of why Points + Cash isn't a good deal
I understand the above is a bit abstract, so let me give an example that shows why Points + Cash is a bad deal right now.
Picking a random date at the Park Hyatt Maldives, I see redemption rates of 30,000 World of Hyatt points or 15,000 points plus $375.

If I booked Points + Cash, I'd essentially be paying $375 in lieu of redeeming 15,000 points, which means I'm essentially "buying" Hyatt points for 2.5 cents each, when I value them at 1.5 cents each. No deal.
The further issue is that $375 isn't half of the rate you'd actually pay in cash. The hotel has a standard rate of $750 per night, but there is a member rate that all members have access to for $675. In reality you're paying 56% of the rate, and not 50% of the rate.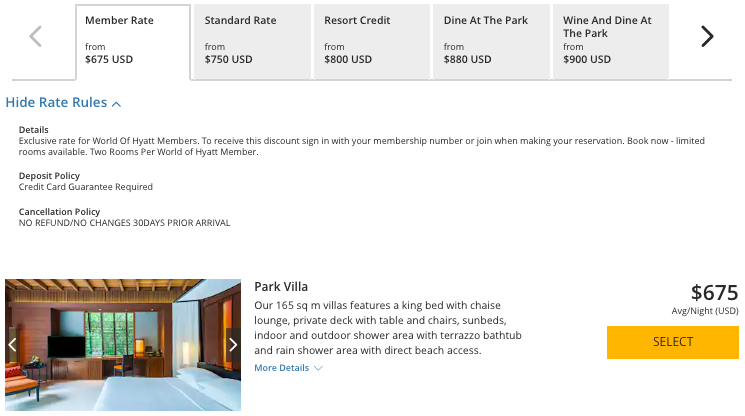 "But lucky, not everyone has unlimited points."
Fair enough. Even so, you'd be better off booking one night outright with points, and then one night outright with cash. Then you'd end up paying 30,000 points plus $675, rather than 30,000 points plus $750.
Hyatt adjusting Points + Cash in 2020
We already know that as of March 22, 2020, World of Hyatt is introducing peak and off-peak pricing (which applies to Points + Cash as well), and is implementing 2020 category changes. But that's not all.
Changes are also coming to World of Hyatt Points + Cash as of March 22, 2020. Unfortunately don't expect the glory days of Points + Cash, but Hyatt has announced that with the new system, you'll be able to save 50-70% off the standard rate when using Points + Cash, rather than just 50%.
I still don't think this will become something I'll consistently use, though the variable percentage cash portion takes this from a redemption opportunity I'd never use, to one that I might sometimes use.
Bottom line
Hyatt gutted Points + Cash in late 2018, when the cash portion of the program went from fixed to variable. If you're looking to maximize points and have a certain value you put to them, there aren't any circumstances under which the current system makes sense.
The new Points + Cash program creates a system whereby it could sometimes make sense to use this option again, though only time will tell how many properties we see charging 50% of the points component and just 30% of the cash component.
Has anyone been using Points + Cash since that feature was devalued in November 2018?