This past year has been really interesting on the loyalty program front. As the economy has started to recover and hotel occupancy and flight loads are back to pre-recession levels, the economics of loyalty programs have changed a bit.
Early this year we saw a huge devaluation on the hotel loyalty program front, while airline programs haven't actually been devalued much over the past year. That's because the economics of the programs work differently. During the recession most hotel loyalty programs introduced "no blackout dates" as a selling point of their programs, and that worked great at the time since hotel occupancy was extremely low during the recession, and the marginal cost of filling an extra room was very low.
But keep in mind that hotel chains run the hotel loyalty programs, while the individual hotels are typically franchises, and both have their own best interests in mind. Hotel loyalty programs want to make their loyalty programs as profitable as possible, while the hotels themselves want to make their individual properties as profitable as possible.
As a result, the arrangement that most hotels have with their loyalty programs is that if hotel occupancy is above a certain number (usually 90-95%) then the loyalty program has to reimburse the hotel at the average daily rate for an award reservation, while if it's below that "magic number" they reimburse the hotel just slightly above the marginal cost.
As such, during the recession the hotel loyalty programs were typically only paying slightly above the marginal cost for award redemptions, while post-recession they're often reimbursing the hotel at the exponentially more expensive average daily rate.
While it's frustrating as a consumer, I think that explains why this year was so bad on the hotel loyalty program front.
That brings us to airlines. Interestingly we haven't seen any huge airline award chart devaluations among legacy carriers in a while. That's probably because even though the economy has recovered and airlines are turning a profit, for the most part airline award tickets are capacity controlled, so it really doesn't matter how full the flights are, because the airlines have direct control over how many miles consumers can redeem. And we've noticed that lately, as award space is more or less at an all time low.
Delta SkyMiles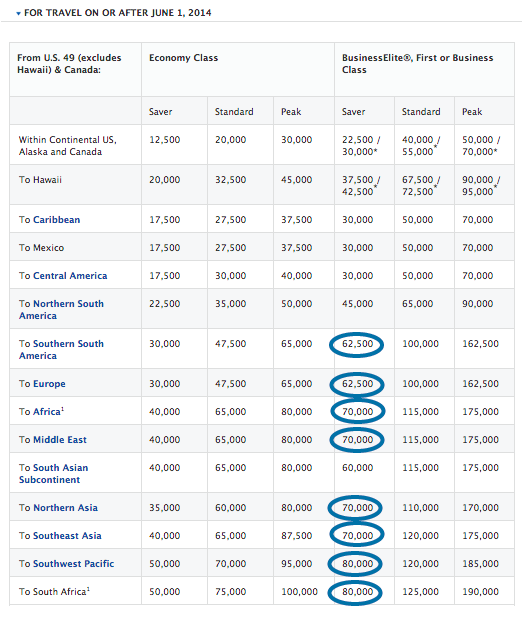 led the pack a couple of months ago by announcing they'd be increasing international business class award costs as of next June, with award prices going up pretty substantially in many markets. For example, business class from the US to Europe goes from 100,000 miles roundtrip in business class to 125,000 miles roundtrip in business class.
But we haven't heard a peep from American, United, or US Airways, and it has been a couple of years since they've made any major changes to their award charts. So my prediction is that in the next year all three airlines will announce award chart devaluations, though timing depends on a few factors.
With American AAdvantage and US Airways Dividend Miles it depends on whether the merger falls through or not. There's no way they'll devalue their award charts ahead of a merger decision, for a couple of reasons:
During a merger they have bigger fish to fry than making adjustments to an award chart, so if the merger does go through I'd expect to see a combined chart with higher pricing, though that probably won't be for a while.
Right now the merger is still in limbo, though, and one reason they won't do anything is because the Department of Justice already thinks the airlines have it too good, and raising award costs will only further strengthen the DOJ argument.
If the merger does go through, I suspect we still have a while before any devaluation, since it'll probably only happen once the frequent flyer programs combine.
If the merger does not go through I'd expect both airlines to announce devaluations shortly after merger negotiations break down.
As far as United MileagePlus is concerned, my guess is that they'll announce a mild devaluation late this year or early next year, mostly matching Delta's award costs. I expect domestic and most coach award redemption costs to remain the same (this way they can claim that changes only impact a small percentage of those redeeming miles).
But for all three carriers – American, United, and US Airways – I expect that any award chart changes will more or less just be the carriers matching one another at their highest redemption costs in a given market. For example, Delta will charge 125,000 miles to Europe in business class and 160,000 miles to Australia in business class as of next June, so I expect the other carriers to have similar pricing.
I've said it before and I'll say it again – miles are amazingly useful but are horrible investments. It's like having a frequently inflated currency sitting in a bank account not accruing any interest. Always earn and burn, and make sure to diversify your miles and points!
What do you guys think about potential devaluations? Think they're coming or not?