Airline uniforms receive a lot of discussion and critique in the frequent flyer world, sometimes unfairly so.
It's unlikely the choice of uniform is going to affect your journey much, yet every time an airline updates their uniform there are fashion show launches as well as detailed discussions on color choices, cut, fabric, etc. Everyone has an opinion on whether a new uniform 'works' or not.
Like aircraft livery changes, most uniform updates are met with a negative reaction.
While it's easy to design something that looks good on a model strutting down the catwalk, it's much more difficult to design something practical that staff will actually enjoy, be comfortable in, and be proud wearing.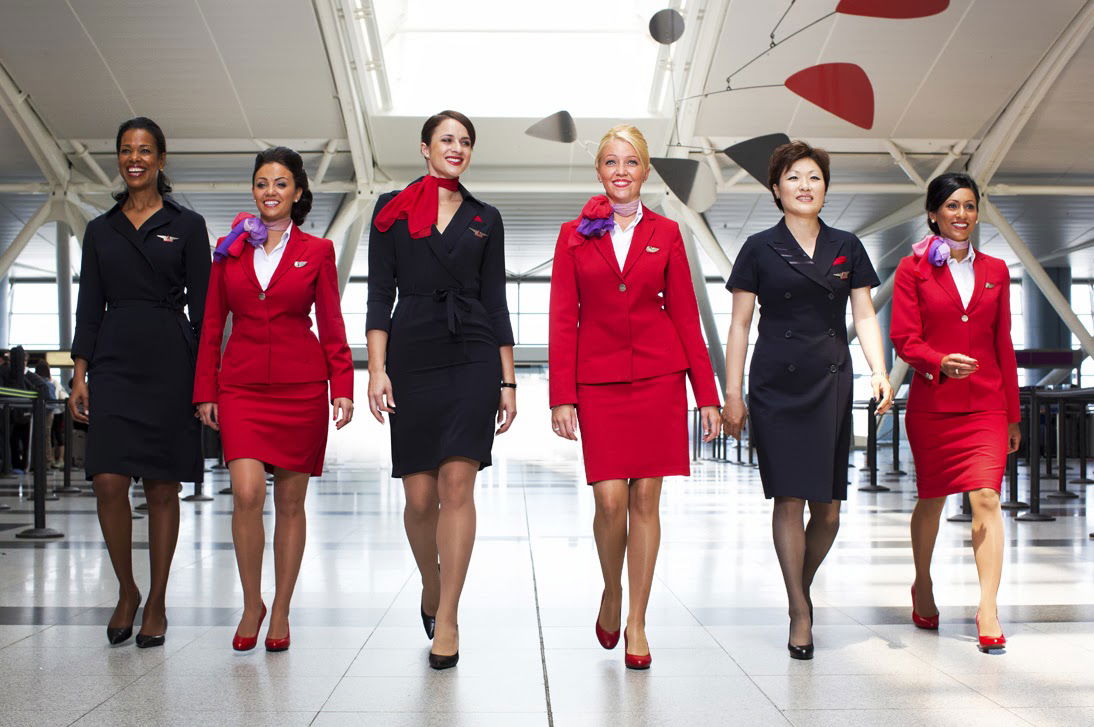 All shapes and sizes
Airlines have thousands of staff working in dozens of different roles around the world. They might have staff who are 18 years old and staff who are 78. Some might be 4'5″, while others might be 6'5″. Some may be slim, others plus size. Some may have very diverse fashion tastes, some very conservative.
Middle Eastern and Asian airline have less trouble with this as the majority of their cabin crew seem to be younger with strict size restrictions, while American and European legacy carriers have a more diverse workforce.
It's extremely difficult to design a single uniform that will look good on all ages, sizes and heights. An 18 year old girl is not naturally going to have the style as her grandmother. A bright, form-fitting, modern, short dress may be a young adult's first choice, while a middle-aged woman may feel very uncomfortable in something like this.
This is one reason airlines tend to choose plain, dark, neutral colors that may not be the most exciting or 'fashion-forward,' but will be a safe choice the majority of their staff will feel comfortable in. It's safer to have some staff 'underwhelmed,' than some staff feeling uncomfortable.
I do applaud the increasing trend of airlines using actual staff for their promotional photos and launches, rather than professional models. It is a bit insulting if an airline shows off their new design with perfect models, and then expects their normal staff to be able to look as good as a professional model.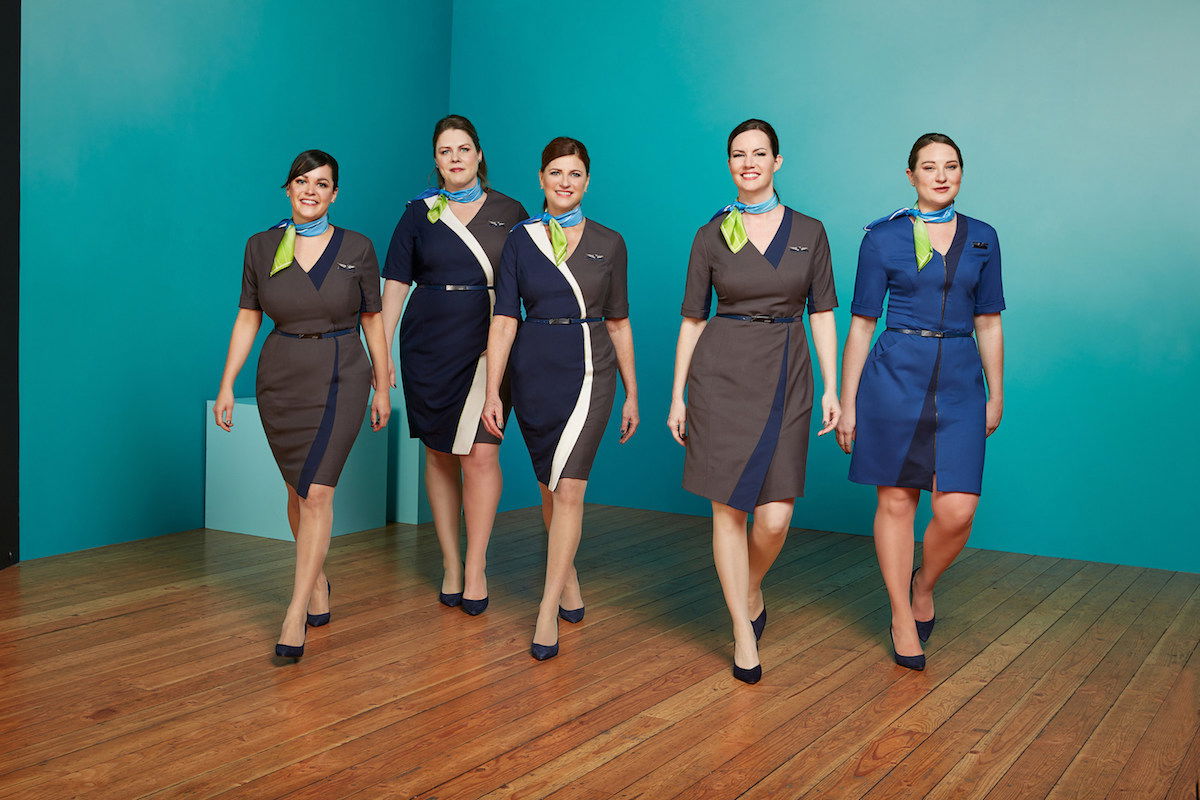 Outliving fashion trends
Airlines do not want to have to update their uniforms very often. It's a time consuming and very expensive exercise.
I would think once every ten years would be a reasonable frequency. So any design choices need to be appropriate now, and in 10 years time. Fashion trends that are popular right now will likely be embarrassingly outdated in 10 years time. To give an aviation-based example, I think Etihad's geometric livery design is absolutely stunning, and completely on-point for today's fashion and brand environment. However, it's so modern and current that I fear that in 10 years time it may be very outdated, given how quickly fashions change.

This is why designers tend not to adopt any current fashion trends, no matter how good and relevant they look today, because they need to future-proof them for many years to come.
Appropriate fabric
It boggles my mind how badly American fumbled with the choice of fabric for its 2016 uniform produced by Twin Hill. They eventually dropped the supplier after more than 5,000 of their staff complained.
Surely a key part of testing any new uniform would be for actual American staff to wear the uniform for a few days, while they completed some tasks in a test environment. I cannot understand how they did not do sufficient testing for this.
The fabric needs to breathe, be fairly flexible as crew move around the cabins, and not cause skin irritation. Crew will do everything from reach up to an overhead bin, to reach down to retrieve something from under a seat, so the material needs to be able to move with them.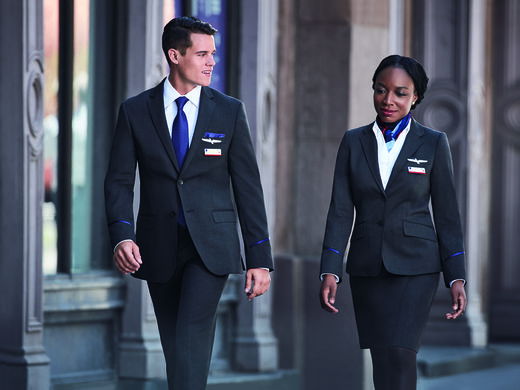 Holding up under all conditions
Airline staff, particularly cabin crew, do hundreds of different tasks in all manner of conditions. Walking down a runway and posing for a photograph is not one of them. The reason so many airline uniforms are plain, dark colors is because they will cover stains and spills more easily than lighter colors will.
That is why I found the recent launch of Hainan's new uniforms so bizarre. While they look absolutely beautiful on the streets of Paris (where they were launched), the light colors and flowing fabrics seem like an odd choice when crew are going to be wearing them to do everything from assist passengers boarding in the rain, to cleaning toilets.
A spill of red wine won't work too well with white or light grey!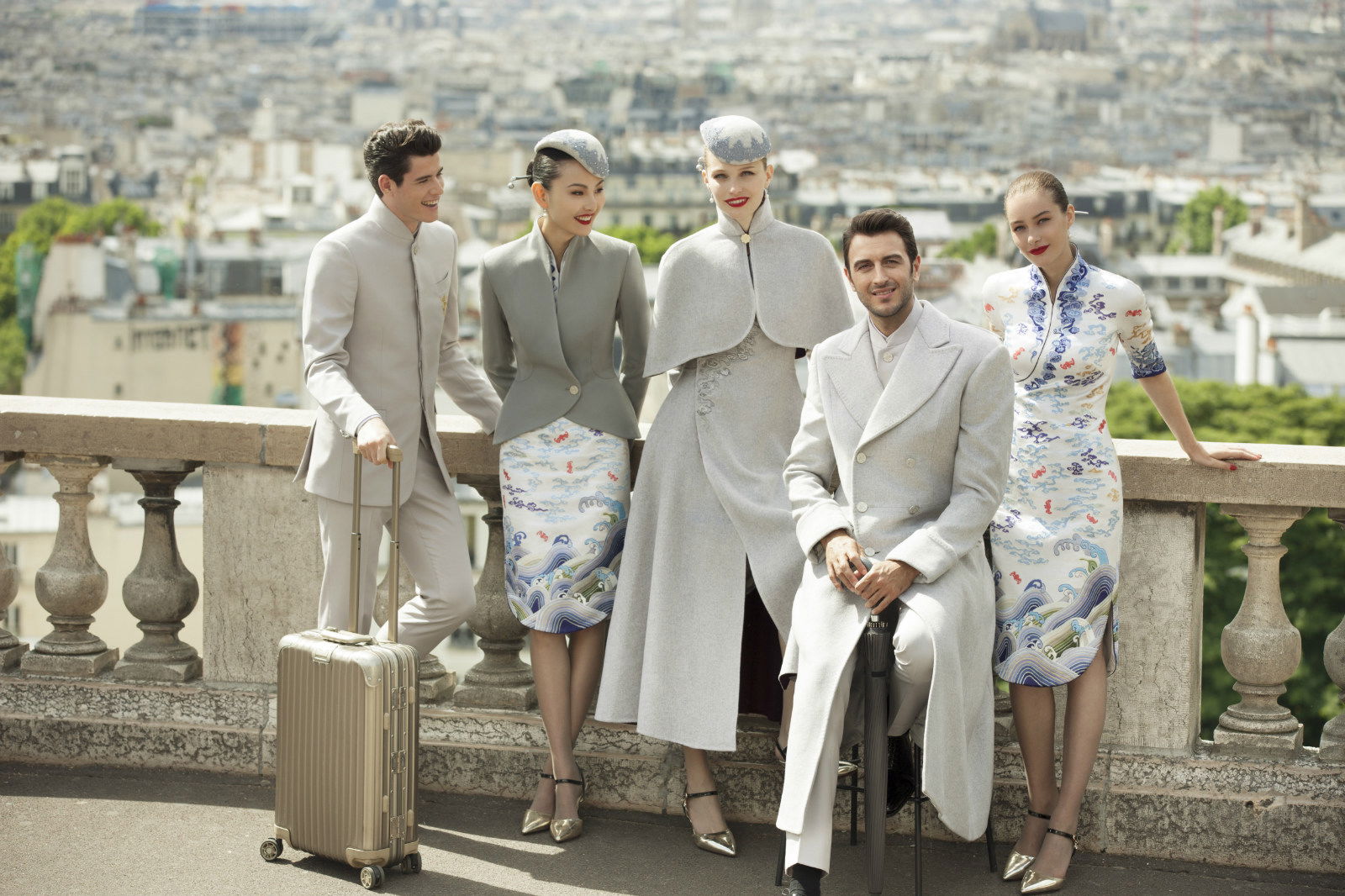 Does fashion and formality get in the way?
I've always thought it weird that male cabin crew look like they're stepping into an important board meeting, or job interview while they're serving garlic bread or handing out hot towels. A full business suit seems wildly impractical, and while low cost carriers often opt for a far more casual polo shirt or jeans and a simple shirt, this seems like it would work much better for the working environment.
I believe airlines insist on full suits to portray an environment of formality, professionalism, and sophistication. I imagine wearing a tie would be an absolute pain on a 14 hour longhaul flight!
Similarly the scarves the females wear, while adding a pop of color and interest, also seem like they would get in the way while they are performing safety demonstrations or refreshing a bathroom.
I know each airline has slightly different, but extremely strict guidelines on what crew can take off for various tasks through the flight. A tie with an apron never made much sense to me.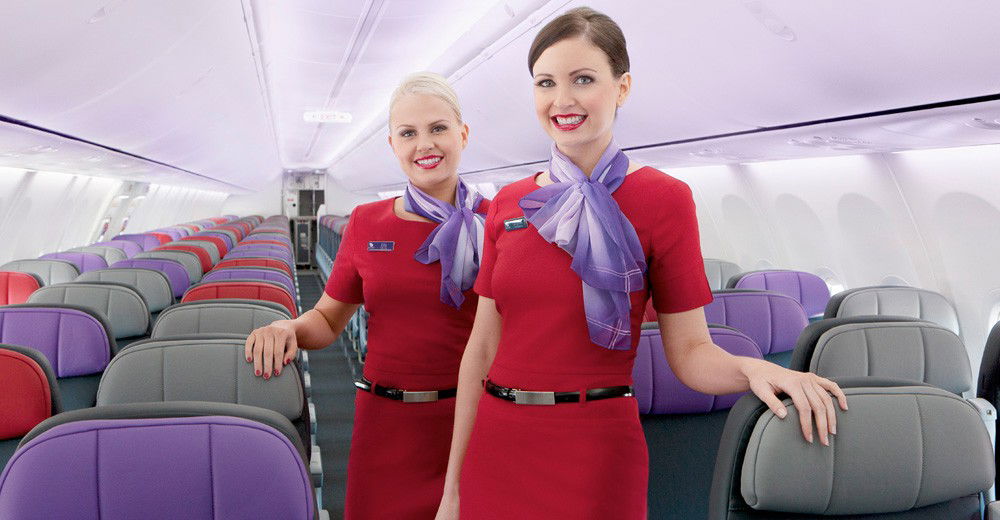 Pilot uniforms are much simpler
Pilot uniforms have barely changed in my lifetime and they're one of the most recognisable and iconic looks of any profession. Designers barely deviate from the basics of pilot uniforms — black suits, 'wings,' stripes on the shoulders, and the iconic pilot hat.
Pilots perform less manual labour type tasks than cabin crew do, as most of their job is sitting in the cockpit, so a simple comfortable suit that portrays a sense of authority and experience is sufficient.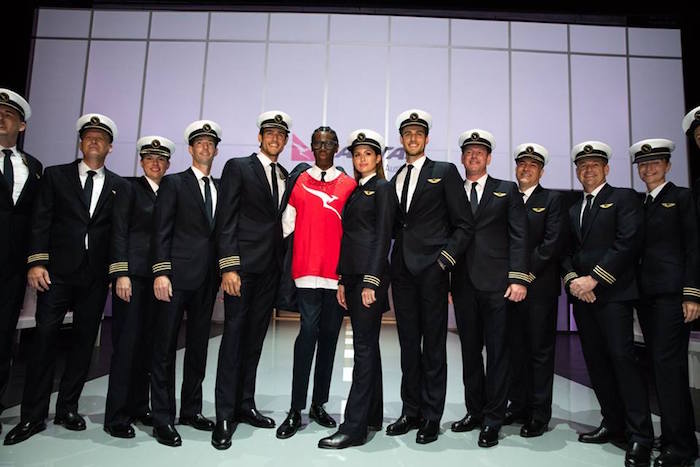 Bottom line
I'm not going to list my most and least favourite uniforms, because those that are the most stylish may be the least practical. It's virtually impossible to design something that looks good, is comfortable and durable, and all of your staff are going to feel comfortable and confident in.
I don't envy the very difficult task the designers have trying to cater to so many different types of people to work so many tasks in so many different situations!
What do you like in an airline uniform?