Last September American Airlines introduced new uniforms for their 70,000+ employees, which was one of the first steps in unifying the workforces of the "former" American and US Airways. Prior to that employees of the two airlines wore different uniforms, so this was a nice way to unify them, not to mention to give them a more modern look, given how outdated the two airlines' old uniforms were.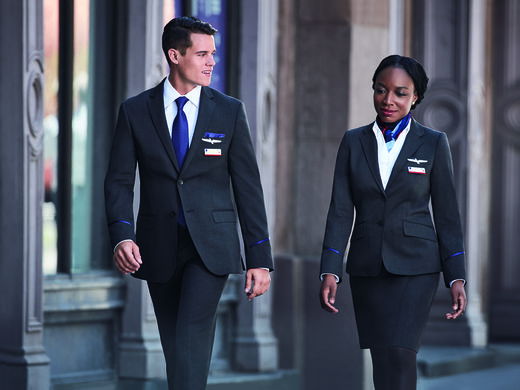 While most employees seem to like the style of their new uniforms, over 5,000 American employees have reported problems with these new uniforms, which have resulted in health issues. That represents about ~7% of employees, which is a sizable percentage. That's why you may notice many some American employees "on duty" not wearing the uniform, but instead a replacement that looks somewhat similar.
While American has acknowledged the problem, up until now they've insisted that they won't change uniform suppliers, and that the uniforms are safe, despite reports from employees. The airline has spent over a million dollars testing these uniforms since September, and hasn't been able to replicate any of the problems.
It looks like American has had a change of heart when it comes to this, though. Chicago Business Journal reports that American will not be renewing their Twin Hill employee uniform contract (which is due to run out in 2020), and is seeking a new uniform supplier immediately.
Twin Hill has released the following statement regarding the situation:
"We are confident of the quality and integrity of our products. However, Twin Hill has determined that the reputational risk, management distraction, and legal and other costs associated with serving American in the future would be unacceptable to our business, given the likelihood of continued unfounded allegations about the safety of our garments."
Meanwhile the head of American's flight attendant union has released the following statement:
"We're pleased that American Airlines has announcement today that it will begin the process of ordering and delivering new uniforms for flight attendants and other American employees. This isn't the first time — and it won't be the last — that effective and determined advocacy by APFA members has led to improvement in working conditions for all of our members."
This scandal might sound minor to some, but it has been a major point of contention among employees at the airline. For example, in April American's Vice Vice President of Global Marketing, Fern Fernandez, resigned. He was one of the people behind American's uniform debacle, and I suspect his resignation was linked to this.
Bottom line
This whole uniform situation is a real mystery to me, as someone who was never especially good at science. I don't understand what could cause this. I fully believe that employees are experiencing problems as a result of these uniforms, but I also believe that American management is doing testing and isn't able to pinpoint what the problem is.
It's good to hear that American management is giving in. Hopefully their next uniforms come with fewer issues.
(Tip of the hat to TravelinWilly)