Reader Weymar asked a question in the Ask Lucky forum about first class pricing. I'll share the full post below, though if you don't have the time to read it, the question ultimately comes down to why first class is disproportionately expensive, more so than the space it takes up on the plane. Do people really pay that much?
Here's the question:
Now I know that sounds like a really stupid question. First Class is so expensive because it costs more to provide; feel free to call me an idiot. But it seems to me first class fares are disproportionately priced. I'm going to use the example of the IAH-DME-SIN (and onwards to BKK on a separate aircraft) flight which I bought a few weeks before they announced they would cancel the route because of low yields. Also, I'm not trying to do meticulous scientific research on this, only to get a general idea so my math is't going to be a 100% accurate.

My ticket in economy for the whole itinerary was $1,300, whereas first class was pricing out at over $20,000. Where exactly does that extra $18,700 go? The biggest factor is space, the single most valuable thing on an airplane. The economy seats on the 777-300ER have 32 inches of pitch and are 19 inches wide. Each seat (and accompanying floor space) is 608 square inches. A first class seat has 72 inches of pitch and is 35 inches wide, so seats are 2520 square inches. That means that a little more than 4 economy seats take up the same amount of space as a first class seat. If ticket prices were based purely on space, the first class seat should cost roughly $5,300. Of course that's not the only thing that goes into the price of a ticket. Catering, crew wages, and ground service also are factors, but I'd find it very hard to believe that those would cost an extra ~$15,000 to provide.

Demand is also a factor. Prices of anything are almost always based on how much people are willing to pay for it, and not the cost of the components. But it seems to be the case that many airlines these days are struggling to sell first class seats, leading many airlines to eliminate it completely. Singapore pulled out of Moscow because not enough people were flying it presumably, especially in premium cabins. From what I saw, the IAH-DME wasn't very full in economy or business class. The DME-SIN segment was considerably more crowded in economy class. I can't remember a clear picture of what the business cabin looked like, but I think it was more full as well. I didn't get a chance to look in first class cabin on either segment but I assume it was close to empty.

Perhaps Singapore would be able to sell seats better if they weren't charging $20,000+ for them? Again, unless I'm missing something big I can't imagine that the first class experience would actually come close to $20,000 to provide. This isn't something that's exclusive to them either. Flying Emirates first class from JFK-DXB-BKK would set you back $19,750 vs economy which is only $900. That's 22 time more expensive. $20,900 for JAL first and $900 for economy (23 times more!!) from LAX-NRT-NGO. LAX-MEL on Qantas is $15,500 in first vs $1,700 in economy (9 times more). All of those prices are for over my birthday weekend in mid-May

Do people actually pay that much? Yes, there are many millionaires out there that could afford it. But it seems to me that the number of first class seats out there far exceeds the demand for them. In most of yours and others' trip reports first class cabins are usually nowhere close to full. And all the reviews I read and videos I watch used miles to book the seats rather than cash. One more thing I want to throw out there is that EK,EY,SQ,OZ,AF,CX and the like are known for being among the world's best so maybe they can charge a premium for that. But then look at airlines like AA who charge $16,500 for LAX-HKG in F. Even if you could afford that, why would you buy it when you could go with Cathay Pacific?
Weymar raises some great points, so I figured I'd address them on a few fronts:
Airline pricing isn't linked to the cost of providing it
This is true in the airline industry more than in just about any other industry. The cost of airfare is incredibly dynamic, and is all about what consumers are willing to pay, rather than how much they should pay to cover their "fair share." It's the same reason two people sitting next to one another in economy could have paid exponentially different fares.
While there are lots of businesses with variable pricing depending on the product you buy, I can't think of another industry where you can have such a drastic price difference for two people getting exactly the same product.
Not many people pay for full fare first class
The reality is that very few people pay for full fare first class. I can't speak on behalf of all airlines, but I've had a few friends at some airlines show me numbers, and you'd be surprised by how few people are actually booked on full fare tickets (or maybe you wouldn't be surprised). So those $25,000 tickets? Very, very few people are actually paying those kinds of fares.
So, why not price fares more reasonably?
It allows airlines to discount it and create corporate incentives
I recently spoke to an executive at a major airline about this, specifically mentioning how they very rarely discount their forward cabin. His response was essentially that they don't expect anyone to pay full fare. Rather they have such high fares so that they can be discounted.
Companies can get huge discounts on full fare ticket costs with a big enough contract.
Some airlines, like British Airways, even have promotions offering "free" upgrades to first class when you're paying for a full fare business class ticket.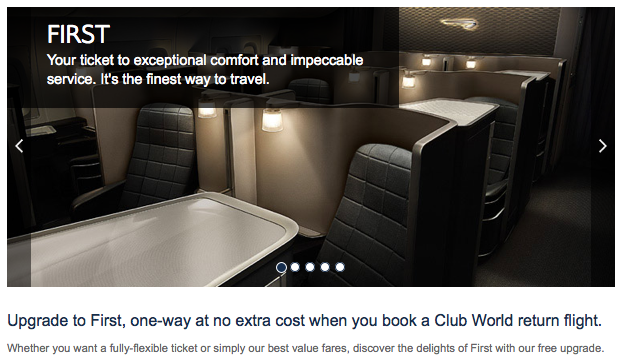 So as backwards as it seems, airlines don't actually intend for you to pay those prices. Rather they set the fares so high so they can discount them from there.
He acknowledged that they're probably missing out on some high end leisure travel with this practice, but think there's more upside with the benefits they get through corporate travel.
This isn't that different than hotels. At Four Seasons you'll rarely see them offer a discounted rater, but rather you'll see them offer a second or third or fourth night free, a daily resort credit, free breakfast, etc.
It creates a sense of exclusivity
By pricing first class airfare so high, airlines are creating a sense of exclusivity. When someone does sit in first class, they feel like they're getting outsized value, whether in the form of an upgrade, award, or discounted first class ticket. We all like to assume that everyone else in first class is paying the full fare, but chances are that they aren't.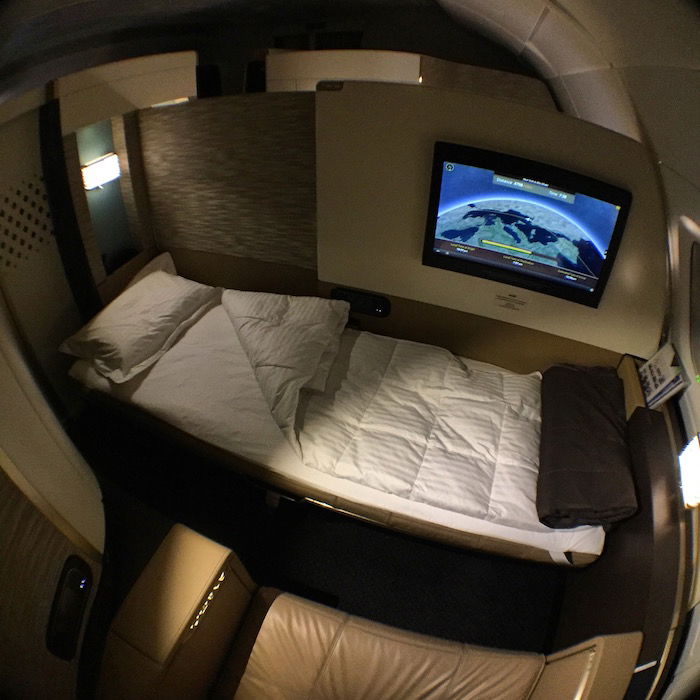 Airlines are starting to discount first class
All of that being said, airlines are starting to evolve and realize that some leisure passengers are wiling to pay for first class if the deal is reasonable enough. Just recently we saw Swiss first class fares between London and the US for ~$2,600 roundtrip, which is incredible, and a huge discount over their normal fares.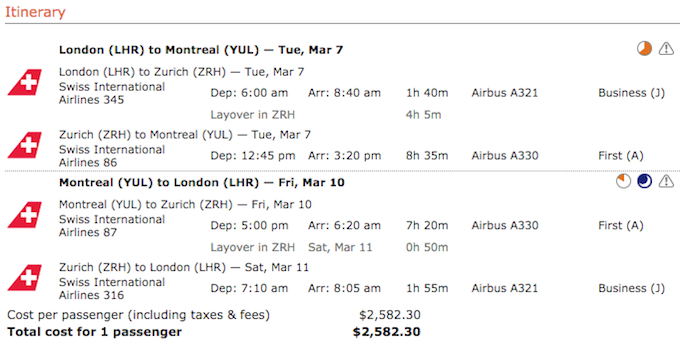 Similarly, Air France is starting to have some more reasonable first class fares as well in some markets. For example, you can fly roundtrip first class between London and Hong Kong via Paris for ~$4,600, which is a huge discount over the ~$20,000 first class fares you'll see in other markets.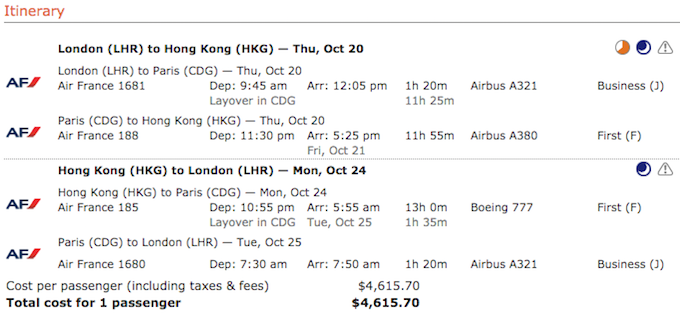 Bottom line
Weyman raises a great point, and ultimately there's no right or wrong answer. The merits of airline inventory and revenue management strategies have long been debated, and over time airlines have certainly made changes. The number of airlines offering deeply discounted first & business class tickets is higher than ever before.
However, corporate contracts and incentives are at the heart of high first class pricing. Some companies have big contracts that get them upgrade or discounted first class fares, and that can still be very lucrative for airlines. Many airlines are happy keeping the pricing so high that it creates a sense of exclusivity around the product.