While there are a ton of terms as usual, British Airways is back with a promotion they offer at least semi-frequently. British Airways is offering a free one-way upgrade to first class if you book at least a semi-flexible Club World fare originating in the UK.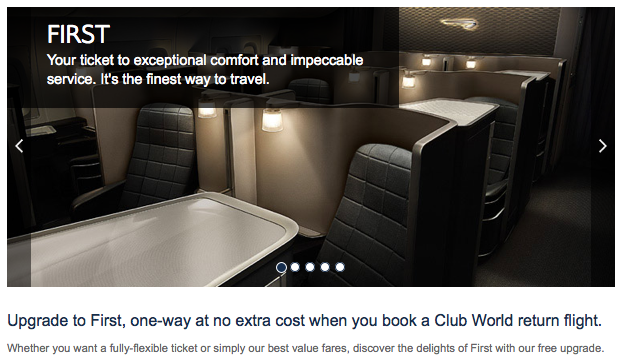 Ultimately this probably won't be of interest to you if you're a leisure traveler, as semi-flexible fares tend to be quite high. You're usually much better off booking a discounted business class ticket and then using Avios to upgrade. For example, this free upgrade won't work on any of the ~$1,600-2,000 business class fares between the west coast of the US and Europe that I wrote about a couple of days ago.
This promotion would be most useful for a business traveler that's able to book business class tickets directly.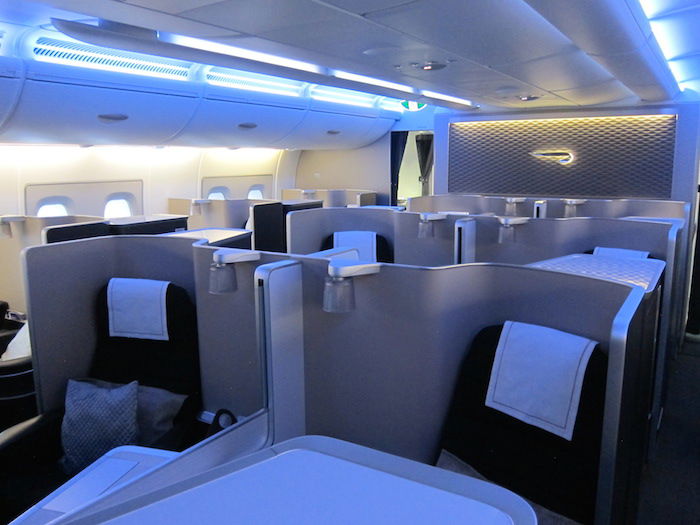 British Airways A380 first class
The key terms are as follows:
This promotion is only open to Eligible Participants. An Eligible Participant is a person: resident in the United Kingdom; aged 18 years or over; who books a Qualifying Flight; and travels during the Promotional Period. BA reserves the right to verify the eligibility of Eligible Participants.
A Qualifying Flight is: (i) a published fully or semi-flexible return fare in Club World on selected BA mainline services departing from the UK; and (ii) must comprise of one sector in J (fully flexible) class, C (semi-flexible) class, selected D or R (semi-flexible) classes, and another sector in A class, and only on certain fare basis codes (see full terms and conditions on ba.com).
For a limited number of destinations, a lower return fare in First may be available than the single fare offered under Upgrade to First. British Airways is in no way liable should customers not be offered this lower return fare at the time of booking.
Return fares in First are subject to availability and fare terms and conditions.
The promotion does not apply to bookings on certain routes. See full terms and conditions.
Travel in D, R and A classes must be booked by 23:59 GMT on 1 October 2014, and outbound travel must take place on or before 31 December 2014.
Travel in J, C and A class must be booked by 23:59 GMT on 12 December 2014, and outbound travel must take place on or before 31 December 2014.
For all fare classes, inbound travel (arrival in the UK) must take place on or before 7 January 2015.
Flights on BA's franchisees or oneworld alliance members are excluded with the exception of certain American Airlines operated flights.
Eligible Participants must request the upgrade at the time of booking.
The upgrade is subject to redemption capacity in the First cabin on your chosen flight.
All Qualifying Flights must be purchased and ticketed in the UK, and all journeys must be started and finished in the UK.
This offer cannot be used for bookings on ba.com.
Bookings with this offer must be made with a travel agent or by contacting BA on 0844 493 0787.