As long time readers may know, about two years ago I made the decision to move from Tampa to Seattle.
I had lived in Tampa for far too long, and couldn't stand it. The only nice thing about it was being close to my parents, who I care more about than anything. Still, I really wanted to try some place new. I've lived on the east coast all my life but wanted to see what the west coast was like, and Seattle just ended up being the logical choice. As an aviation geek, the area has always intrigued me, if nothing else.
I moved to Seattle in October 2012, and I wasn't sure how to feel about it at first. It was the start of the long Seattle dreary season — the Pacific Northwest isn't especially harsh temperature wise (even coming from someone that lived in Florida for over a decade), but I did sleep about 14 hours per day given the lack of sunlight and constant gloominess outside.
And then summer came. Oh, Seattle summers. I've been a lot of places, but there's nowhere like Seattle in summer. There's just something oddly magical about it. I'm entirely embarrassed to link to a Jenna Drey song (after all, people rely on me for good music and movie advice!), but there is some merit to her song "Summer Night in Seattle," even if the music video is entirely intolerable:
Anyway, fast forward to April when I decided to leave Seattle. Without getting too personal (I do enough of that on this blog!), I guess part of my motivation for both moving to and leaving Seattle could be summed up in this four minute clip from "Up In The Air:"
Since leaving, I've been avoiding visiting Seattle as much as possible. I would have loved to spend more time there this summer, but I wasn't ready.
I did go for a few nights this past week for the first time since moving. I know it sounds crazy, but my dentist is in Seattle, and I love my dentist. And I literally hate going to the dentist otherwise. And she's flattered by the fact that I "flew all the way from Hong Kong" to see her. 😉
I landed late at night and took the Light Rail from the airport to the city, and I had these weird flashbacks. I swear I'm not a total nutjob, and I've never had these before, so that left me kind of confused. Add in the fact that I'm an introvert, and I spent roughly 100 hours analyzing my 10 minutes of weird flashbacks. I think what it comes down to is that Seattle is the first place I ever chose to move to, as opposed to just moving around with my family because I wanted to be close to them. So to me it's always bittersweet — it's the city for which I "left" my family (which isn't as horrible as it sounds, heh) and a city I have so many memories in.
The joke is always that summers in Seattle go from July 4th through Labor Day, so given that I was visiting in mid-September I wasn't expecting great weather.
After spending most of my first day working, I went out in the evening and was faced with this sunset: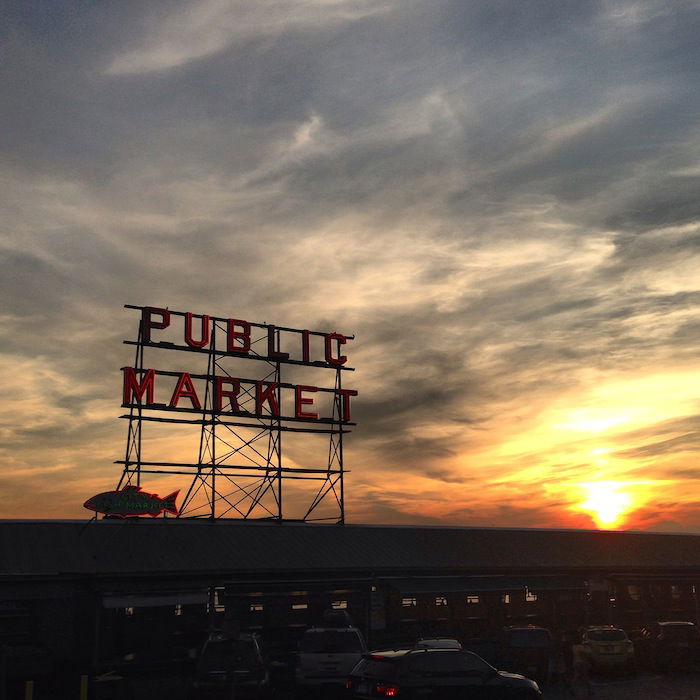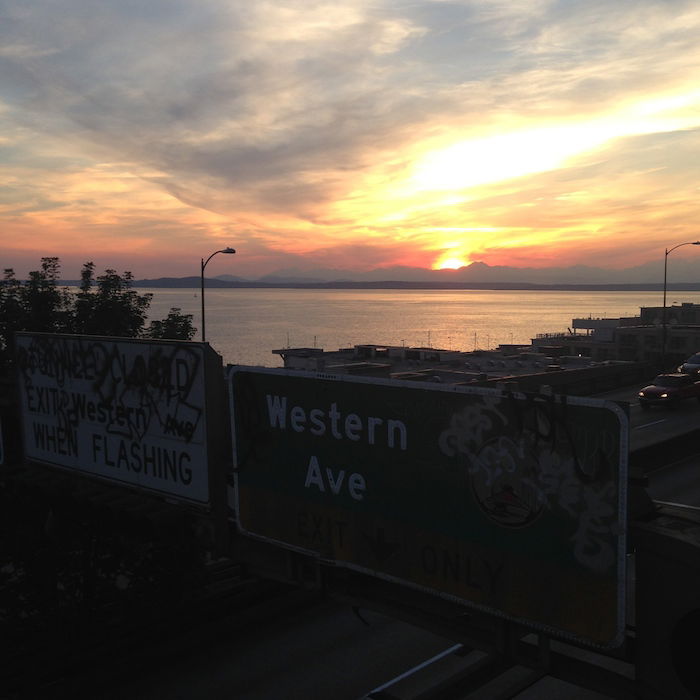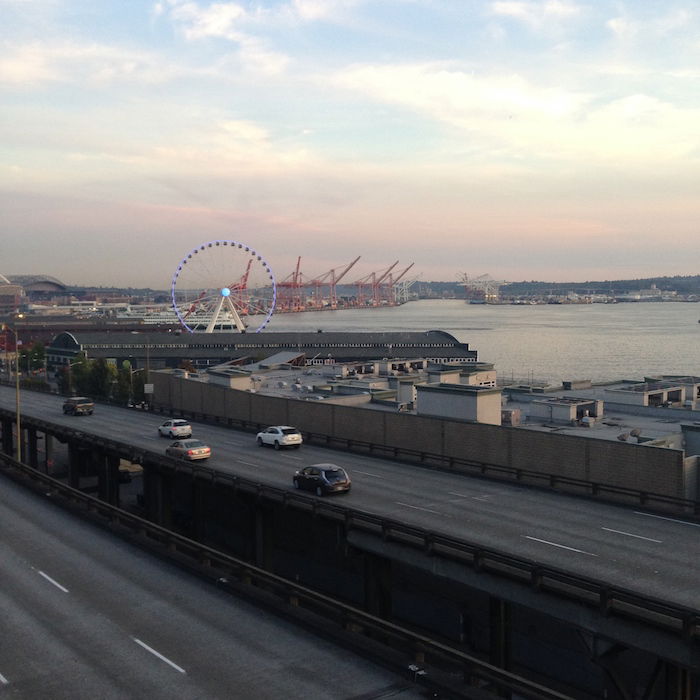 While I see lots of great sunsets in the air, it's rare nowadays that I see sunsets like this on the ground. And as much as I've tried to get liking Seattle out of my heart for the past several months, seeing that sunset made me fall in love with it again. Damn you, Seattle!
Go figure the day after I left the weather went back to typical dreary Seattle norms. I kind of wish I had that weather while I was there, as it would've been easier to convince myself to write the place off…
But it ultimately did reinforce two thoughts in my mind:
Seattle is a great city, unlike any other in the US.
I'm ready to settle down and live somewhere. As much as I'm enjoying living in hotels, it's nice to be able to go somewhere you love and call it "home." Of course that requires finding the right city, and that's not easy… especially since I'm fairly risk averse. I don't want to move somewhere just "because," and at the same time haven't found a city I love so much that I'd really want to settle down there.
Sorry for a bit of a mushy post, but sometimes it's just nice to write things down…
Are there any cities you have an emotional connection to, that you're sad when you're away from?