US airlines aren't exactly known for their service or passenger experience. Heck, Emirates came out with an ad last week which pokes fun at exactly this:
I get why service is often indifferent on US airlines. I really do. Historically airlines haven't shown much respect towards their employees, passenger behavior seems to get progressively worse, and with seniority being the main metric which matters, employees don't have much of an incentive to go the extra mile.
That being said, what I can't rationalize is why there seem to be so many airline employees who are downright hostile. Employees who seem to go out of their way to make customers feel unwelcome, who put effort into being rude.
I can't think of any other businesses — hotels, restaurants, retail, etc. — where you see employees downright hostile in the same manner it happens in the airline industry. And unfortunately it mostly happens under the guise of "security."
Case in point, I was flying from Los Angeles to New York in American's A321 first class.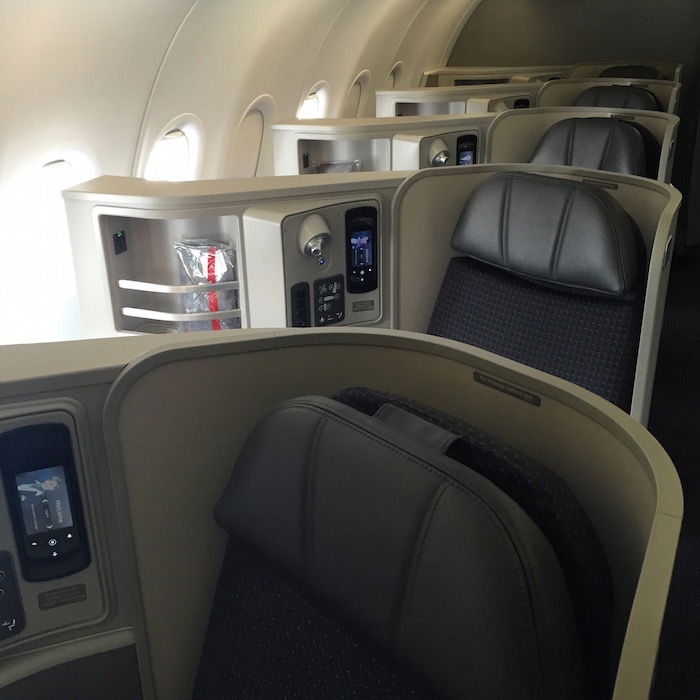 I arrived at the gate a few minutes after boarding started, and the guy in front of me was being pulled over by the gate agent, apparently because he had three carry-ons. Here's what I heard:
Gate agent: "Sir, you have too many bags, you need to check one."
Fair enough. The rules are the rules, and he did have too many carry-ons. But it's about how you handle it. As it turns out, his friend was traveling with him, though he was separated in the boarding queue by a couple of people.
Here's the conversation which followed:
Passenger's friend: "John, I can take that bag for you."
Passenger: "He will take it for me."
Gate agent: "You can't do that, it's a security risk."
Passenger: "He's my friend, we're traveling together."
Gate agent: "Yeah? If he's your friend then what's his name?"
Passenger: "It's [name]."
Gate agent: "You still can't do that, it's a security issue. You can't do that unless you were boarding at the same time."
Passenger: "We are two people apart in the line, we are traveling together."
Gate agent: "I'm just trying to do my job."
What's not conveyed in the above is the pissy tone with which she communicated with the guy, while he was being friendly.
This is just one small instance, but it's an overall theme I notice in the airline industry more than any other industry. Don't get me wrong, there are some fantastic, passionate employees in the airline industry. But there are also employees who go out of their way to disrespect passengers. And I just don't get it. Because being bitchy and trying to justify being wrong takes energy.
I also feel I should point out that 15 seconds later I was greeted at the door of the plane by one of the friendliest pursers I've ever interacted with. He was pleasant, friendly, and clearly wanted to make everyone smile, even at 5:30AM. He wanted to be there, even before dawn on a Sunday morning. Quite a contrast from the draconian gate agent…
Bottom line
Dear hostile employees in the airline industry: could you please make an effort to be lazy rather than hostile?
In the above case, the gate agent was in the right by telling the passenger he had too many carry-ons. But when his friend offered to take one of them, she should have just let it go. And even if she did want to ask the follow up question to make sure they were actually friends (which seems ridiculous to me, but…), she should have stopped there. Instead she made up a further rule for why the guy couldn't take one of the bags on the plane his friend, because she just couldn't bear the thought of being wrong.