I get a lot of the questions on the Ask Lucky page of the blog. Some of them I have an answer to and some of them I don't have an answer to. The below question from reader Ed definitely falls in the latter category. Usually I'd just say "sorry, I'm honestly not sure," but this is an especially unique situation.
Here's the question:
I wonder if I can ask for your advice and opinion. I recently purchased a round trip business class ticket thru AMEX travel website on British Airways, and when I purchased the ticket I went through their fare rules closely. The outbound is refundable if you pay 500USD in penalty; on the inbound, the fare rules is not available to be viewed. I now need to cancel the ticket and my first conservation with AMEX was not very fruitful. They were able to see the outbound fare rules, but they thought the inbound was not refundable, but referred me to British Airways for confirmation. When I called British Airways, they could see the outbound rules, but the inbound is in a code that they couldn't decifer, and referred me back to AMEX.

The next conversation I had with AMEX with not fruitful either. The representative bounced me to a supervisor, who said that even if the rules are not posted or if the website is not functioning, the fact that it is not posted and you still purchase the ticket that you are agreeing to any rule that may or may not be posted. To this day, if you click on that inbound fare rule, it is still not displayable. They can pull it up from within AMEX, but both British Airways and the customer cannot see it. The AMEX supervisor said that it can be a computer glitch, but customer is to blame. So, AMEX would not refund, blaming British Airways for their rule; British Airways in turn blame AMEX for coming up with their own rule and not explicitly posting the fare rule that the airline/customer couldn't see, and I am stuck in the middle.

I even asked for the Ombudsperson but the "supervisor" told me that is no such thing but to call the 800 number at the back of the card.

If I remember correctly, airline companies got into trouble with the government regulating agencies for not being explicit on the website their hidden fares and rules. If there is not one to be seen or posted, do customers have any recourse? A five thousand dollar ticket is a five thousand dollar ticket.
This is an interesting one, in my opinion.
My initial instinct was "well, I wouldn't have bought a ticket without knowing the fare rules." It's tough to blame someone else when you didn't clarify the terms associated with a purchase upfront.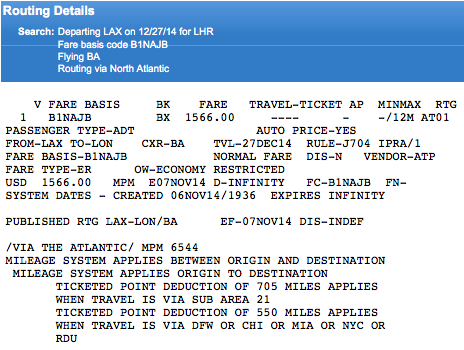 Sample fare rules
At the same time, it seems like both the travel agent (American Express Travel, in this case) and the airline don't actually know the fare rules because somehow they're not published. Is it fair to blame the consumer entirely when you sell someone something without clarifying the terms?
I don't really have any feedback here, so I'm curious what you guys think. Who's to blame, both practically and legally, and what rights does Ed have?
I realize I'm in the minority here, but this is one of the reasons I avoid online travel agencies (and I'm speaking more generically of Expedia, Orbitz, etc., and not American Express Travel specifically). Some people think that using an OTA provides an extra layer of protection, but I often find the opposite to be true — it provides the travel agent and airline an opportunity to bounce you back and forth between the two. When everything works as planned the relationship is fine, but when something goes wrong they seem quick to shift blame.
If I were in the above situation (which I wouldn't be because I'd never buy a ticket without first knowing the fare rules) I'd probably dispute the charge with my credit card company, though I'm not sure how that dynamic changes when you use the credit card company's travel agency to make the reservation…
Curious what you guys think!