Last June United announced that they'd be eliminating their "BusinessFirst" in favor of "Polaris," the name for their new business class product. As part of this, United is overhauling both their hard product and soft product.
As of December 1, 2016, all longhaul flights feature the new Polaris soft product, which includes improved pillows, pajamas on ultra longhaul flights, better food, etc.
While the soft product launched on December 1, not a single plane in operation yet features the new seat United has talked so much about. The seat will be debuting on United's first 777-300ER, which they just recently took delivery of. However, it will be about five years before existing planes are reconfigured with the new seat.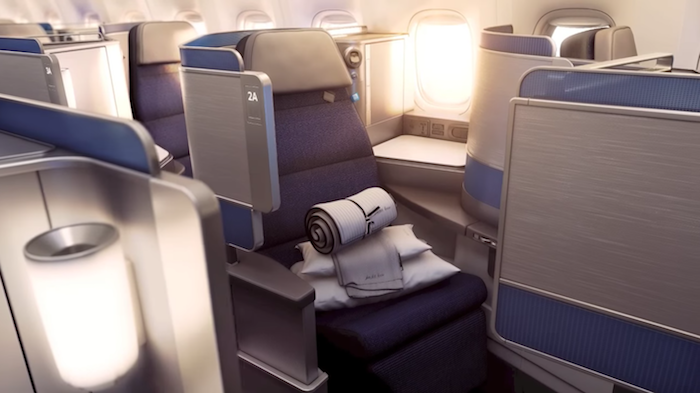 Did United market Polaris too early?
Some would argue that United has marketed Polaris in a bold way. They began the marketing campaign long before the product launched, and even launched the supposed product before a single plane had the new seats, which was the most exciting part.
There's not a day that has gone by since the product launched that I haven't been asked by someone "will my plane feature Polaris?"
So there are two things that stand out to me about United Polaris:
People are really excited about it, and view it as a huge improvement over the existing product; they're not flying business class anymore, but rather "Polaris"
There's a lot of confusion from people about what a "Polaris" flight is; many people think that if their ticket shows Polaris, they're getting the whole experience, including the seat, which isn't the case
Or maybe they marketed it just right?
Most people who knew what to expect going into a Polaris flight have shared positive thoughts about the experience. Some viewed the new product as a minor improvement, while others viewed it as a huge improvement.
Meanwhile I've also received some feedback from people who were disappointed, as they thought they were going to get the new seat that they've seen so many pictures of, but instead ended up in a cabin featuring eight seats per row in business class.
But Forbes ran a story that I think might just show how brilliant United is with marketing Polaris (I wrote this post last night — unfortunately it looks like the story has now been deleted). Specifically, a Forbes contributor wrote about Polaris in the context of his flight between Newark and Hong Kong.
While he was excited about the amenity kit and the chocolate you get before takeoff and all that, what he really loved about the new Polaris product was the amazing new seat:
But for me, the absolute best part of that 16-hour non-stop flight to Hong Kong was the brand-new, high-tech seat.

I was able to sleep so well for several reasons, but the most obvious one is the seat. United's new high-tech lie-flat seat was supremely comfortable. It was easy to get it to the exact right angle of "flat" for sleeping. It was easy to get into "uber-recline" mode for watching a movie. It was easy to retract down to the upright position when it was time to get the try table out. I loved that there were lots of storage cubbies and nooks to put miscellaneous stuff that you need on a long flight (book, phone, computer, etc.)
There's only one slight problem — his flight didn't have the new seat, but rather had a B/E Aerospace Diamond seat, which they've had for almost a decade. Heh.
Bottom line
United certainly took a unique approach by marketing the heck out of a product before it even launched, and then launching it before a single plane featured the product they were advertising. This has led to mixed feelings. Much to my surprise, in some cases it even leads people to believe they're flying in a seat that they're not in. Clearly the marketing has paid off, at least for some people!
(Tip of the hat to Brad B)