In the interest of full disclosure, OMAAT earns a referral bonus for anyone that's approved through some of the below links. The information and associated card details on this page for the The Platinum Card from American Express, and Club Carlson cards have been collected independently by OMAAT and has not been reviewed or provided by the card issuer. These are the best publicly available offers (terms apply) that we have found for each product or service. Opinions expressed here are the author's alone, not those of the bank, credit card issuer, airline, hotel chain, or product manufacturer/service provider, and have not been reviewed, approved or otherwise endorsed by any of these entities. Please check out our advertiser policy for further details about our partners, and thanks for your support!
There are a lot of misconceptions about how credit scores are calculated. When I explain to people that I have 20+ credit cards open at a given time, the first question I'm usually asked is "doesn't that ruin your credit score?!"
The answer is no, and that in many cases it can actually improve your credit score. But it's very difficult for that to "click" with people. So I figured I'd explain in more detail, in part by sharing my own credit score as of last week.
Here's my credit score
As is the norm when you receive your new card, I received a notice recently containing my credit card and an explanation of my credit.
So what's my credit score? Well, my Experian credit score is 837 (on a scale of 300 to 850), and better than 98% of US consumers.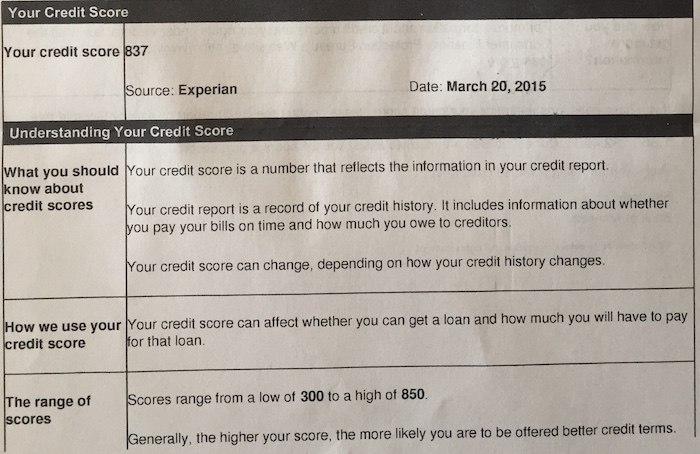 So, what's the secret to a good credit score?
In my "Beginner's Guide To Miles & Points" I have a section entitled "Credit Cards And Credit Scores."
If you haven't read it I'd suggest checking it out. To summarize, here's what factors into your credit score:
35% of your score is made up of your payment history
30% of your score is your credit utilization
15% of your score is your credit history
10% of your score is made up of the types of credit you use
10% of your score is your request for new credit
So how do I have near perfect credit score despite having a huge number of open credit cards and applying for quite a few cards? Here are a few tricks that people easily overlook and/or can't fully wrap their heads around.
Always make payments on time
35% of your credit score is made up of your payment history. That couldn't be easier. Just pay your bills on-time and you'll basically get "perfect marks" for a third of your credit score. If you're going to be involved in this hobby you'll want to be well organized, which isn't a lot of work, really. Just make sure you have payment due dates in your calendar, and have payment alerts set up.
Not only will you be hit with fees for making late payments, but your credit score will also be hit.
Keep your credit utilization low
30% of your credit score is made up of your credit utilization. This simply refers to what percentage of your overall credit you're using.
Let me give an example. Say you have 10 credit cards, and have a $10,000 credit line on each. That means you have $100,000 of available credit. If you spend $90,000 on your cards each month, you're utilizing 90% of your credit. That looks risky to the banks, because they start to wonder if you're getting close to charging things you can't actually pay for
Conversely, if you have $100,000 of available credit but only spend $1,000 per month, you're only utilizing 1% of your credit. If you apply for new credits, the banks view you as low risk. Because you're clearly not trying to max out your credit lines.
So it actually helps to have a lot of cards, so that your overall available credit is high, while your utilization is very low.
And there's one other trick here — pay your credit card statements before the statement even closes. In other words:
Say the closing date for a credit card is April 1
The payment due date is usually a few weeks after that
I simply pay my credit card bill two days before the statement even closes (in this case, March 30)
That's because what's being reported to the credit bureaus is your utilization at the time your statement closes; so even if my credit line is $10,000 and I spend 90% of that, if I pay off the balance before the statement even closes, then the utilization shows as 0%
Keep some cards for a long time
15% of your credit score is made up of your credit history. One thing that largely factors into this is your average age of accounts.
In other words, the issuers want to see that you've been using credit consistently and responsibly for a long time. After all, if you've never had a credit card before and then suddenly get five at once, they're not sure if you'll be able to handle your credit responsibly.
So while I apply for a lot of new cards, it's important to also keep some cards long term. This is why I highly recommend a combination of valuable cards that are worth paying annual fees on, as well as no annual fee cards which add value as well.
For example, I consistently hold onto the following cards:
Chase Sapphire Preferred® Card — this is my primary card, as I earn double points on dining and travel, get foreign transaction fees waived, and have primary CDW auto rental coverage
Chase Freedom FlexSM — this is a great no annual fee credit card which offers 5x points in rotating quarterly categories, which I can combine with the Ultimate Rewards points I earn on the Chase Sapphire Preferred
Hilton Honors American Express Surpass® Card — this card gets me Hilton Honors Gold status for as long as I have the card, which is worth a lot to me, since it gets me free breakfast/club lounge access; Hilton is my backup hotel chain after Hyatt
IHG® Rewards Club Premier Credit Card — I receive an annual free night certificate (capped at 40,000 points per night) each year along with IHG Rewards Club Platinum status for as long as I have the card, which more than justifies the annual fee
Marriott Bonvoy American Express Card — in addition to being rewarding for everyday spend, this card offers me 15 elite nights, which help me requalify for Marriott elite status.
Club Carlson Premier Rewards Visa Signature Card — with this card you receive a 40,000 point annual bonus just for keeping the card, which more than justifies the annual fee
The Platinum Card® from American Express — this card is worth it to me for the perks, including an annual airline fee credit, lounge access benefits and bonus spend on airfare
In other words, while the above in some cases represent high annual fees, I'm always getting more value out of the card than what I'm paying for it. And that also helps my credit score.
That's 80% of your credit score right there
The above alone accounts for 80% of your credit score. And if you play your cards right (no pun intended) your score could actually be higher if you have a lot of cards than if you only have a few cards.
The last 20% of your credit score is made up of a combination of the types of credit lines you use and your requests for new credit. The former refers to having diversified credit lines (credit cards, mortgages, etc.) — the more variety you have, the better.
The only part of your credit score that will negatively be impacted by applying for new cards is your requests for new credit, whereby your score will be temporarily hit by a few points for the inquiry. After 24 months that falls off your report, though, and you'll just reap the positive benefits of having a lot of cards.
Bottom line
I'm sure most of you already knew that applying for lots of credit cards doesn't necessarily hurt your credit score, and in many cases even helps it. Though hopefully you can also link your friends & family that are "doubters" of this hobby to this post, so they can see how credit scores actually work in practice.
I doubt I'd have a score of 837 if I didn't have as many cards as I do, so overall this hobby hasn't just rewarded me with greatly discounted premium travel, but has actually improved my credit score as well.