Well, life on the road may not always be glamorous, but it's certainly never boring.
I'll just get right to it: A couple of weeks ago, my husband and I were working in different cities, when I got this late-night text message from him: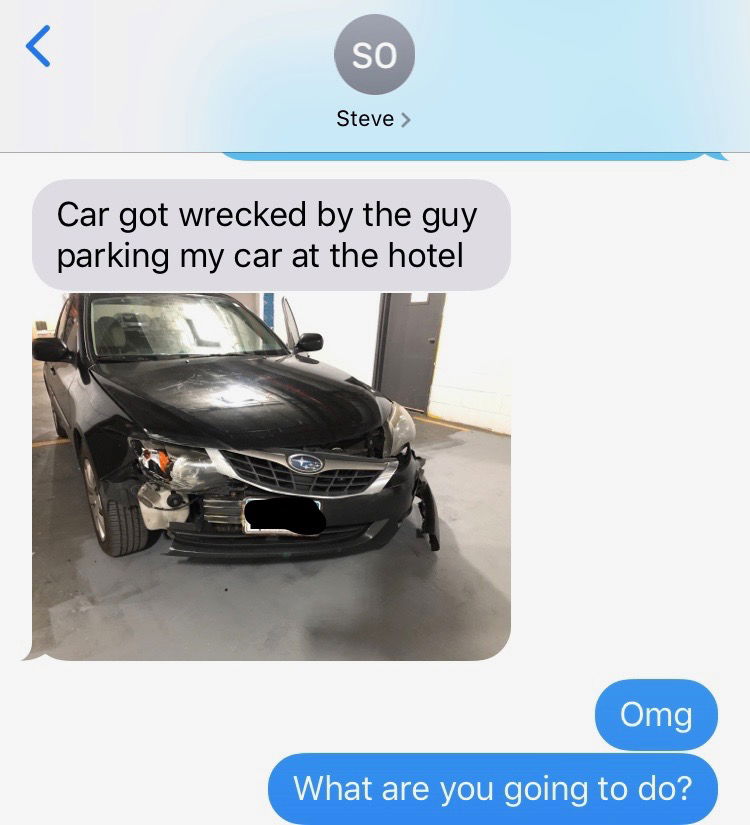 WHAT?!?!?!
What the heck happened?
My husband was checking into his hotel fairly late and needed to have his car parked at the hotel's garage. Given that it was outside of "usual" check-in hours, the night manager was working double-duty as the valet driver. My husband left his keys at the desk, went to his room, and got a phone call ten minutes later that went something like this:
Umm, sir, you're going to need to come down here I'msosorryI'msosorry I ran your car into a wall I'msosorryI'msosorry.
(Okay, that may not be the exact transcript, but that was definitely the sentiment.)
Here's what actually happened – after my husband left, the manager drove the car into the on-site garage. Problem is, my husband drives a manual, and this particular driver does not.
And hotel parking lots probably aren't the best place to give yourself an impromptu driver's ed lesson.
Long story short, he went to "hit the brake" and the car wouldn't stop. Eventually, the nearest wall stopped the car, and it turned out like this: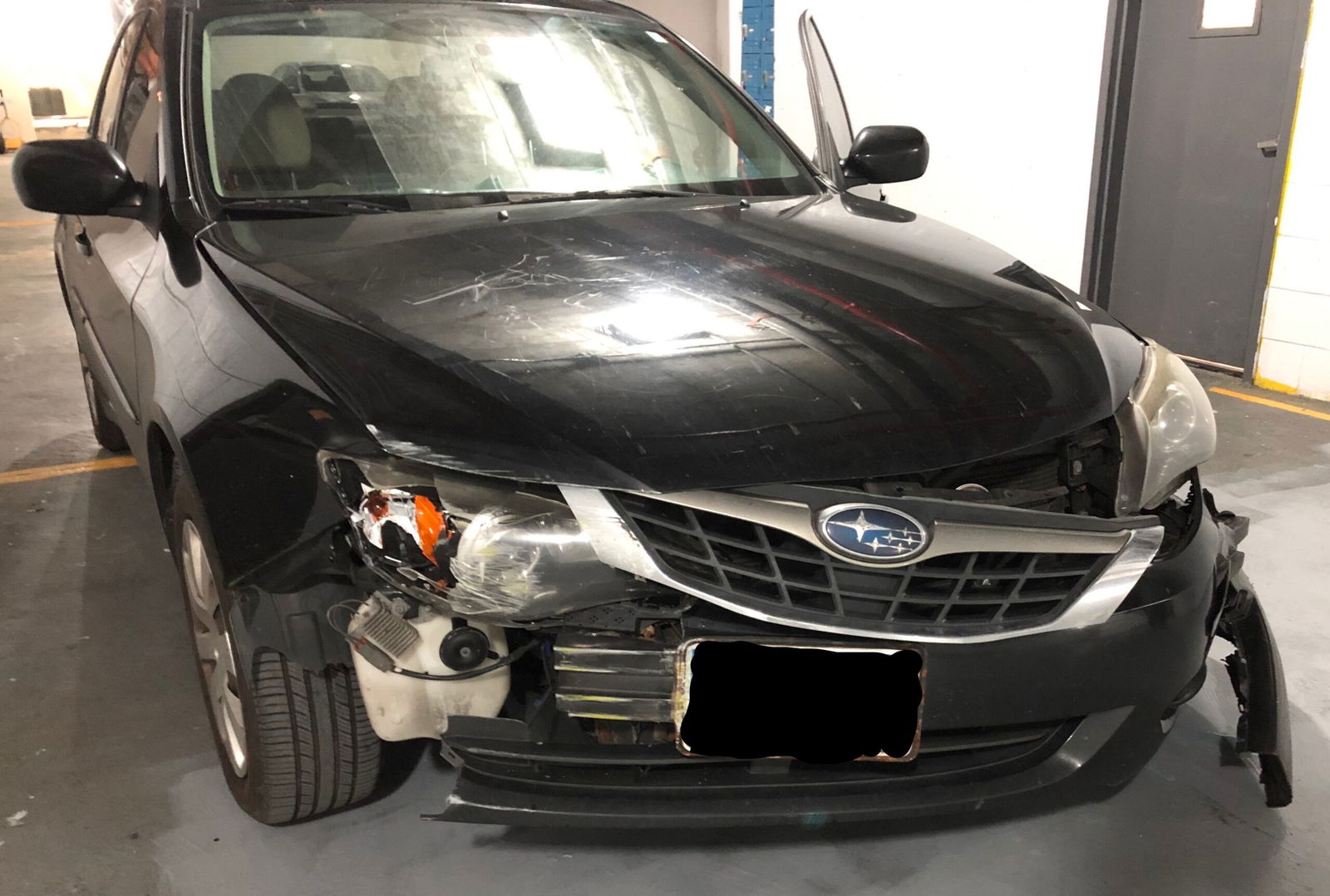 And yes, the driver was indeed hitting the clutch.
The aftermath
For the purposes of this post, I'm deliberately not going to include the name of the hotel, at least for the time being. We are still working with their insurance, and frankly, I don't want anyone involved to jump to any premature conclusions (and I've been waiting to write this until we had some more conclusive information on the outcome).
If you read here often enough, you can probably deduce that the hotel in question is a limited service property belonging to a major hotel chain, in a city populated enough to warrant limited service properties having their own valet garages. But I'll leave it at that, for now.
Now, that's not to say that it's been an easy process. Here is a rough summary of how the sequence of events have played out, so far:
Night 1 – Car was totaled, surprised texts were exchanged, hotel guy promised free stays for life (hah!), no progress was made.
Day 2 – Hotel accountant told my husband that their insurance company would reach out. (Side note – she called from her kid's after-school sports practice – clearly they are understaffed.) My husband picked up rental car but had to charge it to his card, at least temporarily. He was given the name of a contact person from the insurance company.
Days 3-4 – Phone and email tag began – my husband began calling and did not get ahold of anyone. He finally reached someone from insurance company on day 5, who promised they would have more information shortly.
Day 8 – He finally heard back from the insurance company and was told that the car "had been looked at," and that they would get back to him with an assessment in 2-3 days.
Days 11-14 – Three days passed, you can guess what did (or didn't) happen. More messages were left.
Day 15 – He finally heard back from insurance company that the car was a total loss. The hotel's insurance would pay out the current Blue Book value of the car, plus rental car for up to 30 days, which is standard practice from insurance companies.
In theory, they are picking up the car from the hotel on Day 18. We'll see.
I imagine that the hotel is probably covered by some sort of general insurance, rather than an auto-specific policy, since I can't imagine they get this kind of claim too often. And I'm sure that is a huge part of the holdup.
That said, when the incident first happened, we didn't really have the bandwidth to do much more than get my husband behind the wheel of something and figure out the insurance situation.
But we're now two and a half weeks in, and we still don't have a check for the value of the car (much less a car in our name). And I'm starting to wonder if maybe I'm missing something here.
What would you do?
I'm really torn here. On the one hand, I don't necessarily want to ruffle any more feathers, and I really don't want to get anyone fired. We're getting a check for the value of old car, a rental car for 30 days (pretty significant for a road warrior), and they did cover the night at the hotel (all $149 of it).
On the other hand, this isn't a case of a noisy neighbor or a cold shower – a hotel employee wrecked our car.
Even with the insurance buyout from the total loss, there's at least a $10,000 gap between the check we are getting and the cost of a new(ish) car, which isn't an expense that we were necessarily planning for this winter. To say nothing of the hours that have been put into chasing down the insurance company and dealing with the various administrative hurdles (as I write this, my husband is en route to the bank to get a document notarized – one of the many requirements before we can get our insurance check in hand).
The biggest issue, at this point, isn't even the time spent per day – one email here or a phone call there isn't a huge deal. Rather, our frustration is around the fact that we are two and a half weeks in, and aren't much further along than we were when this whole shenanigan started.
To put things in perspective, I was rear ended a year and a half ago. My car was deemed a total loss the next day – and I was behind the wheel of a new car eight days later.
And I wasn't a paying customer of the guy who rear ended me.
So the way I see this, we could go several ways:
Contact the hotel directly and see if they're willing to give additional compensation for our general headaches around the whole process.
Contact the hotel directly to give them feedback on how bad the insurance experience has been, with no intention of necessarily asking for additional compensation.
Contact the larger hotel chain for additional compensation, or to give general feedback on their insurance provider.
Cut our losses, let it go, and enjoy the new car.
Other?
As always, I'm sure there are plenty of opinions out there, so I'm curious to hear your thoughts. Are we being too soft? Too demanding? Just right?
Bottom line
If you live in the U.S. and drive a car with a manual transmission, park it yourself.
What do you think? Should we cut our losses, or seek additional compensation?