If you register your email address through this link or using code EARLY16250 you can immediately get Zero Graphite status when the card launches next year. See below for all the details.
There's a new startup in the credit card space, called Zero, that many people should be excited about. To cut to the chase, in early 2017 we'll see a credit card that acts like a debit card, and offers up to 3% cashback on all purchases. Let me explain.
Debit cards vs. credit cards
Many debit cards used to offer decent rewards structures, though unfortunately that changed a couple of years back when new regulations were introduced, which capped debit card transaction fees. Since debit card merchant fees are just a few cents on most transactions, we don't really see debit card rewards anymore.
While credit cards can charge merchant fees of over 2%, debit cards can't. That's why there's such a big discrepancy between debit card and credit card rewards.
Still, a lot of consumers prefer debit cards. Many people have trouble staying on top of their finances, and psychologically prefer using a debit card, where money is deducted from their account, rather than "borrowing" money and then paying it off at the end of the cycle.
So while I'd like to think there's no downside to a credit card for a responsible consumer with self control, I realize that doesn't apply to everyone.
Zero is a credit card that acts like a debit card
When it launches in early 2017, Zerocard will be a Visa credit card that acts like a debit card. You'll load your account with cash and then can make purchases as you would with any other debit card. The difference is that you'll earn cashback rewards, ranging from 1% to 3%. The reason they're able to do this is by technically categorizing the card as a credit card rather than debit card, so they can charge merchant fees and offer rewards.
On the surface this product is ideal for anyone who prefers using a debit card but still wants rewards (lots of people use debit cards, and presumably would love to earn rewards). However, this card could potentially be really valuable even for those of us who love credit cards.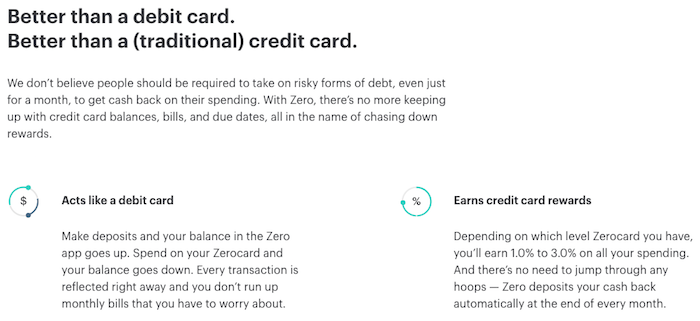 What rewards does Zero offer?
The structure of Zerocard's rewards is sort of similar to elite status with an airline or hotel. The rewards you earn with Zero depend on how much money you spend on your Zerocard per year. The thresholds are as follows:
Quartz members (no spend requirement) earn 1% cashback
Graphite members ($25,000+ spending annually) earn 1.5% cashback
Magnesium members ($50,000+ spending annually) earn 2% cashback
Carbon members ($100,000+ spending annually) earn 3% cashback
The level you're eligible for is based on your annual spend, and once you achieve a level it's valid through the end of the following year. In the following year you'll have to spend enough for the required threshold to "requalify."
On top of that, you earn interest for the balance in your account "at a higher rate than lending savings accounts," or so they say. They have a tool on their site that lets you estimate how much cashback you'll earn, and based on that it seems to suggest you'll earn roughly 1.25% interest on your balance.
Does Zero make sense for you?
In my opinion the area where this is really a game-changer is for those who refuse to get a credit card and prefer a debit card. They'll earn 1% cashback on all purchases, while right now they're probably not earning any rewards.
That being said, this is also revolutionary for big spenders, as there's no card out there offering 3% cashback. Of course there's a big spend requirement, but for the right person this could be huge. For example, say you're someone who has big tax obligations. You can pay your taxes with a credit card for a fee of under 1.9%, so you could basically make a 1.1% profit on paying your taxes.
This would also be the best card out there for everyday spend, though in many cases you can do better on other cards with bonus categories. Of course $100,000+ is a lot of everyday purchases to make. 😉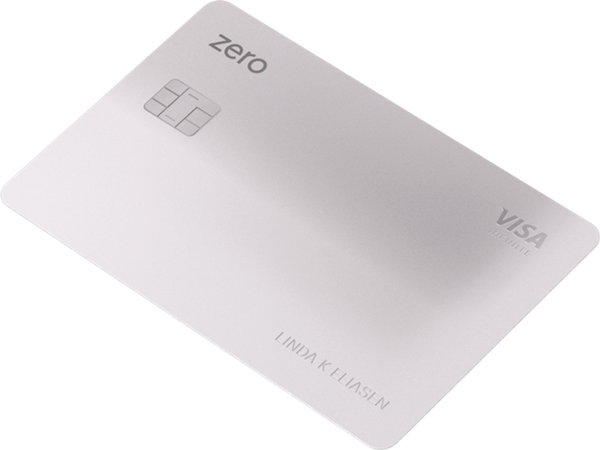 How can Zero afford to offer 3% cashback?
Now, I haven't spoken to anyone at the company (and have no relationship with them, other than having just signed up and using their publicly available referral program), so I can only speculate here. Like many businesses, I suspect they'll make money on some consumers and some transactions, and lose money on others:
They'll make money on you as you spend your way to the first $100,000, in order to earn Carbon status
Lots of people will go for Carbon status but not end up making it, so will fall in a lower category
In reality they can afford to lose money on some customers in order to create something that seems aspirational, since they'll have big margins on a vast majority of their cardmembers, where they'll only be offering 1% in rewards
Who knows, over time they may adjust the rewards structure, in case this becomes too lucrative
Register now and get fast tracked "status"
Zerocard is only launching in early 2017, though you can already sign-up for early access by entering your email address. However, if you sign-up through someone else's referral link you'll automatically start with Zero Graphite status rather than Zero Quartz status (getting you 1.5% cashback rather than 1% cashback).
Here's my link, if you'd like to sign-up through it (or enter code EARLY16250), which will automatically get you Zero Graphite status at a minimum once they launch (and of course there's no obligation, you're just adding your name to an email list at this point).
On top of that, if you refer enough people you can immediately get higher status, all the way up to Carbon. However, their terms aren't very clear on how many referrals are required to get a higher tier, so I suspect they're still working that out. Here's what the terms say:
Register to join the waitlist for early access and take advantage of the early access referral program. The early access referral program allows users to level up faster if they successfully invite friends to also sign up. Please note that this referral program is being offered for a limited time, and will not be available once we launch the Zero experience and products to the general public ("Official Launch Date"). Registrations must be received at or before 11:59 p.m. PST on the calendar day immediately preceding Zero's Official Launch Date. People who level up via waiting list referrals unlock the ability to initially receive a higher level card (i.e. Zerocard Carbon) and will maintain it for the remainder of the calendar year in which they become a customer, plus all of the following calendar year.
So you might as well get on the list and invite friends as well if you think you'll be interested (feel free to leave your code below).
Bottom line
I commend Zero for doing something really unique here, and think they'll be successful when they launch next year. I don't think the card is right for everyone, but if nothing else, this card is revolutionary for those who use debit cards on principle, as it will once again be possible to earn rewards.
On the high end this also has the potential to be lucrative. If you're a huge spender and many of your purchases don't fall into other categories, this has the potential to be the best card ever.
What they're doing here is actually pretty simple, and I'm surprised we haven't seen any banks come out with a similar concept.
What do you make of Zero? Do you plan on signing up?
(Tip of the hat to Hans Mast)