Yesterday United announced that they'll be adding 1,600 first and business class seats to their fleet. This is coming in the form of installing more first class seats on their A319s and A320s, configuring some 767s with additional business class seats, and introducing the new CRJ550.
When I first read about the CRJ550 I did a double take, since it's an aircraft type I hadn't heard of before. So in this post I wanted to talk more about what exactly this plane is, and why I find United's decision with this plane interesting.
What is the CRJ550?
The CRJ550 is Bombardier's newest aircraft type. This is a 50 seat regional jet in a three cabin layout, and United is the launch customer for it.
Here's how Bombardier's President describes the plane:
"The new CRJ550 model is the only solution in North America that can replace the existing fleet of ageing 50-seaters, a market of over 700 aircraft. It offers improved passenger experience with ample on-board storage for carry-on bags and more passenger living space. This is one more example of how we are focusing on creating value for our customers and a very important endorsement from United in regards to the CRJ platform."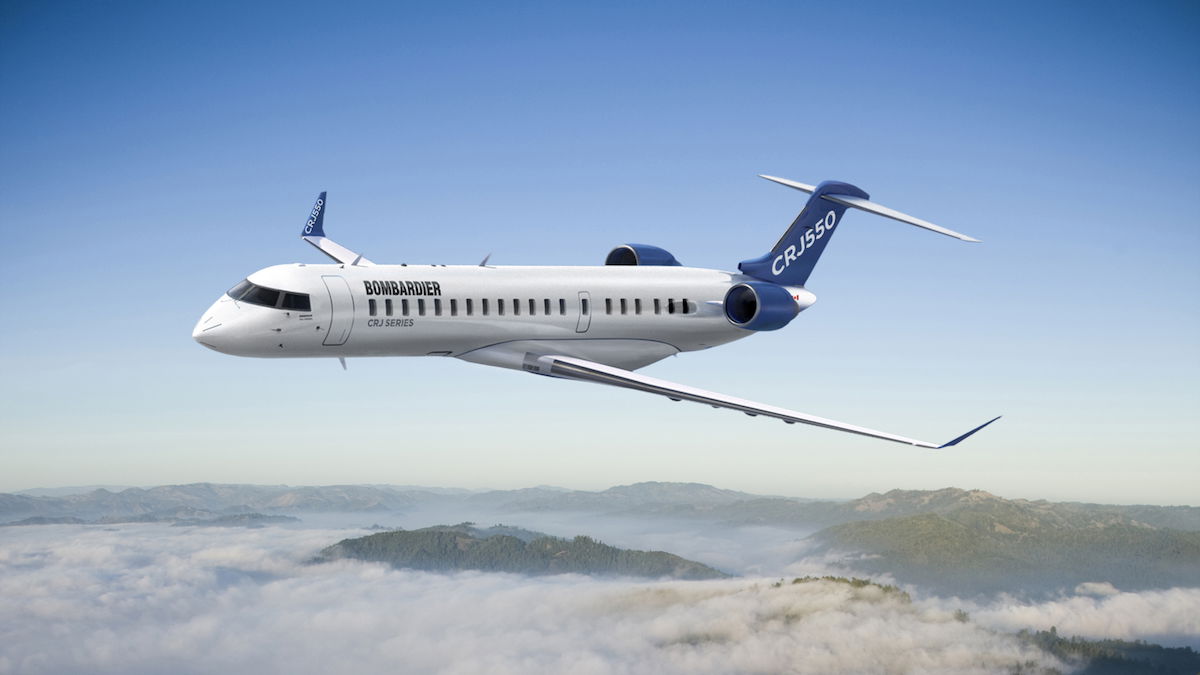 The CRJ550 isn't really a new aircraft type
The fuselage of the CRJ550 is based on the CRJ700, which many airlines already operate. The plane will require a new type certificate, but otherwise is almost identical. That's why you may not have heard a lot about this plane yet, even though it will join United's fleet later this year (usually it's years from when a plane is announced until it's in service).
So why on earth would they create a new aircraft type that isn't really a new aircraft type? Why does the interior being different warrant the plane type being renamed?
The CRJ550 is intended to circumvent scope clauses
Over the years airlines have tried to get creative with lowering the cost structure for many of their operations:
For the most part, major global airlines don't operate regional jets themselves, but rather contract regional airlines to operate flights on their behalf, so that they can achieve a lower cost structure by paying employees less
Similarly, we've seen some airlines set up low cost carriers with a similar mission
Just to give you a sense of pay differences, an American EMB190 fifth year captain earns $166 per hour, while an Envoy Air EMB175 fifth year captain earns $77 per hour. The planes have identical cockpits, and one plane just has slightly higher capacity than the other (and hence isn't allowed to be operated by a regional airline).
Airlines' ability to set up things like this is entirely dependent on negotiations with unions. Over the years airlines have certainly pushed their luck when it comes to how widespread regional airlines have become.
When they were first introduced, the intention was that regional airlines would fly to smaller airports that couldn't be served by mainline jets, in a way that wouldn't threaten mainline pilot jobs.
Meanwhile over the years we've seen regional airlines operate in all kinds of major business markets, like Chicago to New York, Los Angeles to San Francisco, etc.
What does United's scope clause say?
What does United's current scope clause look like?
United Express is limited to flying 255 aircraft with 51-76 seats
That limit doesn't apply to planes with 50 seats or less; as a matter of fact, in theory up to 90% of United's narrowbody fleet could be flown by 50 seat regional jets, per the contract
This is a huge point of contention at the moment, especially as United pilot contracts are up for negotiation. Management wants pilots to agree to more big regional jets, while pilots aren't budging.
The CRJ550 will intentionally be weight restricted
As mentioned above, the CRJ550 will be almost identical to the CRJ700, except the interior. There will be one other major issue. While the maximum takeoff weight for the CRJ700 is about 75,000 pounds, the CRJ550 will intentionally be certified to just 65,000 pounds.
So they'll intentionally be reducing the maximum takeoff weight of the plane by five tons, which will limit the amount of fuel the plane can carry, and in turn will limit the distance the plane can fly (in fairness, the plane will naturally be a bit lighter due to having fewer seats and passengers).
Why on earth would they intentionally restrict the distance the plane can fly? It all comes down to United's scope clause. Above I talked about how United's scope clause restrictions don't apply to planes with 50 or fewer seats. But there's an added wrinkle:
"50-Seat Aircraft" means aircraft certificated in the United States for fifty (50) or fewer passenger seats and a maximum certificated gross takeoff weight in the United States of 65,000 or fewer pounds.
So they're intentionally certifying the plane to a maximum takeoff weight of 65,000 pounds to get around this restriction.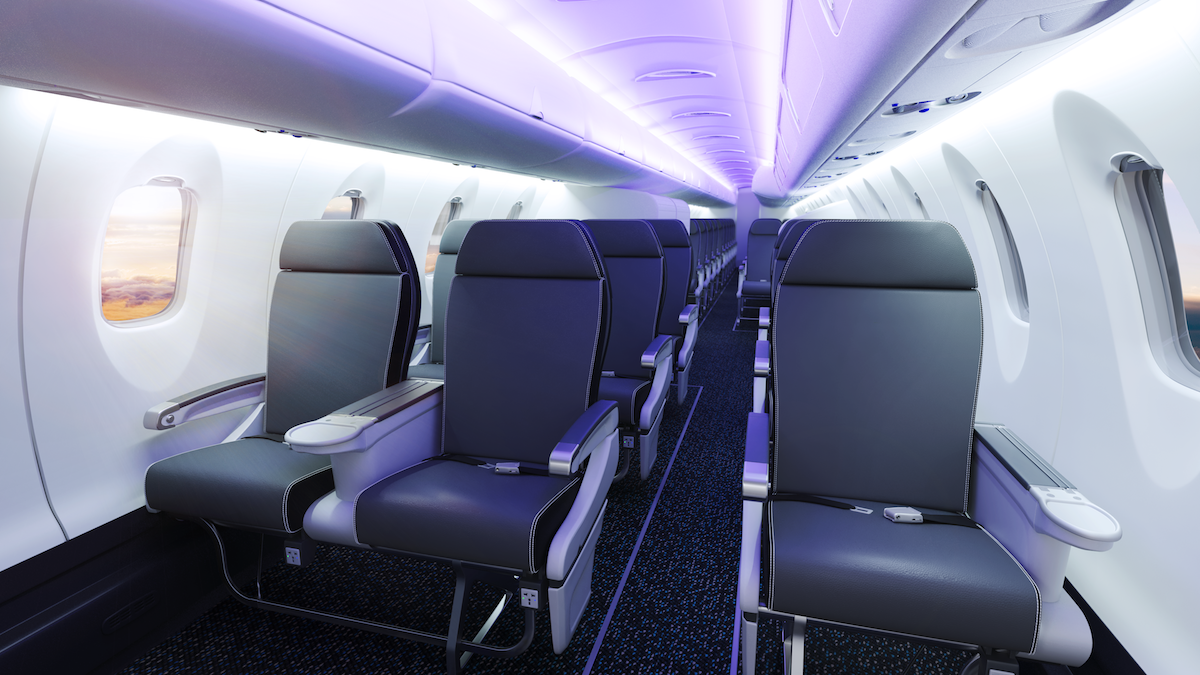 United's CRJ550 is going to be really interesting
We live in a time where airline executives fantasize about how many seats they can squeeze into a plane. So that's why the CRJ550 is surprising, because it's a plane designed not to be efficient.
The plane will have 10 first class seats, 20 extra legroom economy seats, and 20 regular economy seats. So we'll see 50 seats in an area that usually has 70+ seats.
On top of that, the plane will have four massive luggage closets, so that passengers don't have to gate check bags (the overhead bins on the CRJ are small, so usually full size carry-ons have to be checked).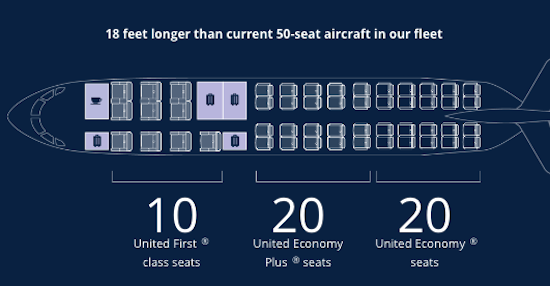 United also advertises that there's a self-serve beverage and snack station for first class customers.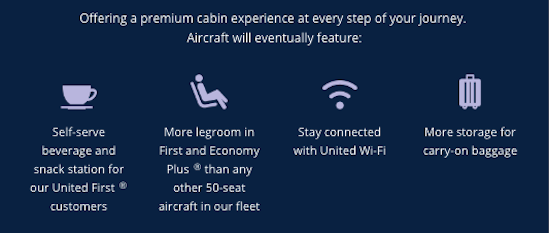 What makes this interesting to me is twofold:
The plane will only have one lavatory, as you'll find on most 50 seat planes, rather than the two lavatories you'll usually find on CRJ700s; having to share a lavatory between cabins in that way is hardly "premium"
Since the plane will have only 50 seats, United could operate the flight with just one flight attendant (you need one flight attendant for every 50 seats); so something tells me that the "beverage and snack station" isn't being installed because the airline is feeling generous, but rather because this will essentially be a self service plane, with one flight attendant taking care of 50 passengers, including 10 first class passengers
Bottom line
It's fascinating to see an aircraft manufacturer create a new aircraft type that is so explicitly intended to circumvent scope clauses. I mean, ultimately manufacturers have been taking things like this into consideration for a long time, but the correlation usually isn't this explicit.
On one hand United is making it seem like it's going to be a really premium aircraft, while on the other hand it will have only one lavatory and in all likelihood will have only one flight attendant, probably making this the worst plane in the fleet (mainline or regional) when it comes to service.
What do you make of the "new" CRJ550?