Reader Luis asked the following question in the "Ask Lucky" forum:
Hey Ben, I just got back from a trip to Europe flying "first class" on American both ways. I was able to luckily snag a first class seat for two both ways from LAX to LHR connecting in JFK on the way out and direct on the way back. So I was pretty excited to finally try American's flagship product.

Well, after we had checked in at LAX, when we got to the Admiral lounge, they notified us that the flight to JFK was cancelled due to weather (huh? it was sunny and clear in NY) so we would miss our connecting flight to LHR. Best they could do was rebook us through Miami but my wife and I got separated as they only had 1 first class seat left, so I had to take the last seat remaining in business class (mind you, this is the old business class and I was stuck in the middle seat of 3). Quite the difference from first class.

On our trip back home, we boarded the 777-300 in first class and about 30 minutes into the flight, my seat controls stopped working and no matter what the purser tried to do, the seats did not work. So the purser had to manually recline my seat (never got into the fully flat bed position) and I had to fly the whole way home in that position. Even ate my meals in the recline position.

To add insult to injury, they lost one of our luggage and have yet to find it 2 days later.

I called American when I got home to complain but they told me that I had to file the complain via their website to customer relations. Does AA really not have a phone number that I can call for complains like this? I sent out an email and waiting for a response. I requested a full refund for 135k miles and I think that's reasonable. I don't have my hopes up though. Anything else I can do other than just shooting out an email via their website so that I get some attention from AA?
It's a long question, but I do think it raises an interesting point. So let's dissect the situation a bit.
When it rains, it pours
I think we've all had trips where just about everything seems to go wrong. I've had more of them than I can count. And when it happens it's hard not to think the airline sucks.
I'd certainly be frustrated in Luis' situation. But how many of the issues were connected?
The original flight was supposedly canceled due to weather. We don't know whether that's true or not. Do keep in mind it could very well be the case even if the weather seemed nice in New York. All it takes is some low cloud coverage above the airport to limit arrivals & departures, and that could have a ripple effect.
From there it sounds like Luis was rebooked on the next best option, which clearly wasn't good at all. This is a case where it helps to be your own advocate and try to find availability on an acceptable routing, so you don't end up in a situation where you're split from your spouse and in a middle seat in business class.
The broken seat on the way back sucks, and is of course unrelated to the above.
What could have been done differently?
When it comes to situations like this, I think it's useful to look back and think of what could have been done differently. Not that Luis is at all at fault for any of this, but if we want the best options it helps to advocate for yourself as much as possible. So what would I have done in Luis' situation?
I would have verified whether the cancellation was actually weather or mechanical. This could be done by looking at delay patterns for that airport — if lots of flights were significantly delayed and many were canceled, then it's probably safe to assume it was weather. If it was mechanical, that's useful to know, since it's within the airline's control.
I wouldn't have accepted the option through Miami. Admittedly everyone has different priorities, but it sounds like the agent was trying to rebook you on the next available option, even though it wasn't great. This is a case where it pays to hop online and try to find availability for yourself. Maybe there was a later option with first class availability, or if you specifically requested it, they may have even rebooked you on British Airways. You didn't have to accept the option they gave you, though at the same time they also can't "create" space in a booked out cabin.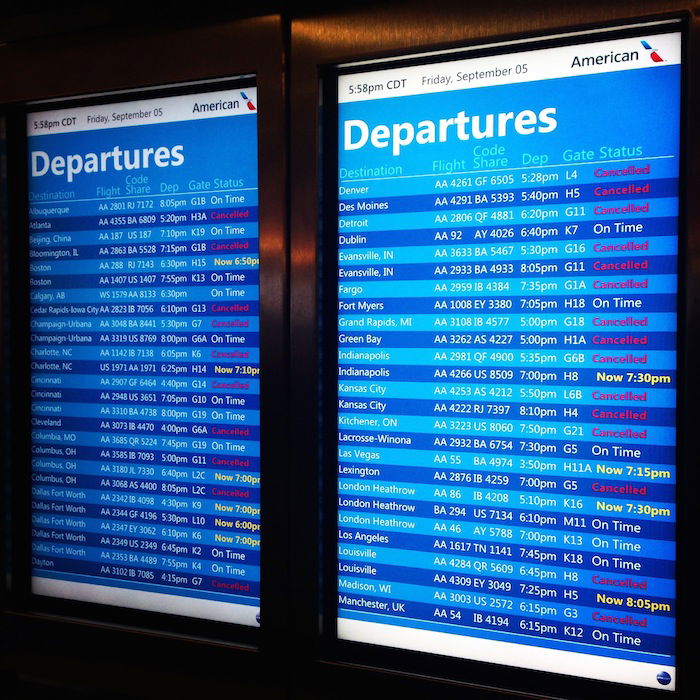 What compensation does American owe?
Generally speaking when you complain to an airline, compensation doesn't "stack." That's to say that they have a "chart" to follow to decide what someone is owed, and they issue compensation based on that. If you have one issue vs. four issues, you may very well get the same compensation.
So while I don't think the request for 135,000 miles is completely unreasonably, in practice I'd be willing to bet they won't comply. What would I expect instead, based on American's patterns for issuing gestures of goodwill?
The one-way refund for the mileage difference between first & business class, since you were downgraded; that would be 12,500 miles.
Some sort of gesture of goodwill for the broken seat — realistically probably about 20,000 miles or so, at most.
I agree that's not ideal and ultimately this was a pretty bad trip, but nowadays we kind of have to fend for ourselves when it comes to air travel, especially during irregular operations.
Bottom line
Trips like this happen, and it sucks when they do. Especially when you have compounding problems. Ultimately American clearly wasn't their best with this trip, so I do think Luis deserves some sort of gesture of goodwill. That being said, there are certainly also a few things I would have done differently to give myself the best possible result.
What kind of compensation do you think Luis deserves in the above situation?