Over the weekend Virgin Atlantic was added as a Chase Ultimate Rewards transfer partner, and I dismissed this as mostly meaningless, given that I consider Flying Club miles to be the single least valuable mileage currency out there.
And while I'm sticking to thinking the partnership is mostly meaningless, some in the comments section pointed out that Virgin Atlantic's partnership with Virgin America is actually potentially lucrative.
To be honest I've kind of lost track of the partnerships that Virgin America has. Some are one sided, some are reciprocal, and they're all pretty damn confusing to me. It's tougher than keeping up with the Kardashians.
But Virgin Atlantic's award chart for travel on Virgin America is actually really lucrative: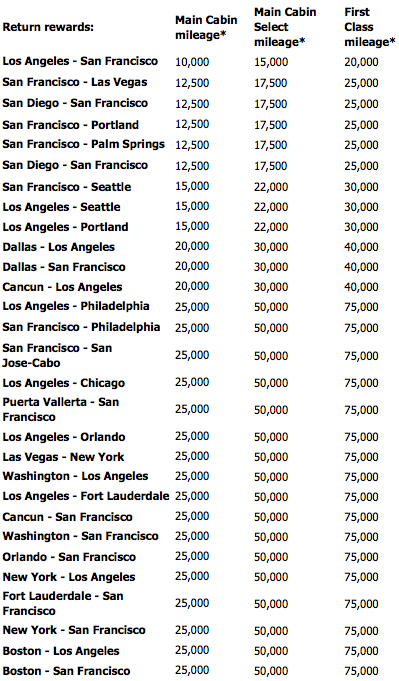 While the transcon flights in first class and Main Cabin Select aren't that attractively priced, their short-haul pricing is really good.
For example, it's tough to beat 10,000 for roundtrip travel in coach between Los Angeles and San Francisco, or 20,000 miles for first class travel.
Los Angeles to Cancun roundtrip for 20,000 miles in coach or 40,000 miles in first class is pretty damn awesome as well.
The good news is that Virgin Atlantic doesn't impose fuel surcharges on award redemptions on Virgin America (which is the norm for domestic redemptions anyway), and there aren't even any ticketing fees for booking over the phone (which is the only place to book this). The bad news is that only roundtrip awards are allowed on Virgin America, and there's no way to search award availability online (since Virgin America has a revenue based frequent flyer program), so you have to call up Virgin Atlantic to inquire about availability and make the booking.
The truth is in many cases British Airways has similar (or even lower) redemption rates through their Executive Club program for travel on American and Alaska. Though truthfully if I were flying in coach I'd rather fly Virgin America (and get power ports, IFE, and Wi-Fi), than Alaska or American (neither of which offer all three).
So with a transfer bonus from American Express Membership Rewards to Virgin Atlantic Flying Club as we've seen in the past, this is definitely a redemption option to keep in mind. Late last year they ran a 35% transfer bonus, so that would've lowered the cost of a roundtrip in coach between Los Angeles and San Francisco to under 8,000 Membership Rewards points, and would have lowered the cost of a roundtrip between Los Angeles and Cancun in first class to under 30,000 Membership Rewards points.