I'm a big fan of extra legroom seating. Call it Economy Plus, Main Cabin Select, Economy Comfort, or whatever you want, but those extra few inches really make life in the back of the plane a lot more enjoyable. It's basically the difference between being able to open your laptop, or not, as Ben recently discovered on his first international economy segment in a decade.
As a Premier 1K with United, I get to select these seats for free at the time of booking, so the website never actually shows me how much they cost. I suppose that causes me to take them for granted somewhat.
Well, I was recently helping a friend figure out the best options for flying between Washington DC and Los Angeles. That's obviously a big United route, but American and Virgin America also have a few nonstop flights each day. While the base fares are mostly competitive, I was absolutely shocked to see how much Virgin charges for their exit row and bulkhead seats. Like I thought it must be a website glitch.
IAD <> LAX
My friend was looking at flying from Washington Dulles to LA on February 10. United, American, and Virgin all had nonstop flights for $139 all-in. (United also offers additional more expensive flights during midday hours.)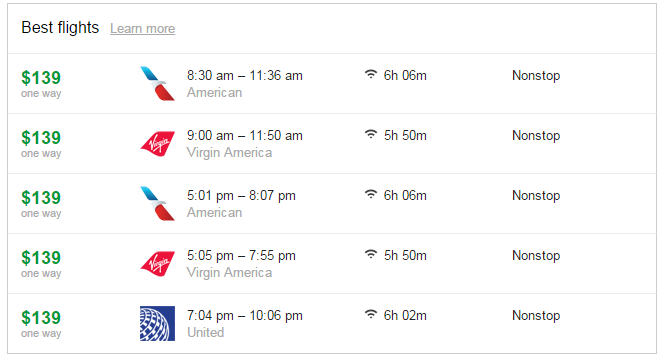 My friend is a fairly big guy and frequently pays for extra legroom. So I wanted to compare the options for extended legroom seating across the three carriers.
United Economy Plus
United was offering an exit row aisle for an added $132. It's worth noting that United has a range of prices for Economy Plus seats — aisles cost more, and exit rows or bulkheads cost more. So this was the most expensive seat in Economy Plus, while a middle could be had for $99.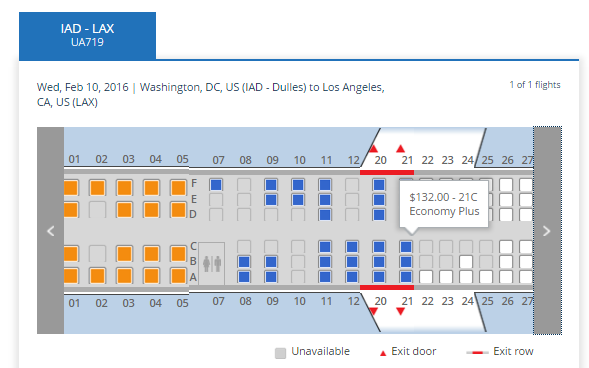 American Main Cabin Extra
American wanted $86 for an exit row window seat. In fact, all of their Main Cabin Extra seats appeared to be the same price.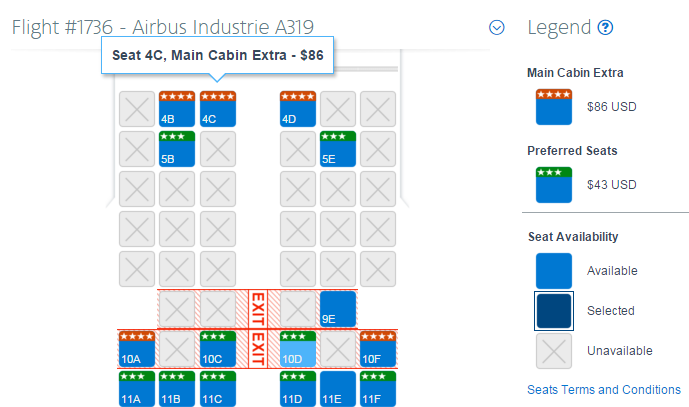 And Virgin America?
Virgin wanted a whopping $630 for an exit row or bulkhead seat. Heck, for not much more you could upgrade to first class!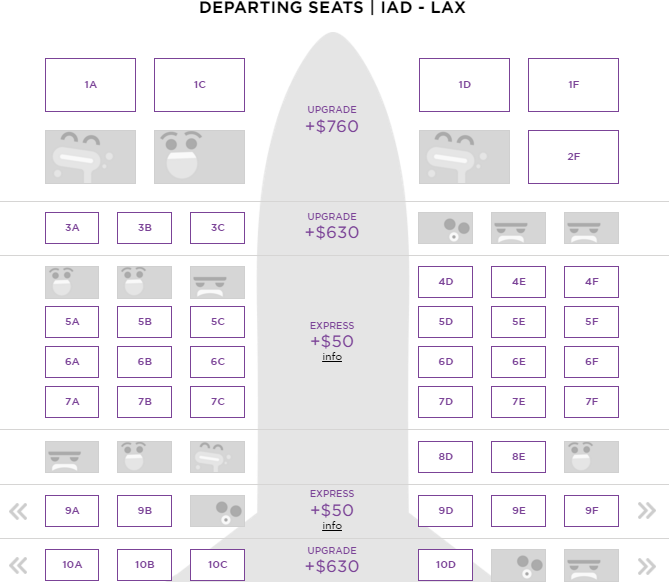 Now I've never flown Virgin and I know nothing about their product so I wondered what you got for your $630. I clicked on the info button and saw that these seats come with free food and drink.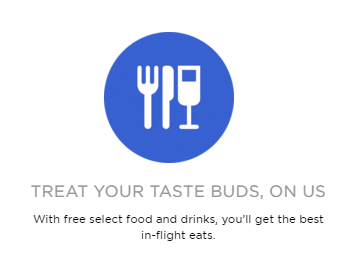 I guess if they served Dom and Krug to those in the exit row this could be a good deal. Then again, do you really want to be counting on a guy trying to drink his $630 worth of Krug in the event of an emergency?
Bottom Line
I can't imagine paying $630 for an exit row seat.
I would expect that those with sufficient status on Virgin can select these seats for free. And maybe these silly prices are just a way to make sure that elites always get those seats? Otherwise, what am I missing? Do people really pay $630 — or in this case 4.5 times the cost of the ticket — for an extended legroom seat?
Now to be fair, it did seem like other dates had slightly more reasonable costs for these seats. On February 17th, for example, the exit row costs "only" an additional $170. Still more than United or American, but in the ballpark. That does make me wonder how they set the prices for these seats, and whether they employ some form of inventory management to dynamically adjust the price based upon how many of these seats are left?
Have you ever sat in the Virgin exit row? Would you pay $630 for one of those seats?