I'll be headed to Vietnam soon thanks to some great business class fares that Qatar Airways published earlier in the year. While I could just do a "direct turn" in Vietnam, I figured I'd spend a couple of nights in Ho Chi Minh City, as it has been about a decade since I last visited.
Last year my entry into Vietnam was a mess. I totally forgot that Vietnam required visas in advance, so I ended up having to pay an arm and a leg to use a last minute emergency visa service.
The great news is that earlier this year Vietnam introduced single entry e-visas for nationals of 40 countries (here are the eligible countries), including the United States. I just went through the process of applying for an e-visa, and figured I'd report back on the process, which was quite easy.
To request an e-visa for Vietnam first visit this page, which has all the basics. The whole process took maybe 10 minutes, and within two days my e-visa was approved (it's not an instant process).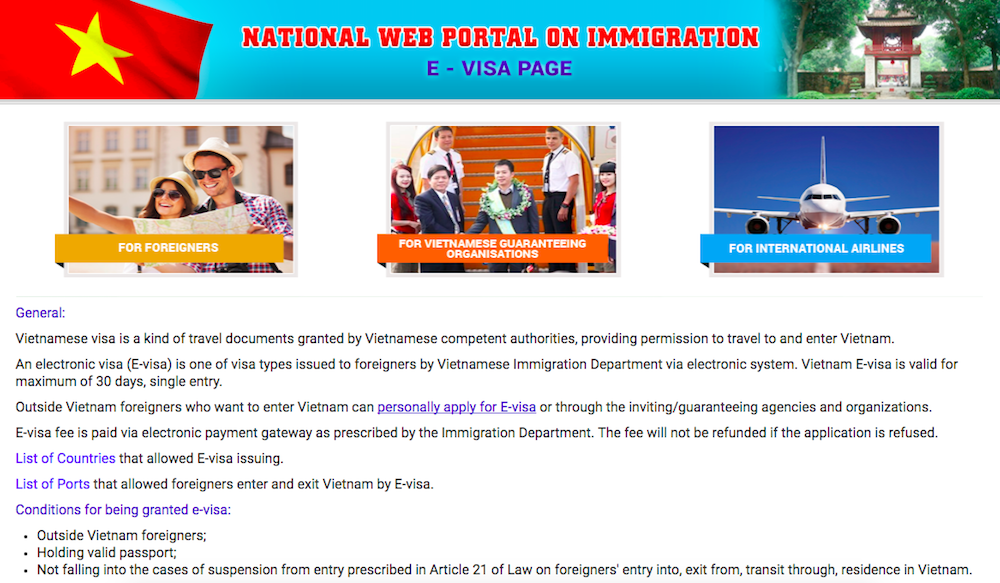 You'll want to select the "for foreigners" option, which will bring you to a page explaining what you'll need.
The only slightly annoying part is that you have to upload a copy of both your passport picture page and a portrait picture. The good news is that neither of these pictures have to be "professional." I just used my iPhone to take a picture of my passport's picture page, and then took a portrait picture with my iPhone, and uploaded that. That did the trick.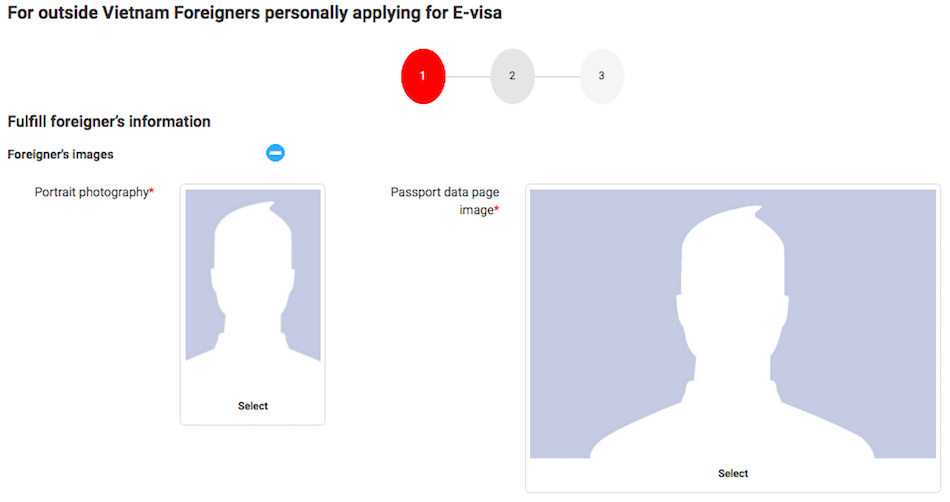 The rest of the form is easy to fill out, as they just ask for the basics.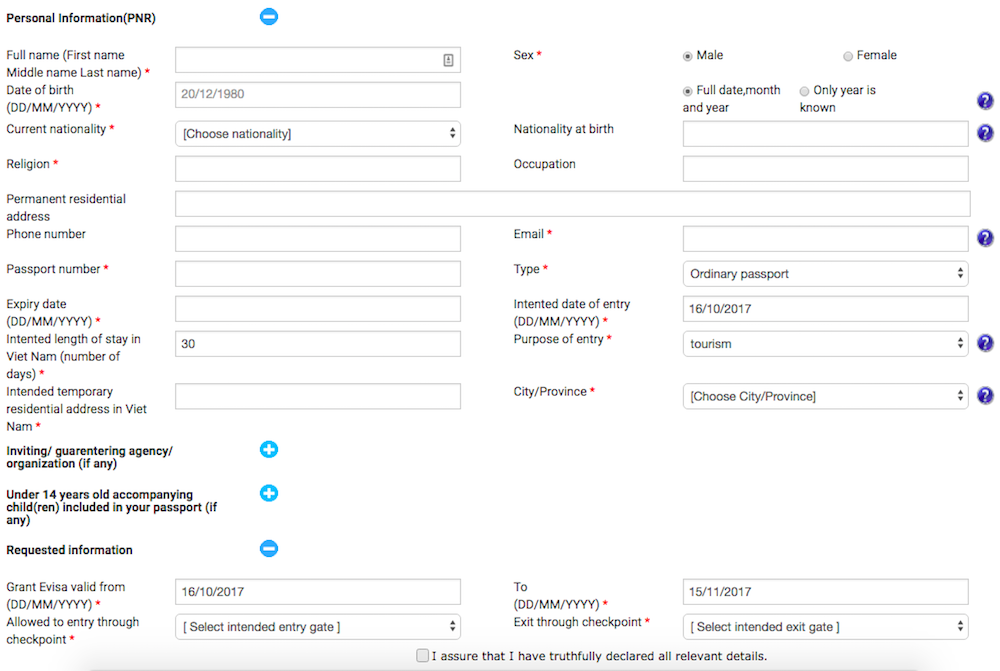 The one area of the form that confused me was that I wasn't sure if I should enter my exact arrival and departure date for requesting when the e-visa should be valid. I could see them giving me issues if the dates didn't match. However, after entering my exact dates, the next page automatically showed the "valid" dates as being a month around my dates, so it seems that answered my question.
After verifying my information I was given a verification code. It's very important that you take note of your verification code, as you'll need it later on.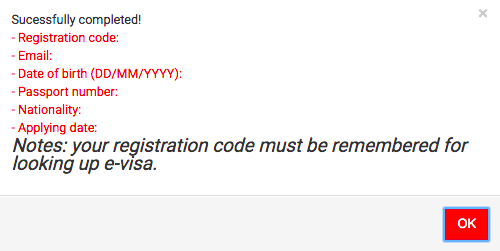 I was then brought to a separate website where I was asked to pay the $25 visa fee. Note that they don't take American Express cards, and there's also a ~$1 fee for paying by credit card.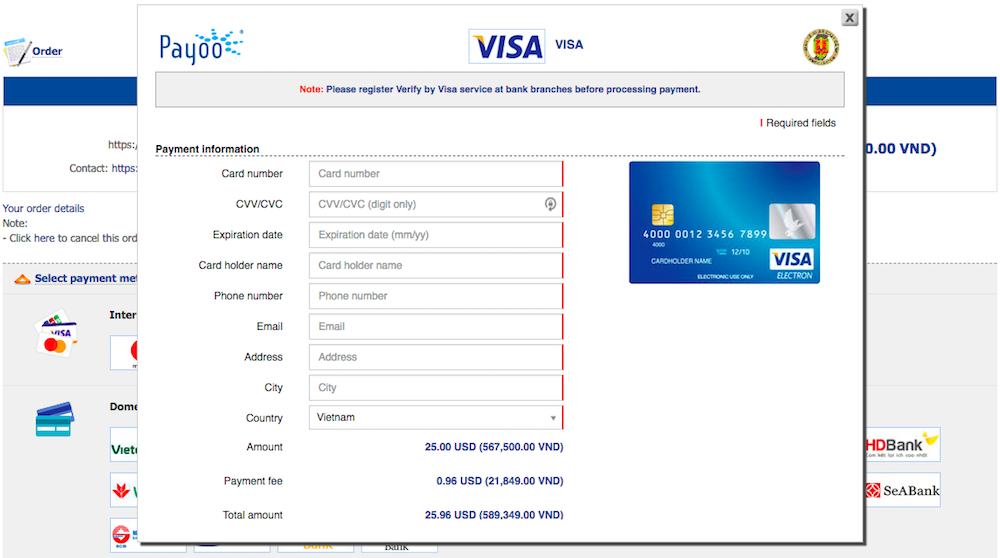 For what it's worth, this payment doesn't seem to qualify as any sort of travel bonus category, as I earned a single point per dollar on my Sapphire Reserve.

Once that was processed I received a payment invoice confirming my payment.

I was told that it typically takes about three days to have your visa approved. My expectation was that I'd receive an email confirming my visa application and the registration code. However, I never received that, and also never received an email confirming that my visa was approved.
So make sure you take a screenshot of your registration code, because you'll need it in order to get your e-visa later on. It could be I did something wrong during the process, but I find it bizarre that they don't email you when it's approved, or send you an email with that code.
After a few days I went to the e-visa search menu to check on the status of my application. There I entered my registration code, email, and date of birth.

That page confirmed that my e-visa had been approved, and gave me a link where I could download and print the one page e-visa.

Bottom line
The process of applying for a Vietnamese e-visa was super easy. It took about 10 minutes, cost $25, and was approved within a couple of days, so that's a great improvement over the old system. There are a few things to be aware of during the process, but otherwise this is a really user-friendly system they have, in my opinion.
If you've applied for a Vietnamese e-visa, what was your experience like?