For the past several winters we've seen a great promotion for Vancouver hotel stays, given what a seasonal market it is. Well, this promotion is back again this year, as you'd expect. For those looking to travel to Vancouver in the coming months, this could represent a great deal.
Vancouver winter hotel promotion
To help fill rooms, StayVancouverHotels is offering a $50-125 Visa pre-paid gift card for the first night of a stay, and a $50 gift card for every subsequent night for up to four nights.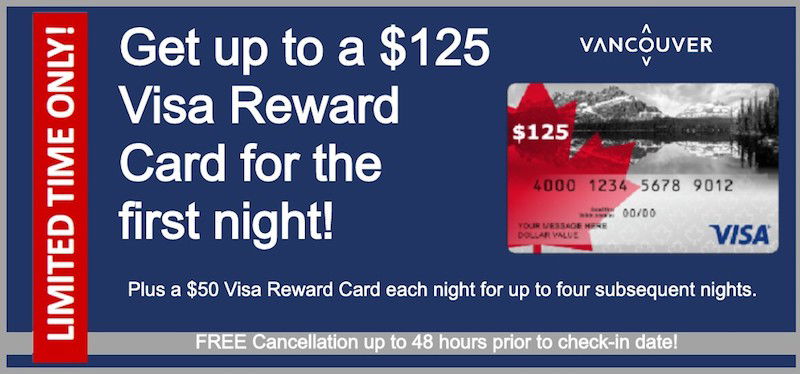 Here are the basic details of the promotion:
You have to book your stay at StayVancouverHotels.com using promotion code "Visa"
37 Vancouver-area hotels are participating in the promotion
Valid for stays between now and February 28, 2021
While bookings are pre-paid, they're refundable until 48 hours before the stay
You must pay with a Visa, Mastercard, or American Express
Each person can make a maximum of three bookings under this offer
You receive a $50, $75, $100, or $125 Visa pre-paid gift card for the first night of your stay, depending on the category of hotel (all values in CAD)
For up to four subsequent nights on the same booking you receive an additional $50 Visa pre-paid gift card per night
The gift cards can be used however you'd like, either to cover the cost of the hotel stay, or anywhere else Visa pre-paid gift cards are accepted
"This offer is limited and may end at any time"
How good of a deal is this promo?
There are some really good deals to be had here. In some cases you can get well over half of the cost of your stay back in the form of a gift card, which is an awesome opportunity.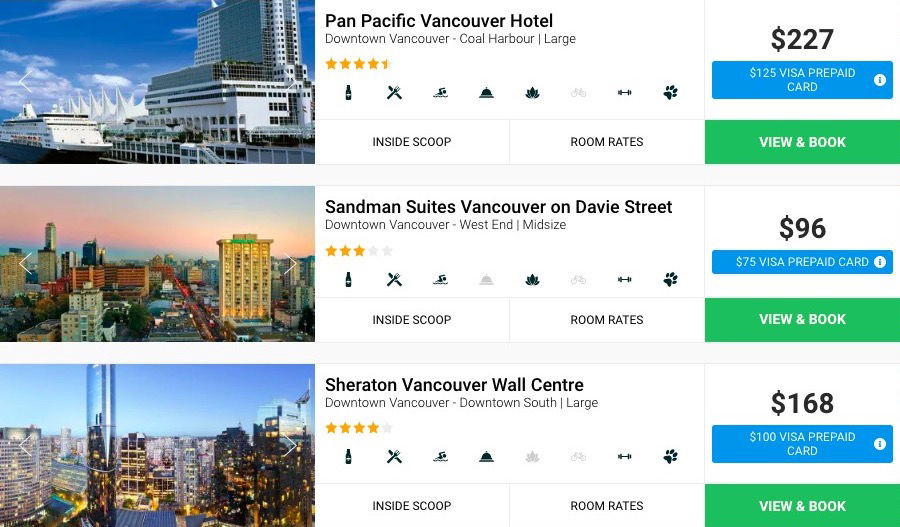 Since this is a third party website you typically wouldn't earn elite credits, elite perks, or points. However, several readers reported earning points and getting elite credits during the last promotion, so this is likely a case of "your mileage may vary."
For those in the US, one important consideration is that borders between the US and Canada are currently closed, and the reopening date keeps getting pushed back. Fortunately this promotion has flexible booking terms, so it could still pay to book, just understand that it might not work out.
Bottom line
Vancouver is one of my favorite cities in North America, and this promotion is definitely valuable for many. We've seen this promotion several times before, and I'm happy to see it return again. Unfortunately it's during a pandemic, which will limit the usefulness for many.
Be sure you consider everything before using the promo, though:
If you're staying at a chain hotel you may not receive points or elite benefits, though there are some data points suggesting otherwise
For short stays at luxury hotels, keep in mind there are potentially a lot of value-add amenities you can get by booking through programs like American Express Fine Hotels & Resorts, Virtuoso, etc., which could be worth more than the gift card
This is a heck of a deal, and a way to get a hotel stay in Vancouver for a very reasonable price, should you be headed to Vancouver this winter.
Does anyone plan on taking advantage of this Vancouver hotel promo?