This post is more about a general trend/opportunity we're seeing, rather than one specific deal. Over the years there have been all kinds of strategies to scoring cheap international business class airfare.
In the past I've written about how you can use the American Airlines Vacations website to get big discounts on business class tickets. The idea is that they'll sell you a flight and hotel together, and even if you don't plan on using the hotel, you'll often get huge savings over what you'd otherwise be charged just for the flights.
The latest great deal on the vacation packages front seems to be booking international business class SkyTeam flights through Travelocity's Vacation Packages page. The idea is simple — you'll often find hugely discounted business class fares when you book a flight and a hotel together. Even if you're staying for a couple of weeks, you can choose to book the hotel for just one night, and don't actually have to stay there. But it will save you a lot of money.
Here's an example in the form of a Los Angeles to Amman roundtrip business class ticket (which is being talked about on FlyerTalk). Say you want to go from October 12 through 15. I'm only selecting a hotel for one night of the stay. The reason is that I don't actually plan on using the hotel (since I'd rather book directly and earn points), so I'm just booking the cheapest "throwaway" hotel possible.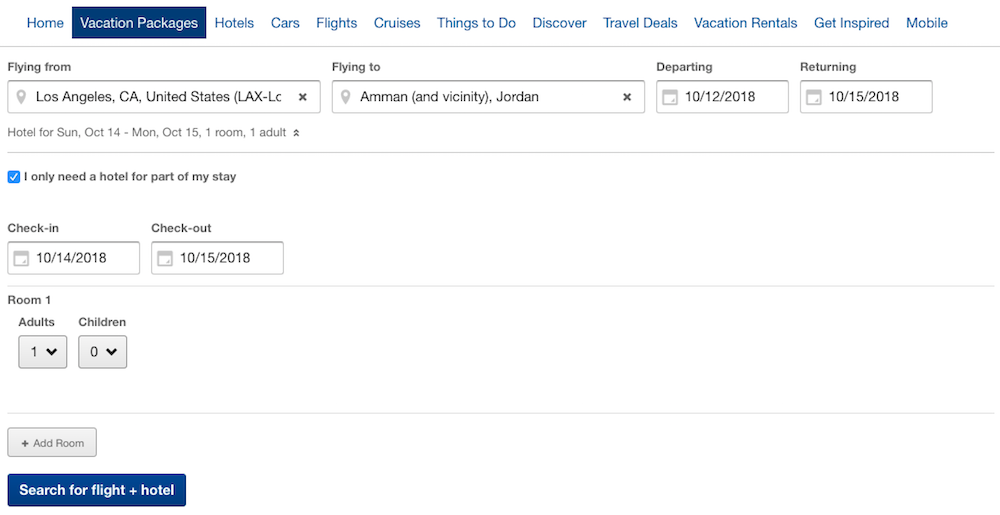 Once you enter the origin and destination you'll be brought to a page where you'll be asked to pick your hotel. I recommend just sorting by price, and then picking the cheapest hotel.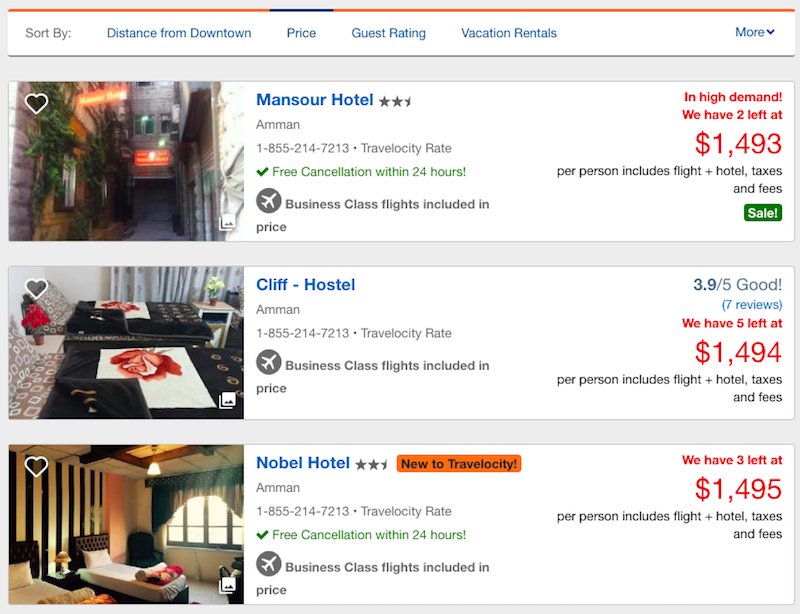 Then you can pick the type of room you want.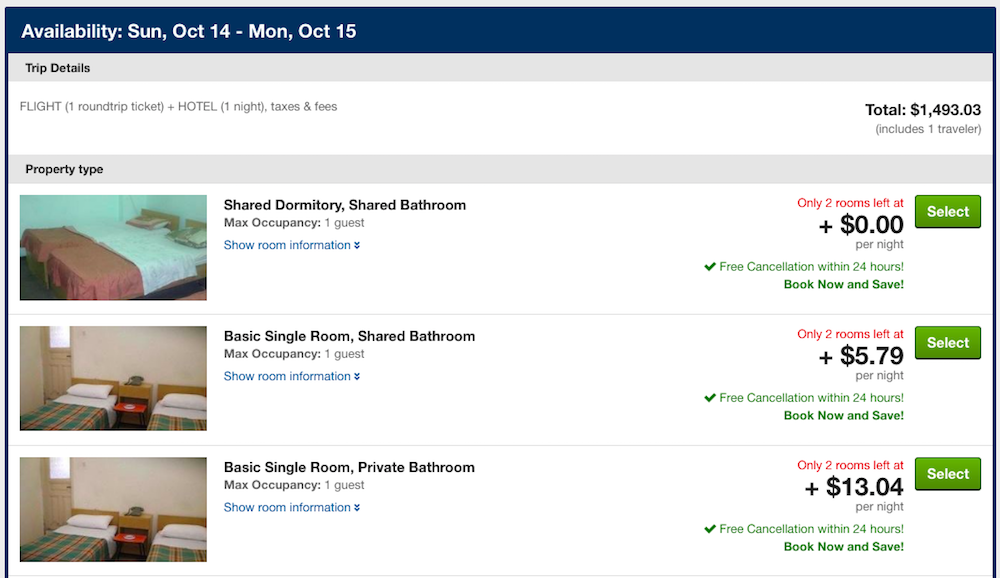 Then you can pick the specific flights you want. For example, I'll pay $47 extra to choose the Air France coded flights on the way out, since I'd earn more miles that way if crediting to Delta SkyMiles.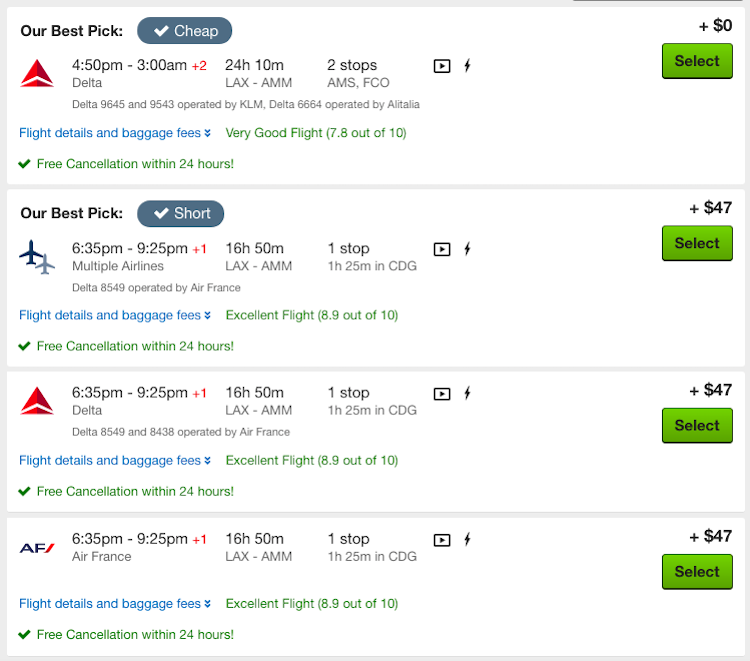 Then you also need to choose the return flights.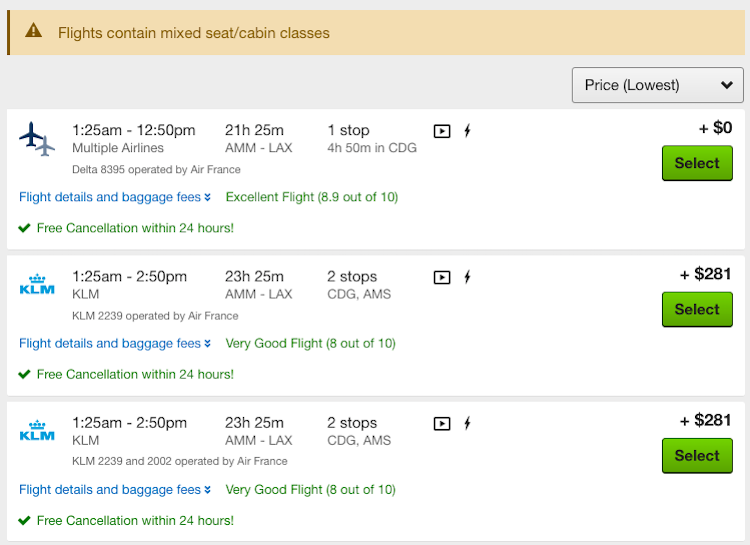 In the end, the total roundtrip business class fare is ~$1,540, and that includes one night of hotel. That's an insane business class fare for roundtrip travel from the US to the Middle East.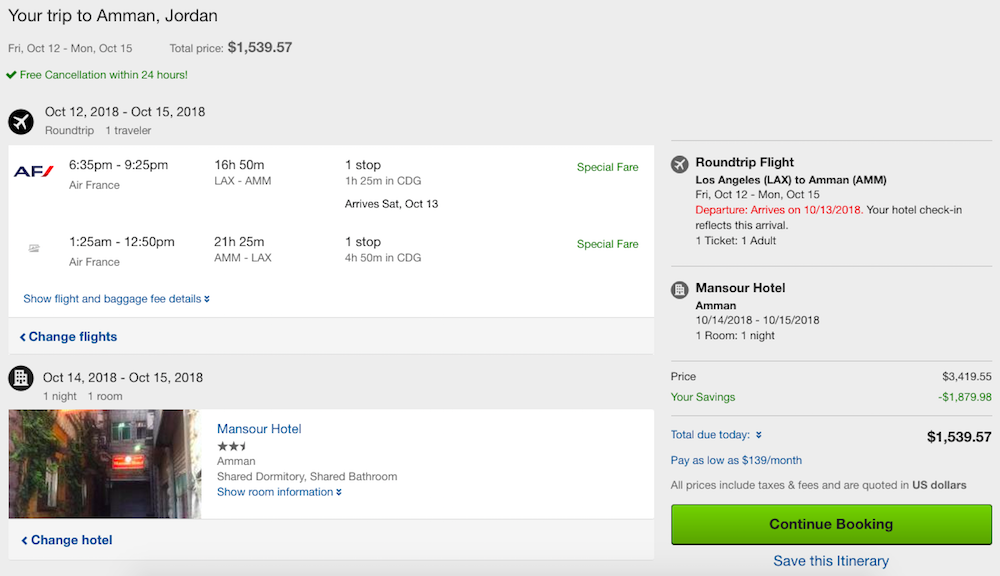 As a point of comparison, the cheapest published SkyTeam business class fare between Los Angeles and Amman over those dates is ~$3,400, so that's over 50% off.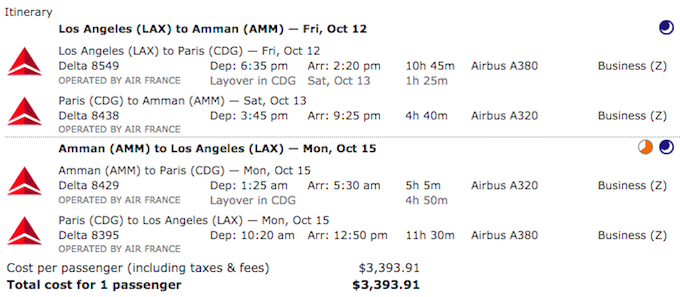 The above is an example of an incredibly good deal, but I'd note that this strategy can save you a lot of money even for more "normal" tickets in business class. For example, say you want to fly roundtrip business class from New York to London on Delta, where the flight would cost ~$4,100:

By booking the same flights as a vacation package, you'd pay just ~$2,850.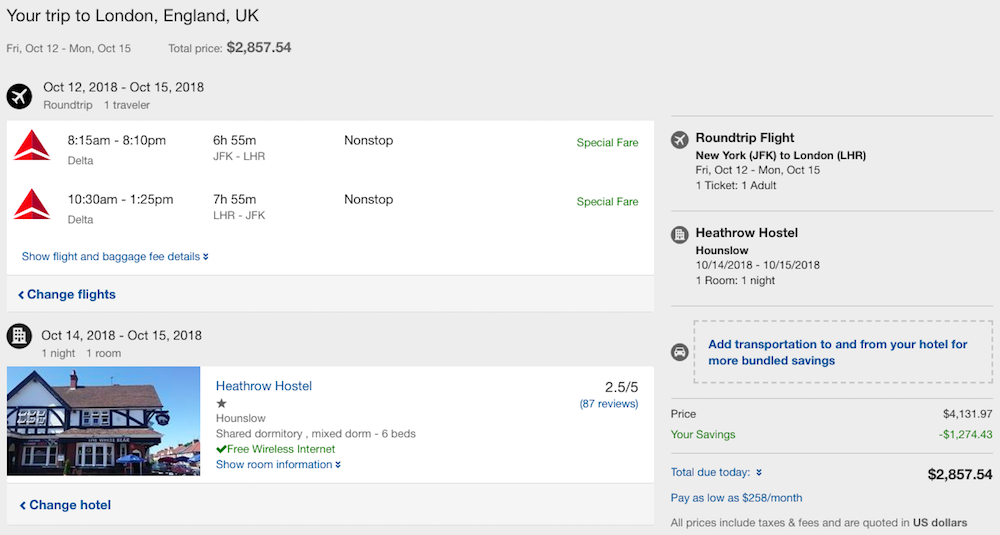 Obviously that's not a great deal, but my point is just that even when I pull up totally random flights, this method still gets you significant savings.
When you use this method you don't actually have to stay at the hotel. Alternatively, you could pay a bit more and choose a five star hotel, since you can choose from all kinds of hotels with these packages.
A roundtrip ticket from Los Angeles to Amman that's marketed by Air France would cover a distance of ~16,000 flown miles, so if crediting to Delta SkyMiles you'd earn ~32,000 MQMs and 6,200MQDs, meaning that you're earning MQDs at more than four times the usual rate. That's pretty tempting!
Bottom line
There's no science to finding good deals through Travelocity Vacation Packages, and it can be tedious, since there's no calendar search function. The best way to find stuff through this is just through trial and error, so it can take forever to find something good. If you're looking at an international business class ticket, it's certainly worth playing around with the Travelocity Vacation Packages function. While this seems to work best for SkyTeam airlines and through Travelocity, there are also potentially deals to be had on other airlines, and through other online travel agencies.