Weight and balance on planes is an important thing to get right. Not only is it important for the plane not to be overweight, but it's also important for the weight to be distributed correctly. A bit over 10 years ago, an Air Midwest flight crashed shortly after takeoff, due in part to being overweight. Here's the Air Crash Investigation episode about the incident:
That being said, that was a prop, and for most large jets it's not quite as serious of an issue. But that won't stop Uzbekistan Airways from instituting a new policy whereby they plan to weigh passengers before each flight. Per the Uzbekistan Airways website:
Please be informed that Uzbekistan Airways airline carries out the procedure of preflight weighing for determination of the average weight of passenger with hand baggage.

According to the rules of International Air Transport Association, airlines are obliged to carry out the regular procedures of preflight control passengers weighing with hand baggage to observe requirements for ensuring flight safety.

After passing check-in on flight and prior to boarding into the aircraft, we will suggest you to pass the procedure of weighing with the special weighing machine placed in the departure gate zone.

The weighing record will only contain the corresponding passenger category (i.e. male/ female/ children). As for the rest, the full confidentiality of results is guaranteed.

We will appreciate your assistance and thank you in advance for the help in the solution of our common task of flight safety!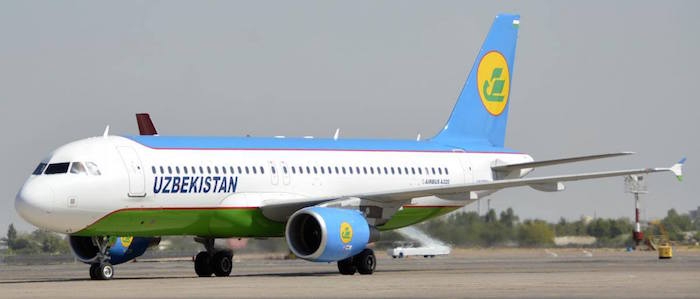 It's still not entirely clear to me why Uzbekistan Airways will be weighing passengers. It sounds like they might just be trying to update their internal data as to the average weight of passengers and their carry-ons, as opposed to somehow fully weighing the total contents on each plane.
It also doesn't necessarily sound to me like the weighing will be compulsory, at least based on how it's phrased. People being able to "opt-in" to weighing seems like it wouldn't lead to very accurate data, since my guess is that passengers who weigh less are more likely to voluntarily weigh themselves than passengers who weigh more.
It also doesn't sound to me like Uzbekistan Airways is going the Samoa Air route, whereby they charge by weight.

I mean, hell, Samoa Air's slogan is "A Kilo Is A Kilo Is A Kilo."

There is something sort of endearing about how proud Samoa Air is of their system, claiming it's the "fairest system" there is:
A world first: The "Samoa Air System" of pay by weight 'Pay only for what you weigh'!

Welcome to the fairest system for payment of carriage of anything by air. The world is now aware that charging by weight is the fairest way of paying for carriage. Whether its people, baggage, freight or anything which we might want to take or consign by air.

At Samoa Air we will do our best to ensure that every passenger is afforded the same level of comfort and travel throughout their flying experience. We want to bring back Air Travel as an enjoyable experience, where you, and your baggage will always travel together. No more excess fee's are charged and no more discrimination, because as we know: A kilo is a kilo is a kilo!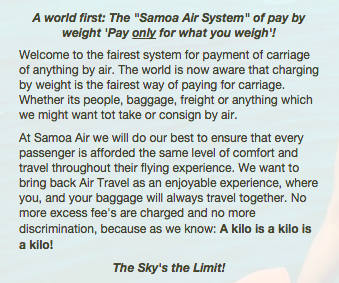 And I don't think they're that far off. Samoa Air operates a fleet of props, where the weight of the contents is much more significant than on an airline with a jet fleet.
What do you make of Uzbekistan Airways weighing passengers before each flight?
(Tip of the hat to View from the Wing)