I'm often asked about the limits of "extending" hotel status to friends and family. For example, reader Scott recently asked me the following question on the Ask Lucky page of the blog:
Lucky – I'm interested in doing the Hyatt Diamond challenge soon as we have stays upcoming at the Park Hyatt Vendome and Park Hyatt Tokyo in July and the Hyatt Regency Churchill in London in October.

We generally travel only a few times a year but having Platinum status while staying at those properties could be worth a lot of extra benefits. I have Hilton Gold to match.

My questions is this…Rather than do a mattress run myself as I can't see myself reaching those 12 paid nights in 60 days, my parents happen to be visiting us for the summer and they are in an extended stay (can't remember the name). I looked into moving them into a Hyatt House not too far from us for at least the 12 nights required for the challenge. Have you heard of people booking rooms for other people to meet the challenge? It would cost $55/night + 4k points but they are paying about $90/night at the place they are in now and are not super happy. We could kill two birds with one stone doing this. I could easily check in for them. Does this violate all sorts of rules? Will we get caught? Do the hotels care? What are your thoughts? Thanks in advance for your insight
In other words, if you have hotel status, can you:
Make a booking for a family member so that they can receive your elite benefits
Make a booking for a family member so that you can earn elite qualifying nights/stays and points for their stays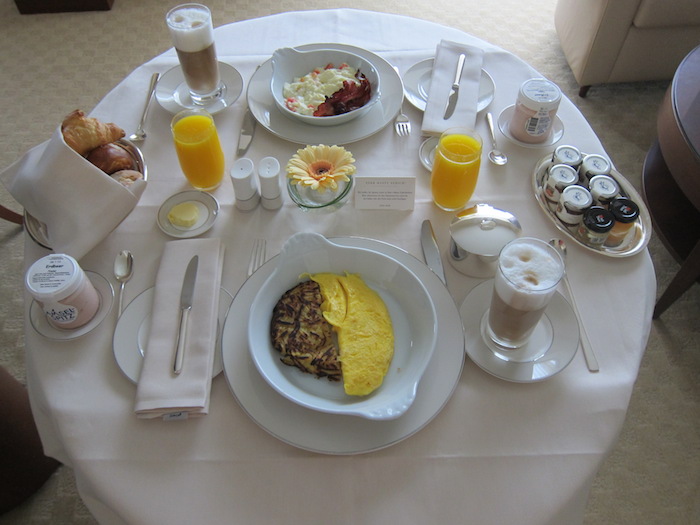 Complimentary Diamond breakfast at Park Hyatt Zurich — one of my favorite elite perks
Since I live in hotels full time as it is and don't really need any extra hotel nights, this isn't something I have much firsthand experience with. 😉
To answer Scott's question specifically, as well as the "bigger picture" question:
Technically you have to stay to earn points
As you might expect, technically you have to be staying at a hotel in order to earn points. In other words, you can't make a booking for a third party and earn points… technically.
For example, here are the relevant terms for Hyatt's Gold Passport program (bolding mine):
In order for a Hyatt Gold Passport member to receive Hyatt Gold Passport points, the bill for charges must be in that member's name and member must personally pay for all charges. A member's membership number cannot be used by anyone else in order to accrue Hyatt Gold Passport points, benefits, promotion credits or upgraded membership status.
And the rules of most programs say the same, whereby you have to be paying for charges and actually present in order to earn points and stay credits.
Best route to go if you want to chance it
If you do want to go the route of trying to make a booking for someone else using your status (either so they get elite benefits, so you get points, or both), the best strategy is simply to make a booking in your name, and add the person that's actually staying as the second guest.
Then when the second guest checks in they should just be able to say they're on the reservation and have no problems checking in. I know a lot of people will say "oh, [member's name] has a flight arriving really late," though whether or not you want to do that is up to you.
This does get a bit tricky if there are actually multiple people staying. In other words, if Person A (elite member) makes a reservation and lists Person B as the secondary guest, when it reality Person B and Person C are staying. In those instances I would recommend that the second guest not go to check-in and kind of "hang out" outside to avoid any further issues.
After all, if the room is booked for two people and two people show up (neither being the elite member), that's what would raise a red flag.
US hotels generally care least
You shouldn't have an issue with this at most hotels, though especially at US hotels. They seem to care least about the "letter of the law" across the board. It's a bit trickier at foreign hotels, since they'll often want to scan your passport.
Still, it's perfectly legitimate to have an additional guest check in before the primary guest, though they may claim that the primary guest should stop by the front desk upon their arrival.
Checking someone else in
Scott's situation is unique, and I think potentially actually totally legitimate. If his parents are visiting, he pays the charges on his card, and is actually present at check-in and check-out, I think even per the terms and conditions of the program that would be fine. So I wouldn't be worried in Scott's situation.
Most programs will let you make points bookings for others
On a different note, most hotel programs will let you make reward night bookings for others. The catch is that technically elite benefits don't apply in those instances, since it's the status of the person staying that counts.
There are different ways to go about making these bookings. Programs like Hilton Honors will actually officially let you make a booking in someone else's name, while with IHG Rewards Club you'd simply list yourself as the primary guest, and add the "real" guest as the additional guest. Then you'd have them notate the reservation to explain what you're doing.
If the goal is simply to redeem points for someone else, that should generally be possible. The question is whether you want to be safe and just make a booking for them where they don't get elite benefits, or whether you want to chance it in hopes of them getting benefits.
Bottom line
Generally you wont have an issue making a booking in your name, adding an additional guest, and then still earning points and having elite benefits honored. At the same time, most programs prohibit making bookings for others where you have no intention of staying, so I wouldn't make a habit of it.
If you've ever made a booking for someone else using your elite status, what has been your experience?