British Airways has made several updates to their award search tool in the past year, and on the whole it's much more user-friendly than it was previously. There are still a few quirks, however, so I thought it might be helpful to go through the basics, especially given the new redemption opportunities with TAM and US Airways joining OneWorld yesterday.
Signing up for British Airways Executive Club
In order to search award space on the British Airways website, you need to be a member of the British Airways Executive Club.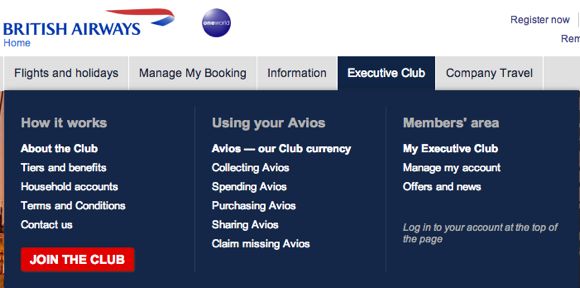 Fortunately, you don't have to have any Avios in your account, so once you've registered you'll be able to use the award search tool.
Navigating to the OneWorld search tool
Log into your Executive Club account on the upper right of the website.
Under "Executive Club" select "Spending Avios"
This will take you to the next screen, which lists the various options for spending Avios, and select "Book flights with Avios."
You can also bookmark the Avios search page, which will take you directly to the search screen if you're logged in to your account.
Basics of the British Airways award search tool / Searching OneWorld award space using the British Airways site
In general, when you're using the British Airways site, you're going to want to search segment-by-segment. This is a good practice for searching award space in general, as you'll almost always get better results if you're not relying upon the computer to find your routings.
To search OneWorld award space, just enter the airports you're interested in flying between, along with the cabin of service. British Airways will automatically show three cabins at a time in the search results, so unless you're searching for space on a route with a four-class cabin there isn't really a need to change the default setting.
On the next screen you have the option to select a stopover point, and for the most part you want to skip this. That's because the only option it will give you for a stopover on the website is in London. Even if you are wanting to book a stopover, you're really better off verifying that award space is available on the individual flights before you start piecing the itinerary together. Also, keep in mind that British Airways charges for awards on a per segment basis, so you don't save Avios by booking segments together vs. separately.
The British Airways award search tool has an interesting way of displaying flight results, which can be a bit frustrating if you're not prepared.
First, all direct British Airways flights will be listed, followed by any direct partner flights.
After that will be British Airways flights with a connection:
Then flights mixing British Airways and partners: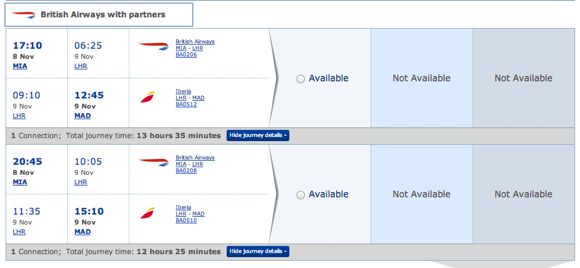 And then, theoretically, should be mixed partner flights.
However, if there is a route that British Airways has availability on, they don't always display all the partner options. This is why it is so important to search segment-by-segment, rather than relying on the website "intelligence" to craft a routing.
My favorite new feature of the British Airways award search tool is the "Change" button at the top of the page. You used to have to return to the home screen in order to adjust the search parameters, so having a pop up window is a significant improvement.
Finding award space when the British Airways site doesn't recognize the airport
Occasionally, the British Airways award search tool won't recognize an airport code. This used to be more of an issue, but it seems this has been improved with the latest round of updates.
However, there are still some airports, such as Hanoi, Vietnam, that aren't listed in the drop-down menu.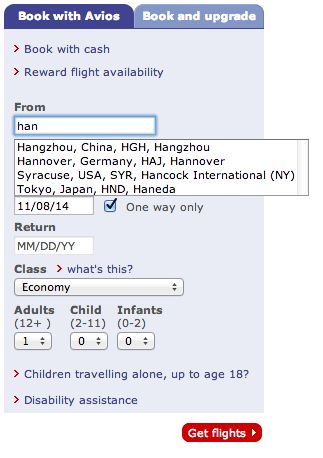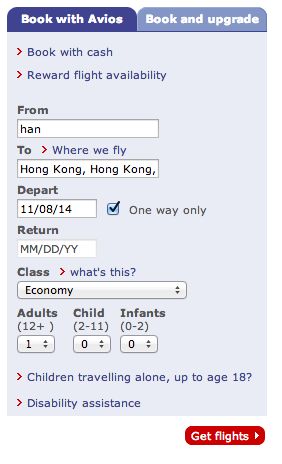 Fortunately, you can still just enter the airport code, and in most cases the award search tool is still returning results:
Booking flights using British Airways Avios on high-density routes
One frustration I have with the British Airways award search tool is that you can't specify a time, or otherwise filter results. This is fine on routes with one or two flights per day, but on high-density routes it's rather inconvenient.
For example, LAN Peru (a OneWorld partner carrier) operates nearly two dozen flights between Lima and Cuzco. You can search LAN space using the British Airways website, even though "Cuzco" doesn't appear in the drop-down list:
The British Airways tool will return some flights, but clearly not two dozen:
The frustrating aspect here is that it's impossible to know if these are the only flights that have availability, or just the only flights that British Airways is choosing to display. If you're looking for a flight at a different time you'll have to call, unfortunately.
Booking flights you've found using the British Airways award search tool
If you are hoping to redeem British Airways Avios then you can typically book flights right on the British Airways website. Keep in mind the award search tool won't allow mixed-cabin itineraries, connections over four hours, or stopovers outside of London. To book an itinerary with any of those elements, you'll either need to book several separate tickets, or call the British Airways call center.
If you want to redeem miles with another OneWorld carrier, I generally recommend making a note of which flights have availability, and then call the airline you have miles with to book your award tickets.
Generally speaking, all OneWorld carriers should have access to the same partner award space. There are some instances of phantom award availability (in particular for travel on Cathay Pacific), in which case you can verify space using the JAL search tool, but for the most part I find the British Airways tool to be pretty accurate.
Partners not bookable on the British Airways award search tool
One of my favorite Executive Club partners is Alaska Airlines. Since I live in Seattle and British Airways has a distance based award chart, I book well over a dozen Alaska Airlines tickets a year using British Airways Avios given what a good value they are.
The only catch is that Alaska Airlines award space doesn't show up on the British Airways search tool, so you have to call to book. However, you can use American's website to search for Alaska award space, and British Airways should have access to the same space over the phone.
Minimizing phone hold times with British Airways
My frustrations with the British Airways call center are well documented, in particular with their hold times. If calling their US or UK Executive Club phone numbers you'll almost always be subjected to a wait of at least 45-60 minutes.
One trick to avoiding this is to call their Singapore call center instead. In my experience the hold times there are consistently much shorter, often only a few minutes. They can be reached at +65 6823 2095. The only catch is that they're only open from 9AM till 5:30PM local time Monday through Friday.
Bottom line
While I don't find the British Airways award search tool to be especially user friendly compared to the Star Alliance award search offerings like the United or ANA award search tools, I do find it to be the most comprehensive in OneWorld.
I prefer American's award search tool as it's more user friendly, since you can search award space using a calendar view for a month at a time. The downside, however, is that they only display award space online for about half of their partners.