At most airlines award ticket pricing is automatic, meaning the computer prices award tickets and decides whether a routing is legal or not. This isn't the case at US Airways, where the agents manually price awards and validate routings, which can really work in your favor sometimes.
Now that US Airways has joined oneworld, there are several "fun" opportunities for award redemptions that didn't exist previously. Several oneworld carriers, such as British Airways and Cathay Pacific, have distance-based award charts, which really limits the potential for creative routings.
Similarly, the American AAdvantage program has been the best option for long-haul award redemptions, but their routing rules are much more restrictive than those of US Airways.
American has among the strictest award routing rules of any airline
The single biggest benefit of US Airways joining oneworld isn't that they have lower award costs in many markets, but rather that their routing rules are much more liberal.
I've written in the past about how American simultaneously has extremely stingy and extremely generous routing rules. On one hand they let you exceed the maximum permitted mileage for a city pair by up to 25%, which is far beyond what most other carriers allow. Well, at least they let you exceed it by up to 25% as long as that's not your intention.
On the other hand, American has archaic routing rules for AAdvantage award travel:
The transoceanic airline has to publish a fare for the city pair you're flying.
For example, say you want to redeem AAdvantage miles to fly from Tampa to the Maldives, using Etihad Airways for the overwater segments. You can't, because, Etihad doesn't publish a fare between Tampa and the Maldives.
With few exceptions, you can't transit a third region.
With very few exceptions, American won't let you transit a third region when traveling between two regions on an award ticket. This means you can't route from the US to Asia via Europe, or from the US to Australia via Asia, for example. Heck, it means you can't even route from the US to Southern South America via Lima, even though that's the most direct routing.
The "actual" rules for redeeming US Airways miles
There only seem to be three "major" rules that are published:
Routings that should be possible with US Airways miles
Now that US Airways has been in oneworld for over a month, I figured I'd share my experiences as to which routings should be feasible using US Airways miles.
The big thing to keep in mind is that US Airways' lack of routing rules are a blessing and a curse, and you may get an agent that doesn't think a routing should be valid, in which case you'll just want to hang up and call again.
The fact that they don't really publish rules means we can't really "put up a fight" when we think a routing should be possible.
So here are the routings that I've had no problem booking, which would not be possible through American AAdvantage on a single award:
US to North/South Asia via Europe or the Middle East
The greatest part of this is that US Airways isn't presently imposing fuel surcharges for travel on British Airways.
So if you want to fly from the US to Asia on Cathay Pacific or Japan Airlines, you might as well route via London and get two extra British Airways first or business class segments in there.
Heck, if you really want to push it you can route from Vancouver > New York on Cathay Pacific, New York > London on British Airways, London > Hong Kong on Cathay Pacific, etc.
Alternatively, you can route from the US to Asia via Doha on Qatar Airways.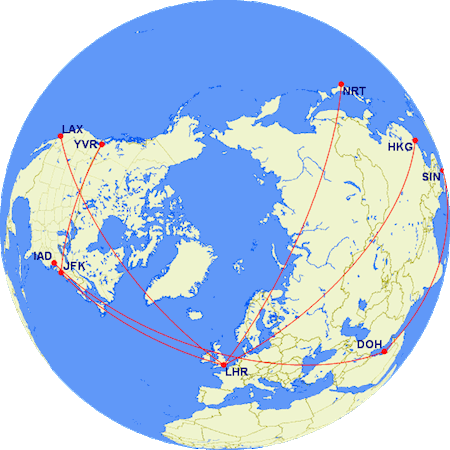 US to Africa via the Middle East or Asia
Rather ridiculously, American will only let you route from the US to Africa via Europe.
That means you have to fly British Airways if you want to go to South Africa, which involves huge fuel surcharges if redeeming through American. Iberia also has some flights to the Northern part of the content, which you can book using American miles.
Conversely, you should have no trouble redeeming US Airways miles for travel from the US to Africa via Doha on Qatar Airways or via Hong Kong on Cathay Pacific.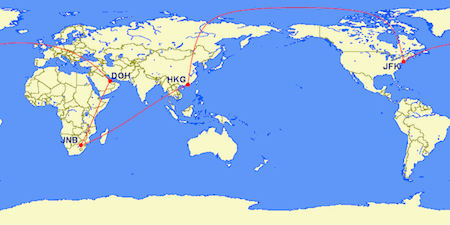 US to Middle East/India via Asia
You also should have no trouble redeeming miles for travel on Cathay Pacific via Hong Kong to the Middle East or India. While Qatar Airways offers more direct service, it might be more fun to go via Hong Kong with a stopover there.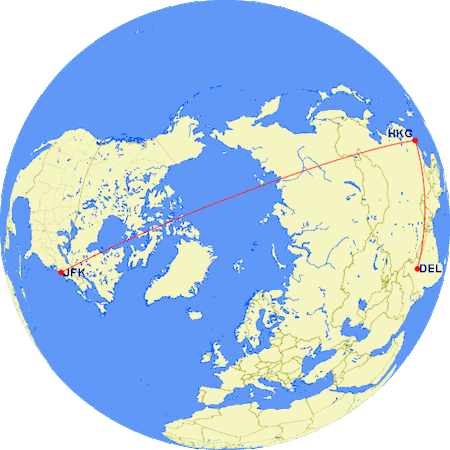 US to Southern South America via Lima
Perhaps the single most ridiculous routing restriction American has is that they don't let you route from North America to Southern South America via Lima, even though that's the most direct routing — it requires two awards.
Meanwhile, redeeming US Airways miles you should have no problem routing via Lima.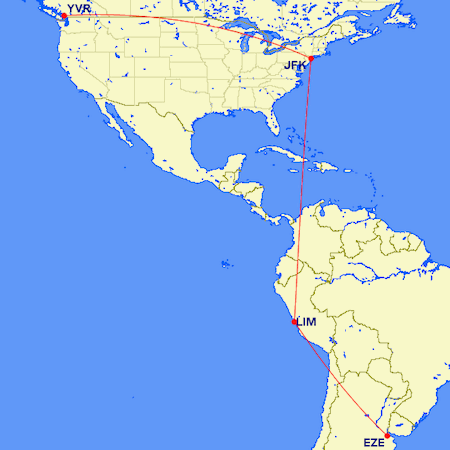 US to Australia via Asia
You'd think American miles would be incredibly valuable for travel to Australia given that they partner with Qantas, though the issue is that Qantas releases very little premium cabin award space between the US and Australia.
US Airways, however, will let you route from the US to Australia via Asia. So you can fly a combination of Cathay Pacific, Japan Airlines, and Qantas, if you'd like.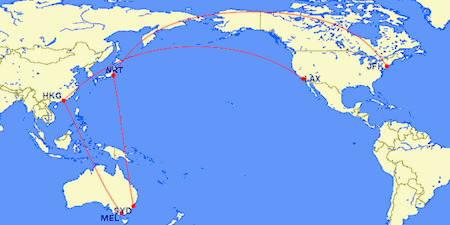 MAYBE: US to Australia via Europe/Middle East
While it's really pushing it, it's not impossible to find an agent willing to book an award from the US to Australia via Europe and/or the Middle East.
I just redeemed miles for travel from New York to Melbourne via London and Dubai. The key is mainly to keep the number of segments down.
Similarly, you can potentially redeem miles for a one-stop routing between the US and Australia by flying Qatar Airways through Doha.
This routing may take more patience and not every agent will allow it, but with a bit of effort it's not impossible.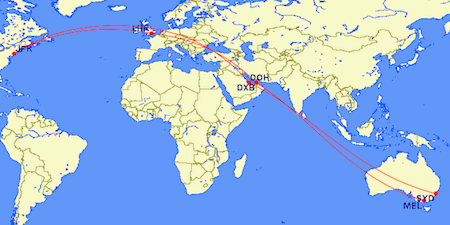 Basic concepts to understand when redeeming US Airways miles
Never argue with agents — not having published routing rules is a double edged sword. There's absolutely nothing you'll gain by arguing with an agent over a routing. If you think a routing should be allowed and they're not giving it to you, hang up and call again.
The fewer segments, the better. In US Airways Geography Land, a lot of agents seem to think that few segments means a direct routing.
So if you're looking to go the really long way (like from the US to Australia via the Middle East or Europe), try to keep the number of flights to two to three per direction. That will maximize your chances of the routing being allowed.
Many US Airways agents would allow something like New York to Doha to Sydney because it "sounds" direct, while they wouldn't allow Los Angeles to New York to London to Paris, because that "sounds" like a lot of flying.
The rates desk is having to manually calculate the taxes on many awards. Don't get too excited if an agent is willing to "price" an award ticket.
Since US Airways has transitioned to oneworld, the taxes on many tickets aren't automatically calculating, so often they have to go to the rates desk to get a fare quote put in. Keep in mind that rates desk will review the itinerary as well. Now, they're only mildly savvier than the front line agents, so don't worry too much. But also don't be surprised if they reject your "indirect" routing.
Make the agent your friend. I can't stress this enough. US Airways agents were just getting used to the Star Alliance, and a month ago they had to learn a whole different set of airlines. They're still learning this, and if you're nice to them and politely make suggestions to them, they're thrilled. Absolutely thrilled.
Last week I spoon fed a rather roundabout itinerary to an agent, and she told me:
"This is too easy, I wish all my customers were like this"
"Let me see who you are so I can remember you forever"
It might sound ridiculous, but these agents are answering calls about mileage tickets all day, and 90% of the time they're having to tell people nothing is available.
They're almost as excited as we are when they can book a first or business class ticket to somewhere exciting. So be chipper, be friendly, and ask if you can suggest a routing to them that you think should be available.
If you don't think they're in a good mood or cooperative, just hang up and call again.
Bottom line
There are so many amazing routing opportunities available thanks to US Airways' transition to oneworld, and chances are they won't stick around once American and US Airways adopt a single mileage currency.
The new carrier will be using American's current reservations system, so I wouldn't be surprised if their award routing rules prevail.