While there are many things that frustrate me about Delta SkyMiles (like their lack of transparency), there's no denying that they also try to make improvements once in a while in some areas. One area where they've improved nicely is with adding reciprocal upgrade opportunities on some partner airlines.
Delta has a transatlantic joint venture with Virgin Atlantic, and back in 2016 they added the ability for Diamond Medallion members to use Global Upgrades on Virgin Atlantic. It looks like they're expanding that further now, as you can now redeem Delta miles to upgrade on Virgin Atlantic.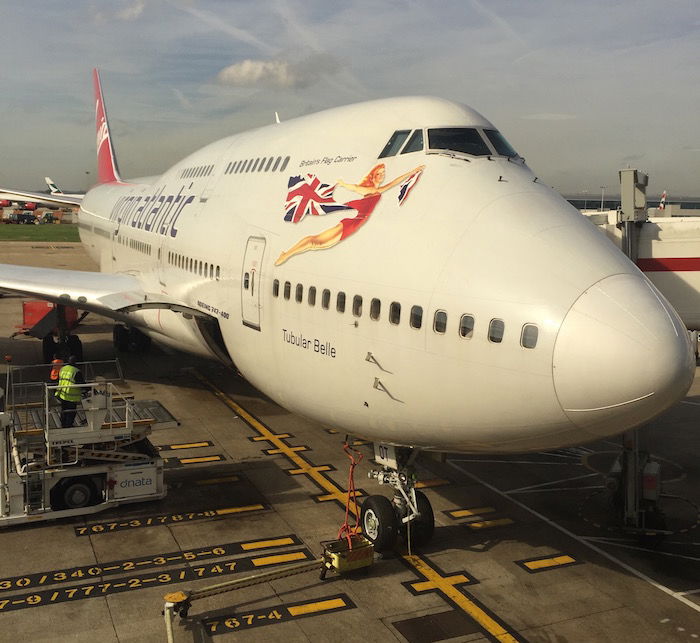 Virgin Atlantic 747
Per the SkyMiles News & Updates page:
Effective July 13, 2017, SkyMiles Members can use miles to upgrade from a purchased ticket on Delta-marketed, Virgin Atlantic-operated1 flights through Mileage Upgrade Awards. The following upgrade options are available for Members:

Upgrade from a purchased Virgin Atlantic Economy ticket to Virgin Atlantic Premium Economy or Virgin Atlantic Upper Class
Upgrade from a purchased Virgin Atlantic Premium Economy ticket to Virgin Atlantic Upper Class

To check prices and availability or book an upgrade, contact a SkyMiles representative by calling 1-800-323-2323. If you are a Medallion Member, check the Contact Us section in the Fly Delta app for your dedicated phone line.

Upgrades are available from purchased Economy tickets in Y, B, M, H, Q, or K class, and purchased Premium Economy tickets in P, A, or G class. Upgrades are based on availability and must be completed at least 24 hours before scheduled departure. Delta-marketed flights operated by Virgin Atlantic are only available between the United States and the United Kingdom. For more information, please visit Mileage Upgrade Awards.
Much like with award tickets, Delta doesn't publish how many miles are needed for upgrades. That's even more ridiculous than them not publishing award costs, since upgrade costs aren't dynamic, while award costs are.
However, last time I checked an upgrade from a Y, B, or M fare between the US and Europe cost 60,000 miles one-way, while an upgrade from an H, Q, or, K fare cost 80,000 miles one-way. I suspect the cost to upgrade on Virgin Atlantic will be the same.
This is a terrible use of miles, as a one-way Virgin Atlantic Upper Class award can be booked for as little as 85,000 Delta SkyMiles (it was only 70,000 miles prior to April, at which point SkyMiles hugely devalued their award pricing).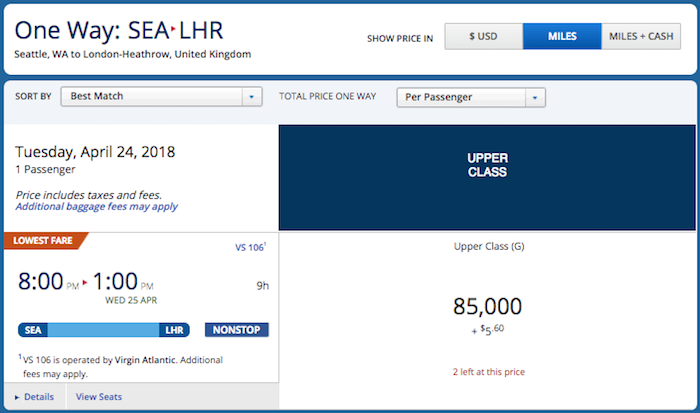 So upgrading costs only marginally less than outright booking an award ticket, and that doesn't even account for the fare class requirements that Delta has.
With mileage upgrades, Delta is clearly targeting business travelers who already have a paid economy ticket (presumably because that's what their corporate policy dictates), but don't want to fly economy.
So while it's nice that Delta has added this functionality, I don't see this being of much use to those looking to maximize the value of their SkyMiles. Still, more options are always a good thing.
(Tip of the hat to @IadisGr8)