Since the merger, United has had among the most generous routing rules of any airline. I'm not sure if it's even fair to say that, because nobody knows what the actual routing rules are. They're extremely generous, that's for sure, but ultimately they're whatever the computer prices. If the computer prices an award, it's permissible. If the computer doesn't, it's not.
Their routing rules between the US and Asia via Europe have almost been comically generous, as you can easily go from San Francisco to Bangkok via Frankfurt and Tokyo, for example. For those of you keeping tabs, that's about double the direct air distance between San Francisco and Bangkok.
Anyway, they have finally added some restrictions to awards for travel between the US and South Asia via Europe. They're not earth shattering, but now you're limited to three connections per direction for travel between the US and South Asia via Europe on a one-way ticket, and four connections per direction for a roundtrip ticket between those regions.
This isn't something where you can "hang up and call again," because the computer will automatically price awards based on the above rules, which have been in place since late April.
Four connections per direction (on a roundtrip) should still be plenty for pulling off just about anything you could possibly want, but it is something to keep in mind.
For example, take a look at the below routing, which has three connections between Seattle and Bali.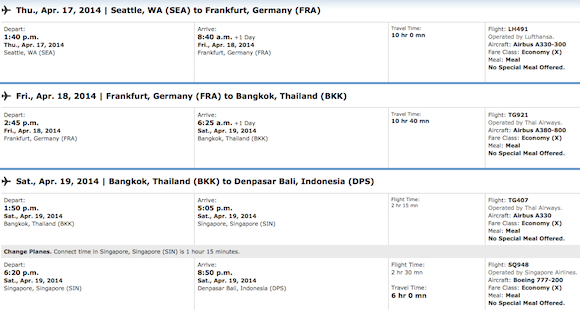 It prices correctly at 32,500 miles one-way.

Meanwhile if you have four connections on this one-way the price jumps to 45,000 miles, so the fare is "breaking."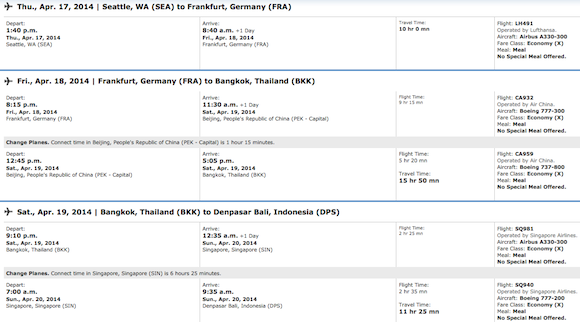 So nothing horrible, but certainly something to keep in mind…
(Tip of the hat to Jimmy)