United has been rapidly rolling out basic economy. The concept was initially tested on non-stop routes between Minneapolis and each of the United hubs.
That apparently went okay because literally the day after the first United basic economy passenger had taken to the air — and presumably survived — the concept expanded to further non-stop routes from a variety of hubs.
This only seems to be the beginning, as United has now rolled out basic economy to virtually all domestic flights.
I found basic economy on literally every domestic route I searched except those to Hawaii. That includes:
Nonstop routes
Single connection routes
Double connection routes
Business routes
Leisure routes
Alaska routes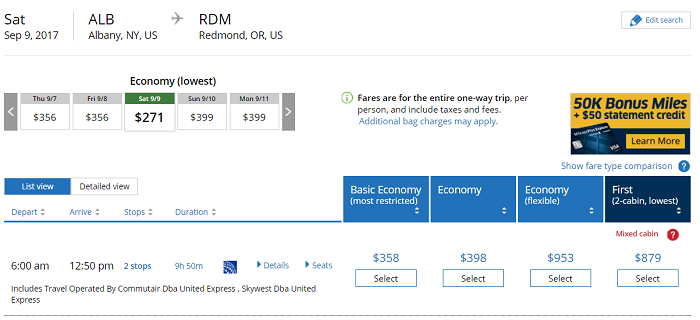 United's basic economy on a double connection route
A real gouge for connecting passengers
[Edit: A few readers have pointed out that basic economy passengers can't bring regular carry-on's onto the plane at all. Therefore, if they bring one to the gate, they'll have to gate check and pick it up at their final destination. So in that case, they would only pay the $25 penalty once, not for each flight. So I guess that's good in the sense that you aren't going to be dinged multiple times, but bad if you actually want your bag on the plane with you.]
As a reminder, with United's version of basic economy you can't make any changes to your ticket, don't get a proper carry-on, can't assign a seat, don't have a chance at an upgrade, and won't earn any elite qualifying miles.
Premiers flying on these fares get a carry-on, but otherwise the rules apply to them as well.
It's to the point that you practically need to sign and notarize a waiver before United will even sell you a basic economy ticket.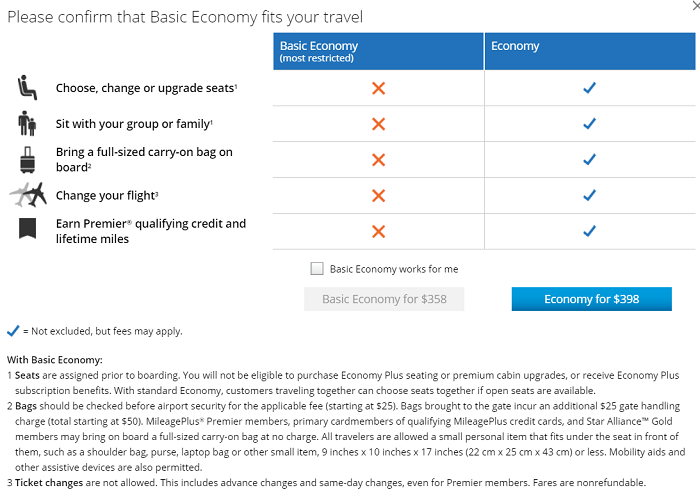 Confirmation screen before you can buy a basic economy ticket
I would argue that the general public probably doesn't care about upgrades, miles, refundable tickets, or possibly even seat assignments. But they do care about paying for bags. And they've been conditioned for years to pack a carry-on rather than a checked bag, if they want to avoid fees.
Now when they show up at the gate with their roller, United is going to charge them $25 for the privilege of [checking it to their final destination, in addition to the chceked bag fee. This is in contrast to Frontier which will allow you to bring a regular carry-on onto the plane, you just need to pay the fee and get a special tag for it.] bringing it onto the airplane. And they are going to do this at each connection.
So if you're flying from Albany to Redmond — a route that requires a double connection on United — you are going to get charged the carry-on bag fee three times! You'll pay $25 when you board the plane in Albany. Another $25 when you board in Chicago. And yet another $25 in San Francisco.
Cha-ching. Cha-ching. Cha-ching.
I bet Scott Kirby is laughing all the way to the bank. And somewhere Jeff Smisek is smiling.
Buying your way out of basic economy
The goal of basic economy isn't actually to save you any money. Rather, airlines want to get you to spend more for a regular economy ticket by stripping away the benefits from the cheapest tickets. United even has warning screens advising you that your experience may be miserable if you buy this ticket.
In my quick searches, it seemed that the cost of buying your way out of basic economy is between $15 and $40 each way. The price generally increases with the number of connections, presumably because United knows the alternative is to pay the carry-on fee multiple times.
Is this just a thinly veiled fare increase for elites?
United's version of basic economy is really punitive for their elites flyers. That's because United doesn't award elite qualifying miles on these tickets. So even though you'll earn award miles, these tickets won't help you requalify for elite status.
That makes zero sense to me since award miles have a cost to the company while premier qualifying miles only have a cost if they incrementally pushed someone over the next elite threshold.
If you have Premier status with United, and have any hopes of keeping that in the future, you probably aren't going to want to buy these dastardly fares. Which means this is really just an across-the-board domestic fare increase of $30-$80 per round trip, to be borne by their best customers.
So you made Premier last year, eh? Great. Want to use your benefits? That'll be an extra $75.
Bottom Line
United has rolled out basic economy to pretty much every domestic route except flights to/from Hawaii. This no longer has anything to do with the low cost carriers and is instead a money grab.
On many routes, United will now be horribly uncompetitive to the point that I simply can't understand why non-status passengers will even fly them. And that's assuming they even wanted to fly them, which of course many don't after the Dao dragging incident.
What do you think of United's domestic roll out of basic economy?
(Tip of the hat to View From The Wing)