A few days ago I wrote about American Express Fine Hotels & Resorts and Virtuoso, which are two methods of making reservations that can get you additional benefits on stays at hundreds of high end hotels.
Some of you brought up Visa Signature's Luxury Hotel Collection, so I figured I'd make a follow up post about it. This is a bit smaller scale of a program that's available to anyone with a US-issued Signature Visa credit card, like the Chase Sapphire Preferred, British Airways Visa, Hyatt Visa, United Explorer Visa, etc. To take advantage of this benefit you have to reserve and pay for hotel stays with a qualifying credit card.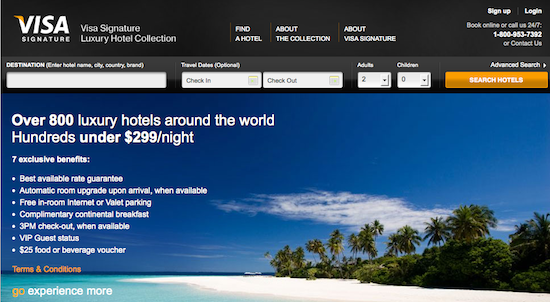 The benefits for booking through the Visa Signature Luxury Hotel Collection are as follows:
Best available rate guarantee
Automatic room upgrade upon arrival, when available
Free in-room Internet or Valet parking
Complimentary continental breakfast
3PM check-out, when available
VIP Guest status
$25 food or beverage voucher
To break that down a bit further, it seems like the best rate guarantee applies exclusively to the prevailing or best flexible rate. In other words, when booking through this program you can't use an advance purchase/AAA/senior/government/corporate rate, so in many cases the savings that can be had there might more than compensate for the extra benefits.
I think most of the other benefits are pretty self explanatory, though the one I find especially intriguing is "free in-room internet or valet parking." If the hotel offers both you can choose, and if you choose valet parking it can be a value of up to $50 per day. The Andaz West Hollywood is part of this hotel collection, so between the free valet parking (if you rent a car) and food and beverage credit, booking through here would likely be consistently cheaper than booking an otherwise discounted rate.
Anyway, the program itself consists of over 800 hotels, and while they have a lot of luxury hotels, they also seem to include a few more mid-range properties than Virtuoso, which is probably useful for many of us. For example, all the US Andaz hotels are included in the collection. The website lets you search hotels either by their brand, name, or location, which is pretty useful, and the website is as easy to use as just about any booking site.
The results page will list all hotels in the area (I searched Los Angeles) along with their corresponding prices.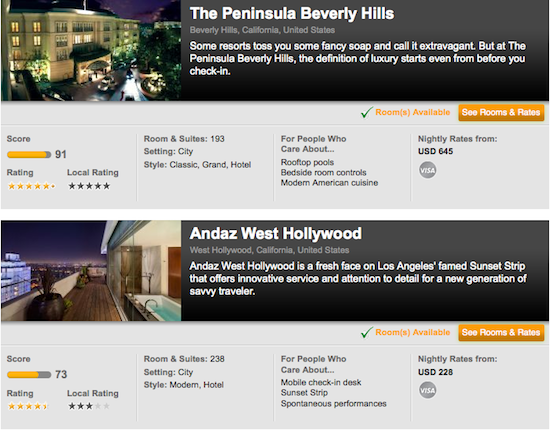 If you click on "See Rooms & Rates" you'll see all the room options along with the corresponding benefits.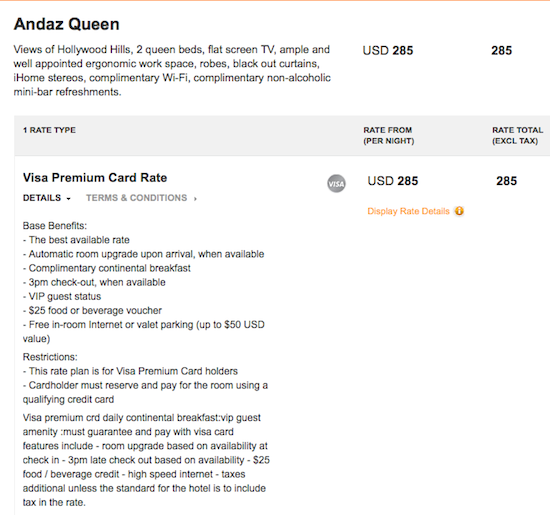 The cool thing is that at no point in the booking process do you have to log in (though you can choose to have a username and password so your info will be saved). On the next page you simply have to complete the purchase with a Signature Visa credit card, and your reservation will be confirmed.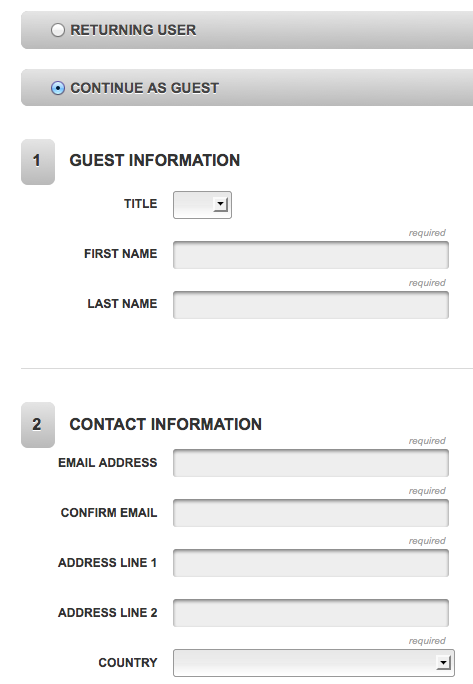 I actually hadn't known about this program until a few weeks ago, and it really pained to me to think for how long I've been missing out on these benefits for the Andaz hotels I've been staying at.
As always you should look at all the options before making a booking, including advance purchase rates, AAA rates, etc. But in many cases the additional benefits with this program may total $100 per night. I think the biggest potential benefit here is free valet parking for up to a $50 per day value, which both American Express Fine Hotels & Resorts and Virtuoso don't offer as a benefit. So while I still generally prefer the offerings of those two programs, I can see many circumstances under which I'd use the Signature Visa program instead.
Happy booking!