Uber is frequently tweaking around their pricing in test markets as a way of figuring out what does and doesn't work, and it looks like they're rolling out an interesting new offering in select markets.
It's called Uber Plus, and allows you to essentially purchase fixed price rides in select markets for a monthly fee. Eligible cities for the month of September include Boston, Miami, San Diego, San Francisco, Seattle, and Washington DC.
Let me explain, in the form of an example. Let's look at Uber Plus in Seattle.
For the month of September you can pay $49, and then you'll receive flat-rate uberPOOL rides for $3, or flat rate uberX rides for $8.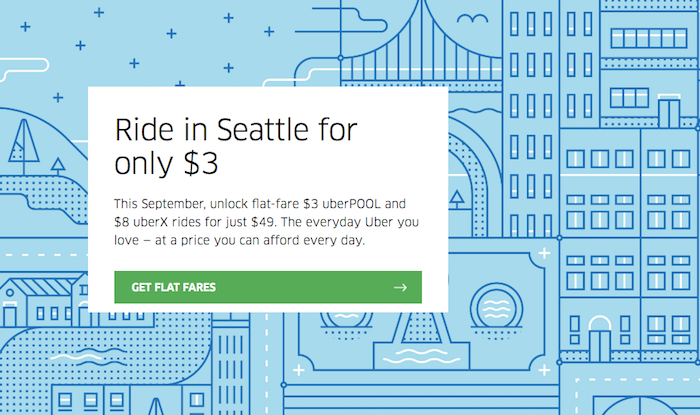 There are a few restrictions, though:
You're limited to 20 rides
This is only valid in a designated zone
The flat rate rides cover rides that retail for up to $25, so you'd be charged the difference in fare for any ride that costs more than that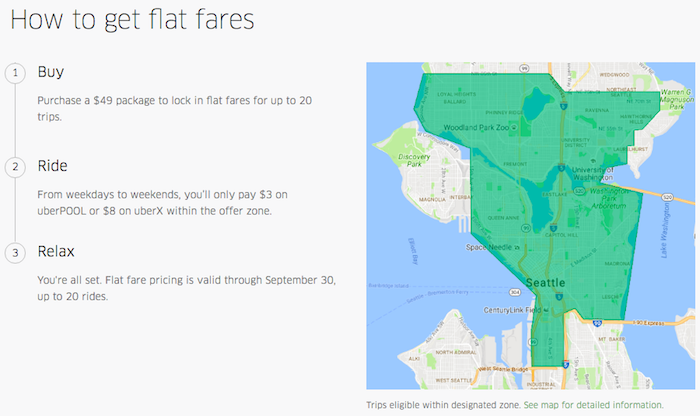 This certainly has the potential to be a good deal. If you divide the $49 monthly fee by 20 rides, that comes out to $2.45 per ride. That means you're essentially paying $5.45 for flat rate uberPOOL rides, or $10.45 for flat rate uberX rides.
Now in theory you could certainly get outsized value there — after all, the pass is valid for rides of up to $25. However, in practice a vast majority of people won't average anywhere close to $25 of retail cost per ride, and many probably won't even use all 20 rides.
As a point of reference, here's uberX pricing in Seattle:

Even if you use all 20 rides, if you're someone who usually just drives a couple of miles, you'll probably come out behind using this plan, since your uberX ride would likely cost less than $10.45.
At the same time, if you're someone who is trying to budget, there's something to be said for the reliable and consistent pricing offered by this plan, where you know exactly how much you'll pay upfront.
I suspect the risk and reward of this lies entirely with Uber corporate, rather than the individual drivers. They're likely still paid the same, regardless of whether Uber wins or loses on an individual ride.
So while I commend Uber for their creativity, it sure seems like there are a very limited set of circumstances where this makes sense.
What do you make of Uber Plus fixed cost pricing?
(Tip of the hat to Doctor of Credit)